I don't normally respond to possibly controversial topics or pictures but tonight I felt I needed to.
I was relaxing while anxiously awaiting the live stream of what could possibly be The Tragically Hip's last concert when a touching picture of Justin Trudeau hugging Gord Downie popped up on my Instagram feed. I had instant tears when I saw this picture -- you can truly see the emotion in it.
Soon after the pic showed up on my Facebook news feed because it was shared by the Hip there. But when I saw the pic shared by Huffington Post, I made the mistake of starting to read the comments. They were going downhill, fast -- people calling it a photo op, calling the prime minister names, calling each other names, etc.
I had to comment this time:
"The comments here are truly sad. This photo is what Canada is all about tonight, love and the Hip. They are friends, so it's not a bloody photo op, it's a man truly heartbroken for his friend. Whether you're a Trudeau fan or not, understand that he is a human being and loves his friends just like any of us do."
The Hip posted the photo, not Trudeau. Can we try to have some compassion? This man is dying and one of his long-time friends came to see his show, they embraced in an emotional hug and someone grabbed a picture of it, the end.
Gord Downie is an emotional man. You see it when he hugs and kisses his band mates, and had the camera been on his face, you would have seen it when he hugged Trudeau. Do you really think that someone would give such a tight hug to a stranger, prime minister or not?
I sit here watching the concert while following the responses to my comment (wow, over 1,300 likes now, that was unexpected!). The responses are faith-restoring, there are people that see love for what it is, not everyone is a huge douche bag.
I keep making the mistake of reading other comments, it makes me sick how nasty some people can be. If only they would just pay attention and put their agenda away, they may realize that what they are saying is pure ignorance.
Kind of funny that Gord actually brought up Trudeau and his work with the First Nations -- oh wait, people will probably say Trudeau set that up. If only those people would realize this is about Gord, this is about his stance. Oh and, I was at the concert in Ottawa and he also brought Trudeau up during that show.
I know this blog is going to get the the controversial responses that I really try to avoid, but I'm willing to take it this time. I'm going to try my hardest to ignore the nasty comments I get, and I'm hopeful that everyone else will, too.
This isn't about politics, this isn't about whether you like Trudeau or not, this is about the love of two friends.
I will try to answer to the rude comments towards me before they are made:
1. No, I am not that pissed, I just like to blog and normally it's about parenting stuff, so I'm trying something new this time.
2. I don't have too much time on my hands, my children are all in bed and I'm enjoying the Hip concert while messing around on the Internet, good ol' Facebook included.
3. I am not a Justin lover, but I do love the Hip and am truly heartbroken for them right now.
4. I am Canadian and proud of what our country stands for.
5. I will probably take offence if you directly attack me, so please remember that I, too, am human even if my thoughts and opinions differ from yours.
I feel such sadness while writing this, sadness for the future loss of a true Canadian icon, sadness for all his friends and family and sadness for the people that couldn't just step back and see what this night was about.
This isn't about politics, this isn't about whether you like Trudeau or not, this is about the love of two friends. I don't give a shit whether you are Liberal, Conservative or none of the above, sometimes it's not about that. Let's all do the Canadian thing and join our prime minister in sending Gord Downie and the Hip our best wishes, send them tons of strength and love in the coming months and beyond.
Follow HuffPost Canada Blogs on Facebook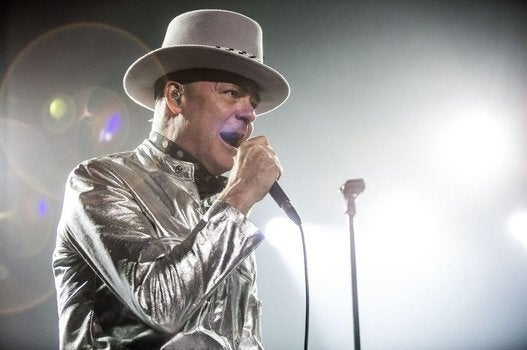 Tragically Hip "Man Machine Poem" Tour