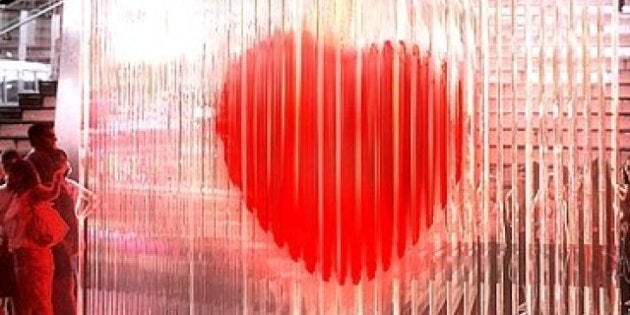 A couple of weeks ago, my son phoned home. (he's the 18 year old Obnoxious One attending university in Ontario.) Surprisingly enough, he's actually very good about calling home on a regular basis. Anyways, this time he let a bomb drop. "Hey guys, did you know that your daughter has a boyfriend?"
Dead silence. Ah no... no clue. And how did he know?
"I saw it on Facebook -- she changed her status."
I made my husband approach our 16 year-old daughter, the Demon Child first. I'm not stupid - I figured she would bite his head off and then I'd approach. "Yes Dad, I do have a boyfriend and have had for a couple of weeks. I was going to tell you ..."
My turn next. "So darling, you have a boyfriend? What's his name?"
Let's call him Brandon. Over the next couple of days, I was able to glean little snippets of information here and there. For example, she met him in August through mutual friends. He's a nice guy, lives in West Vancouver with his parents and younger sister. So why didn't she tell us sooner?
"Mom, you always tell everyone everything." Whoops. Shhh...please don't tell anyone about this post!
"So what does he do? Is he at your school? In your year?"
"Nope. He goes to university. He's in first year and graduated last year from high school, just like my brother." Holy crap, an older man. "But don't worry mom, he's really immature - he has to be to go out with me. And when we're together we're really weird. We like the same music and movies. Heck, he even likes The Lion King."
"Are you sure he's not a drug dealer?" Don't laugh -- it's not beyond the realm of possibility in West Van.
"No mom. We've spent a lot of time together talking, so I know him pretty well. There's no way."
"Mom, this is why I don't tell you anything. You're so annoying." Okay, so I backed off...for a few hours.
"Am I ever going to meet this guy?"
"Yes mom. Just be patient."
In the meantime, I sent a text to my son giving him the latest details. He was not amused. In fact, he threatened to take a nine iron to the guy. Other words were expressed as well, but none that I can repeat here.
Well, that happened a couple of weeks ago and I still haven't met him. I really am trying to be patient, but Valentine's Day is here, so I'm starting to panic. I mean, this is the first time she's had a boyfriend for longer than a week, and the first Valentine's Day with a guy. I just hope the Demon Child doesn't go too crazy.
Fast forward to last night. After spending a couple of hours with Brandon, she came home quite pleased with herself. Apparently they hung out at Starbucks for a while, and then she bought his Valentine's Day present at Shoppers Drug Mart. She was excited about her purchase and anxious to show me.
Well, now I can breathe easy. Now I understand everything she said. Why? She bought him a dancing and singing rock 'n roll turtle plus a chocolate Santa. If that isn't true love then I don't know what is -- at least for the Demon Child.
By the way, my son, the Obnoxious One, also called last night. He's planning to take his girlfriend Coco (see OMG - Her parents are fond of the Obnoxious One) out to dinner at the nicest, most expensive restaurant in town, plus he's ordered her a dozen red roses.
Sometimes it's hard to believe my two kids are related. Really!