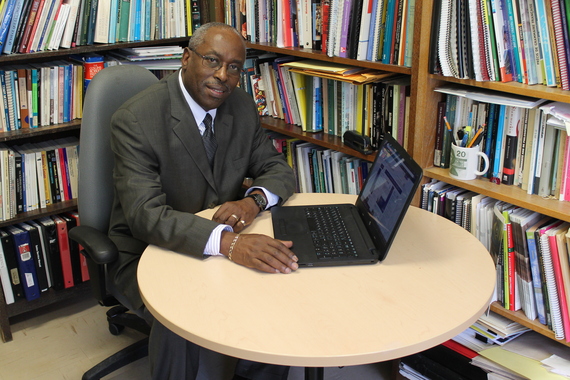 It's well-known that a strong, inclusive community is vital to fostering a healthy society and the individuals who are part of it. No one knows this better, perhaps, than the thousands of immigrants who make the move to a new country, such as Canada, and make it their home.
While their reasons for taking this step may vary, each one is bound by the same hope for a better future. And for many, their gratitude and desire for a better life extends to giving back to others.
Every year, hundreds of Canadian immigrants across the country share their talent, drive, passion and service with their communities -- people like Henri Boyi.
A professor of French studies at the University of Western Ontario, Boyi immigrated to Canada in the early 1990s following the genocide in Burundi. Despite being the first Burundians to live in London, Ontario, he and his family were warmly welcomed by many Canadians of diverse backgrounds, something Boyi credits with inspiring him to "give back to the community and help others who are in need, particularly newcomers."
Since 1995, Boyi has in turn been inspiring students at the university, and also volunteering with numerous cultural associations to help Burundian refugees settle in London.
As a way of sharing his experiences with students and fostering an understanding of the Rwandan history and culture, he created an experiential learning course at Western, "Rwanda: Culture, Society and Reconstruction." It includes a five-week visit to the African country where students volunteer at orphanages, nurseries and schools, and learn the "values of our shared humanity."
Boyi's is just one tale among many immigrants who each have a unique story that helps define Canada. Their successes help build a country that is rich in diversity and a home where newcomers thrive. And as someone who has thrived by inspiring others, Boyi believes his meaning in life is "worth what I am for others, for the community."
It is that dedication and commitment that has garnered Boyi recognition in the 2015 RBC Top 25 Canadian Immigrant awards.
Each year, there are hundreds of nominees from across the country for those immigrants who have achieved success and made a positive difference. They range from entrepreneurs and artists to visionaries and sports figures.
Voting for the 2016 awards is open to the public until May 13, 2016. One of the 25 winners who demonstrate excellence in business will be recognized with the Entrepreneur Award.
The award winners will be announced on June 21, 2016.
Follow HuffPost Canada Blogs on Facebook
MORE ON HUFFPOST:
Top 25 Most Influential Immigrants