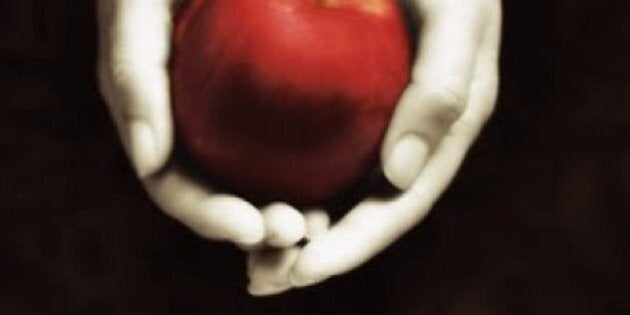 I have to hand it to John Hansen. Last month, the 17-year-old writer broke the internet with his hashtag #VeryRealisticYA. The result? Hilarity.
Thanks to the recent success of books like John Green's The Fault in Our Stars and Suzanne Collins' The Hunger Games trilogy, and, of course, the Twilight books and Harry Potter, young adult literature has experienced a surge of devoted readers. Book stores stock new releases at alarming speeds and film producers perpetually scramble for the next great adaptation. The fictional world is swarming with witches, avengers, vampires, survivors, royalty, forbidden romances and young heroes. And we love it.
But what if the lives of YA characters mirrored those of today's youth? Enter John Hansen. Teen years are full of challenges, just not those typically depicted in our beloved books. Thus, Hansen (@ABoredAuthor) provided an alternative life story via 140 characters: "Girl politely declines to be the face of the revolution because it's junior year and she has too much homework." And just like that, #VeryRealisticYA was born.
As it turned out, people (thousands of them) had a lot to say about YA literature. Contributions included everything from book/life comparisons to pet peeves and satirical humour. All and all, the massive response to Hansen's tweet demonstrated two things: YA Lit has a huge following, and social media is alive and well. That, and people are damn funny (okay, three things).
Young adult author Heather Demetrios is no stranger to YA readers or social media, and her newest idea combines the two. Launched this week, The Lexie Project follows Lexie Baker -- a character from her book Something Real -- as she travels to Los Angeles to pursue an acting career.
But The Lexie Project is no ordinary sequel. In fact, it isn't even fully written yet and is not exactly a book, for that matter. Lexie's story is a multi-platform, interactive experience shared over the course of one year. Although told primarily on Wattpad one chapter at a time, The Lexie Project also spans Twitter, Tumblr, Pinterest and YouTube where readers can connect with "Lexie" via tweets, videos, and pictures. Lexie "speaks" through Demetrios via social media and is portrayed by a look-alike actress on YouTube. Similar to today's youth, Lexie's thoughts and actions are very much manipulated and shaped by current events and she will be responding accordingly.
Demetrios explained to me that the idea to create Lexie in real-time came to her during a visit with her teen brother.
(My brother) was on Wattpad all the time -- I hadn't even heard of it before he schooled me. I realized that this is where teens are doing a lot of their reading. Another reason (for telling the story in real-time) is that, given that Lexie's story takes place in Hollywood and she's playing the fame game, she's a social media maven. As a reality TV star, she's in a culture of instant gratification, where everyone's trying to hold onto their 15 minutes of fame. As such, her story is best told in real time as a young woman in 2015 would.
Demetrios is always on the lookout for new, cutting edge ways to tell stories and she is excited that her readers will be directly involved in Lexie's life. She recognizes that creating The Lexie Project in a non-traditional format has its challenges, however.
Lexie will be interacting with her fans all the time and she's open to hearing their advice and suggestions. Ultimately, of course, I have to do what's best for the story and stay authentic to Lexie's character. However, my desire to bring my readers into the process -- to collaborate with them -- is why I'm really flying by the seat of my pants. For example, when I post on Wednesdays, I won't have written the next chapter. I'm waiting on my readers and waiting to see what Lexie does on social media (as you can see, it's important for me to put this character first -- she's not me, she's her own person). This all means I have just a few days to write the next chapter, making sure it's of the same quality of my published books. I do have the general arc of the story -- but I'm open to that changing.
To the best of her knowledge, The Lexie Project is the first storytelling venture of its kind, at least in YA. When asked about her hopes for the project, Demetrios stated:
I would love for readers to get on board from the beginning so that they can be part of the creation of the story, as I'm crowdsourcing. Readers can interact with Lexie and comment, give her advice, say what they hope will happen. There will even be contests where readers can have a character named after them. This year is all about readers getting the story in real-time, having the opportunity to influence it, and being able to easily follow along via Twitter and avenues of social media.
Readers of Something Real will know that Lexie promises a good time. Demetrios describes her as "very full on." She is fame-obsessed, ambitious teen who -- best of all -- has no filter. Lexie calls it as she sees it, which pretty much ensures that it will be a lively year. As Demetrios explains:
Lexie is verging on new adult territory and this is something my readers are particularly keen to see more of right now. It's a true companion novel (to Something Real)--my characters are older and are in much more mature situations. There are no rules, no parents. I just want to do right by my characters and, I guarantee you, they won't be able to please everyone.
The first installment of The Lexie Project was launched on Monday, June 8. There's a new girl in town, readers, and you'll want to befriend her. And Demetrios, since you're writing in real-time, you should probably check out the reader pet peeves discussed via #VeryRealisticYA: Not all protagonists have green eyes, descend from royalty or become instantly beautiful when they take off their glasses. We're betting, though, that Lexie is force all of her own -- green-eyed or not.