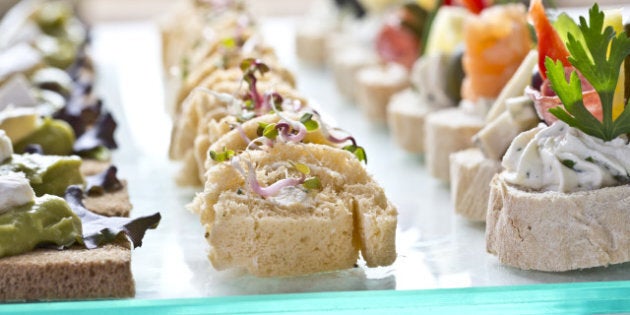 The holiday season is officially in full swing, which means plenty of holiday parties to host and potlucks to gather recipes for. Trying to create something that's healthy, simple and crowd-pleasing can be a real challenge!
I chatted with Zannat Reza, fellow RD, Founder and CEO at Thrive 360, to swap notes about how to prepare for the holiday party season.
Zannat says, "Having friends and family over should be fun with minimal stress. Greet them with platters of appetizers that feature fruits and vegetables.
Serve on small plates and napkins to keep overeating at bay."
Here are some of her crowd-pleasing fruit and veggie-centric ideas:
Pack your cheese platter with fresh and dried fruit. Think dried apricots, dates, fresh figs, grapes, tart apple slices, grape tomatoes, strawberries, cucumber coins, canned artichoke slices, olives, and pomegranate arils (seeds).
Opting for store-bought? Serve up fresh Vietnamese rolls packed with vegetables or steamed vegetable wontons.
Assemble a platter of Greek salad skewers. Thread together a chunk of cucumber, feta, grape tomato and an olive. Drizzle some olive oil and oregano.
Fill shot glasses with silky vegetable-based soups like tomato, broccoli or butternut squash.
Create a dips and spreads "bar" using vegetables. While some store-bought ones are decent, others can high in salt and fat (sometimes mayo or sour cream is the first ingredient).
Even better: Whip up these 4 vegetable dips and spreads. Serve with fresh cut vegetables, whole grain crackers, or on top of crostini spread with goat cheese or feta crumbles.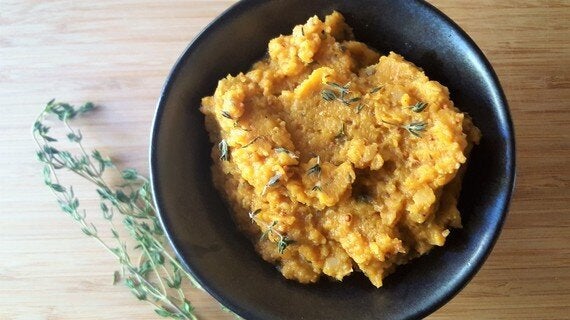 (Photo credit: Zannat Reza, used with permission).
1 cup pumpkin purée
½ cup lentil puree*
2 tbsp canola oil
1 tbsp fresh thyme leaves, chopped or 1 tsp dried
2 tsp Dijon mustard
2 tsp apple cider vinegar
4 medium clove garlic, minced
½ tsp ground coriander
¼ tsp salt (or to taste)
Method 1-- Purée 1 cup canned lentils with ¼ cup water (note: rinse and drain the lentils first).
Method 2 - Place ½ cup red lentils in a pot, add 1 cup water and bring to boil. Cook on low and let the lentils simmer for 5-7 minutes until lentils fall apart. Remove from heat. Stir vigorously until the lentil and water form a paste.
Healthier Spinach Dip with Greek Yogurt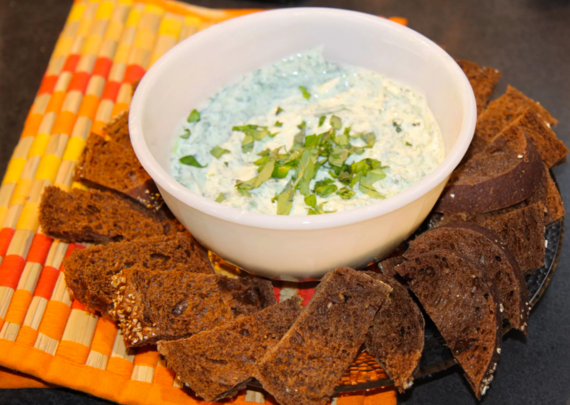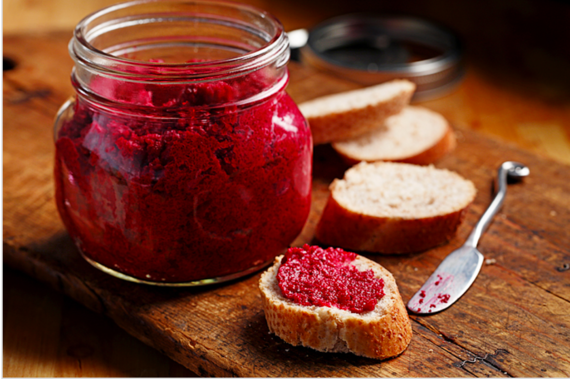 (Photo credit: Canola Eat Well, used with permission).
Tomato Eggplant Spread with Turmeric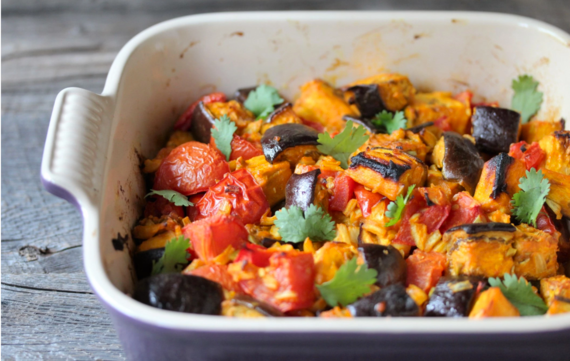 (Photo credit: Zannat Reza, used with permission).
Follow HuffPost Canada Blogs on Facebook