shutterstock
Winter can be tough for fruit lovers. Let's admit it... there just isn't as much fresh produce on display and prices are often at their highest in the cold winter months. So what's a nutrition-inclined foodie to do?
Here's my dietitian-approved list of the top four healthiest winter fruits!
1. Grapefruit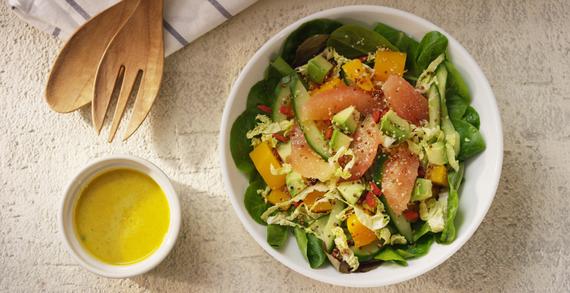 (Photo credit: Barry Cheong. Used with permission.)
Nothing says summer more than a fresh squeeze of citrus. Surprisingly, Florida grapefruit is at its juiciest and most delicious in January and February and the growing season continues until April, so winter is prime time to enjoy it! It's nature's way of giving us a burst of vitamin C when we need it most... during cold and flu season. Just half of a Florida grapefruit has 100% of the vitamin C most people need in a day!
As an added bonus, citrus is well-priced compared to other fruit, especially in the winter when we don't have much (if any) local fruit available.
Grapefruit is low in calories (50 calories per half) and it is low on the glycemic index. Rumoured to be the accidental but delicious hybrid of an orange and a pomelo, the grapefruit is an excellent source of antioxidants such as vitamin C and A that help strengthen the immune system and fight free radical damage. Grapefruit is also a good source of fibre. It's rich in a type of soluble fibre called pectin which helps lower "bad" LDL cholesterol and triglyceride levels in the blood.
Ruby red and pink grapefruit is rich in lycopene, an antioxidant which gives it its brilliant hue. Lycopene may have heart health benefits and enjoying lycopene-rich foods is linked to lower risk of prostate cancer. Grapefruit is also rich in phytochemicals called liminoids that have shown promise in fighting different types of cancer in cell and animal studies.
Curious about whether you can or can't have grapefruit with your medication? See this table from The Harvard Medical School Family Health Guide to check, and speak to your doctor to be sure.
Grapefruit adds the perfect balance of tartness and sweetness to your recipes. Try this recipe for Florida Grapefruit Super Salad from Chef Cory Vitiello for the Florida Department of Citrus.
2. Pomegranate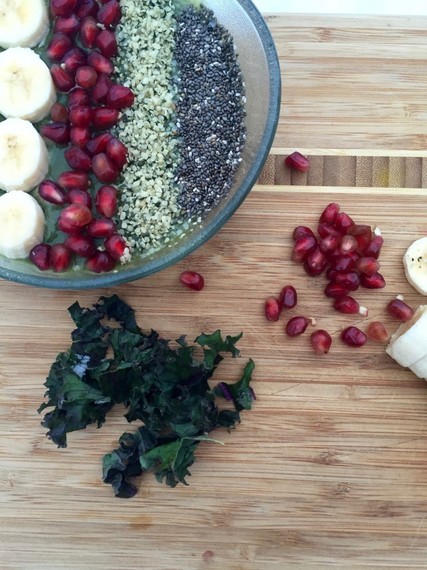 (Photo credit: 80 Twenty Nutrition).
Pomegranate arils are also rich in an antioxidant called punicalagin that may help lower blood pressure, reducing the risk of heart attack and stroke. Read more about the health benefits of pomegranate and get my favourite pom recipes in this Huff Po article on one of my favourite fruits.
Try my Superfood Smoothie Bowl recipe featuring pomegranate arils!
3. Prickly pear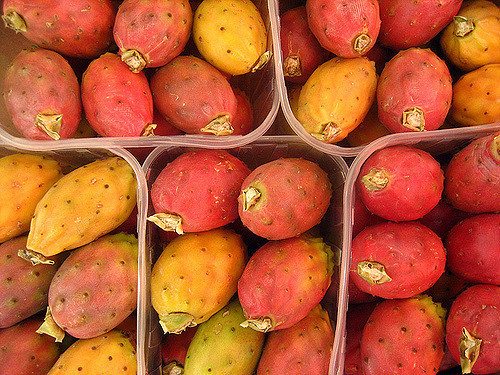 (Photo credit: Meena Kadri via Flickr).
Prickly pear, also known as pear cactus or nopal, is rich in antioxidants and fibre. Specifically, prickly pear contains a type of fibre called pectin. Pectin lowers the amount of sugar that the body absorbs, helping to control blood sugar levels in people with type 2 diabetes. The pectin may also help lower cholesterol levels in the blood.
And college students rejoice... there is also research suggesting that an extract of prickly pear may even help you nurse a hangover. Well, at least it might help with nausea and dry mouth. There's no evidence to suggest it can help you with any of the other side effects, unfortunately!
4. Guava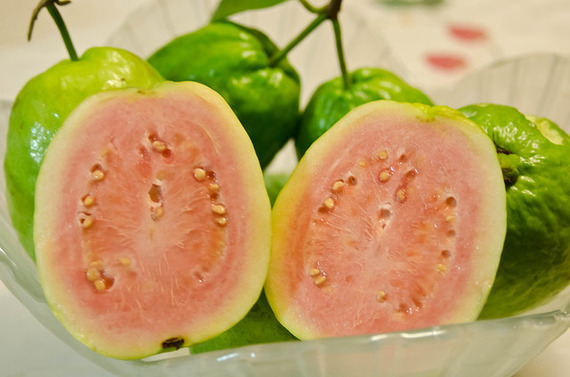 (Photo credit: hey tiffany via Flickr).
This relative of eucalyptus is rich in antioxidants such as vitamins C and A and lycopene (see the "Grapefruit" section for more on the nutritional benefits of lycopene). It has four times the amount of fibre as pineapple and about the same amount of potassium as a banana. Fibre helps promote a healthy digestive system and potassium helps lower blood pressure.

5. Persimmon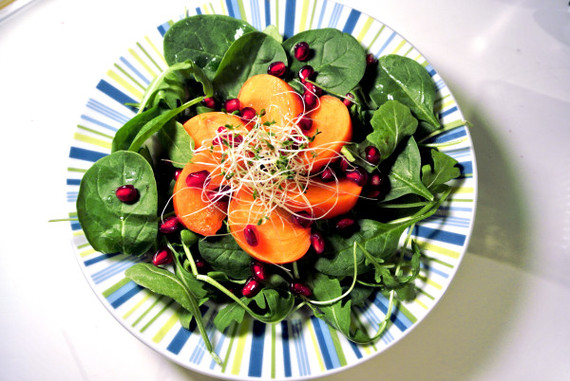 (Photo credit: 80 Twenty Nutrition).
Persimmon season runs from October to February, so hurry up and load up on this tasty fruit while you can. Native to Japan and China, most of the persimmons sold in North America are the sweeter variety. They are rich in antioxidant vitamins A and C. A medium persimmon has only 30 calories and plenty of fibre to help you manage your weight, prevent or control diabetes and fight colon cancer.
Try my delicious recipe for Arugula Persimmon Salad.
What's your favourite winter fruit? Share on Facebook at 80 Twenty Nutrition.
Disclosure: Christy is an ambassador for The Florida Department of Citrus.