Getty Images
Blue Jays fever has taken Canada by storm! People are getting out of jury duty to watch their favourite team in action and workplaces are setting up TVs so employees don't have to miss game day excitement. Canadian Tire is even going as far as closing its corporate offices in Toronto and Calgary, so that the 5000 employees can watch the Jays take on the Texas Rangers today.
I spoke to Chris Joyner, Major League Strength and Conditioning Coordinator for the Toronto Blue Jays, to get the inside scoop on what the Jays are eating to power through their first post-season in 22 years.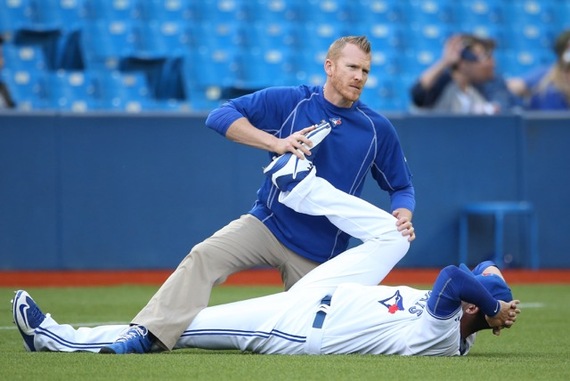 Chris Joyner in action. (Photo credit: Michelle Prata. Used with permission)
"Our guys eat anything and everything," Chris tells me from the Rogers Centre weight room. "There isn't one food or type of food we offer, it's about having lots of healthy options available year-round."
"We work with a sports dietitian and do lots of education with the guys about how to make healthier choices and nutrient timing for peak performance. We always have lots of good quality protein available like chicken breasts, beans, yogurt, nuts and whey or vegan protein powder. We make sure the guys understand how to get a good balance between protein, healthy carbs like rice, vegetables and fruit and healthy fats."
His dietitian colleagues have taught him well. Chris has a food-first philosophy, encouraging athletes to have whole foods before reaching for things that come in a box or a bag. "We plan our menus out in advance. We try not to have junk food lying around, but once in awhile we'll put out some treats," he says.
Whether they're on the road or at home, the Jays fuel up with healthy snacks that are sources of protein such as trail mix, beef jerky and protein bars. They also pick carbohydrate-rich foods that have fibre such as fruit.
"As much as possible, we try to make a healthier version rather than having takeout. The guys love homemade pizzas.
For quick snacks, we have energy bars available 24/7, such as SoLo GI energy bars. They're great for when the guys aren't hungry for a full meal or for a snack before or during the game."
SoLo bars are ideal for sports performance. Created by Canadian company New Era Nutrition, SoLo bars are clinically validated as being low on the glycemic index, which means they provide sustained energy rather than a quick energy spike and crash. Research suggests that having low GI carbs before exercise improves performance.
"That's what's great about the bars," Chris explains. "Most of the time, we want the guys having long-lasting energy that will get them through a training session or a game. A quick-releasing sugar like a doughnut isn't going to have much staying power!"
Having lots of great-tasting flavours doesn't hurt, either. "The players' fave flavour changes year to year. Over the last few years, SoLo's Peanut Power and Chocolate Charger are the way to go. Lots of guys are into the yogurt coated Lemon Lift one too."
"A few of the guys have diabetes or are more in tune with how food affects their bodies. They tend to be more careful about choosing the right types of carbs."
What else do the Blue Jays eat before a game?
"We have an island in our kitchen area that is always loaded up with fresh fruit and vegetables. Smoothies are really popular. Guys are creating their own blends and juices at home and seeking out juice bars on the road. They get creative with the different combinations they come up with. Before a game, the bullpen guys will make a smoothie or protein shake and share it between several guys."
Chris makes what he calls a "rally shake" for the guys during the midpoint of the game to provide the Jays with quick fuel. He created the recipe when he was an intern 14 years ago and now one of his unofficial duties is being "the shake guy."
This recipe was inspired by the comforting flavour of a peanut butter and jelly sandwich, but Chris replaces the jelly with honey, a carbohydrate that is high on the glycemic index and provides instant (although short-lived) bursts of energy. Here's his secret game day recipe that "gets the guys going"!
PBJ (Peanut Butter Blue Jays) Rally Shake
Serves four Toronto Blue Jays players.
Ingredients:
- 3 cups of almond milk or 2 per cent milk
- 4 tablespoons natural peanut butter
- 2 tablespoons honey
- 3 bananas
- 4 scoops protein powder (whey protein, or rice or pea protein for the players who prefer plant-based protein)
- ½ cup ice cubes
Directions:
1. Put all ingredients into a blender and blend until combined.
2. Drink up and let's play ball!
Disclosure: Christy Brissette is a brand ambassador for SoLo GI energy bars.
MORE ON HUFFPOST:
Texas Rangers v Toronto Blue Jays