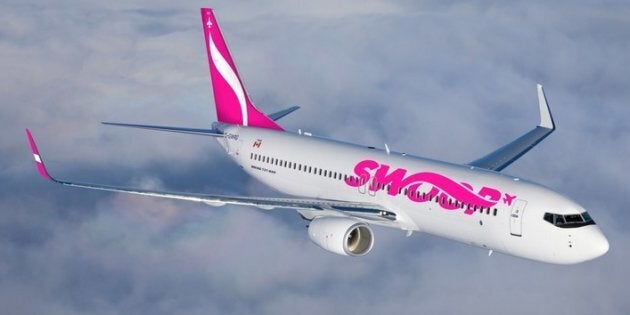 If you've ever travelled around Europe or the United States, you are probably familiar with ULCCs, or ultra-low-cost carriers. Known as no-frills airfare, these cheap flights offer very bare-bones travel, allowing you to pick and choose which additional features you pay for.
ULCCs are very common around the world, Canada is actually the only G7 country in the world without one. Canadian airlines have a tough time maintaining these low-cost services due to our small population relative to our land size, hefty taxes and fees, and minimal competition. According to travel experts, low-cost models don't work in Canada because we don't have the population to support high levels of competition. High taxes and fees for airplanes in Canadian airports also play a role, as well as foreign ownership policies.
In the past, an international company could not own more than 25 per cent of a Canadian airline. The federal government increased that to 49 per cent this year, which could play a large role in the introduction and success of low-cost carriers in Canada. Without already established and successful companies entering our aviation market to spur competition, start-up airlines will have a tough time up against WestJet and Air Canada on their own, who control 92 per cent of the market.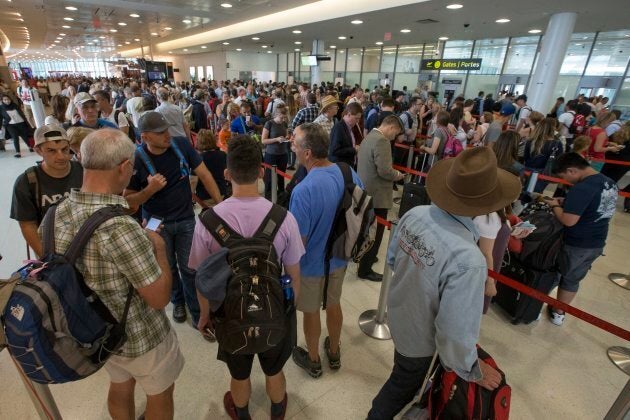 It is very clear that the demand for an ultra-low-cost carrier among Canadians is extremely high. Every year, millions of Canadians drive south of the border to fly a cheaper American airline. There are over 30 secondary airports in Canada — the majority of which are not serving the amount of flyers they were built for — that could be hosting ULCC airlines. Even if you choose not to take the low-cost flights, competitors will presumably be forced to lower their prices to keep up.
Below are several airlines to keep your eye on for ultra-low-cost fares.
WestJet
On Sept. 27, WestJet announced the launch of Swoop, their ultra-low-cost carrier. Bob Cummings, WestJet executive vice-president, described the name as "a powerful verb that demonstrates we plan to swoop into the Canadian market with a new business model that will provide lower fares and greater opportunity for more Canadians to travel." Swoop will be based out of Calgary, where WestJet is conveniently also located, allowing shared services and support between the two airlines. With existing infrastructure, experienced executives and a modern fleet of Boeing 737-800s, Swoop will be able to save costs and avoid a trial-and-error learning period that other start-up airlines face.
WestJet presumably has the best chance of surviving, as they have the capital, airplanes and reputation already. However, they are facing obstacles too, as evident by the delayed launch. The problem for them, which the startups won't have to deal with, is that the frustration and discomfort that comes with flying on a ULCC could tarnish their entire reputation. This is especially risky in the beginning, while people adjust to the additional fees and lack of amenities that go hand-in-hand with ultra-low costs. VP of communications Richard Bartrem stated that "the idea for us will be to brand it very differently from WestJet, the aircraft will look very different, the logos, etc., will not be reminiscent of anything to do with WestJet." This is exactly what they've done so far with Swoop, as the colours are white and fuchsia and the plane has no visual tie to WestJet branding.
Flair
Flair was formally only a charter service that provided aircrafts to travel company NewLeaf, who sold the cheap tickets. They offered $99 fares from seven secondary airports. However, it has been a tough year for them, so Flair and NewLeaf have since merged and rebranded to become Flair Air. They have decreased the amount of $99 offerings and available airports from seven to five. Currently with five Boeing 737s, they plan on adding one more by Dec. 15 and to expand their services to Toronto, Vancouver and Kelowna, which will bring their airport offerings back up to eight.
Although we can't say what will happen in the quest for ultra-low-cost carriers, my advice is to take advantage of the low fares while they are available.
It is unclear how Flair will proceed from here, possibly transitioning into a cheap airline but not quite a ULCC. However, their spokesperson stated the company aims to prove there is a market for no-frills flying. Unlike other new airlines, they also operate as a charter airline for bigger lines such as AirTransat, Sunwing and Canadian North Airlines, providing themselves with an additional revenue stream and capital source to succeed in this new endeavour.
Canada Jetlines
Canada Jetlines has been struggling to get off the ground for several years, however with the new foreign investment increase and a new CEO, Stan Gadek, they plan to be in business by June 2018. Gadek stated his plans, saying that by next summer they will be flying within Canada, followed by Florida in the winter and leading up to Mexico and the Caribbean. They aim to have 12 airplanes in the air over the next two years. Currently, they will be starting with two 189-seat aircrafts in an all coach figuration, no premium seats or cabin at all. Their goal is to offer prices as low as a pair of jeans, which may be possible as they estimate their costs will be 30 per cent less than a major airline.
Frontier
More possibly good news for us deal-seekers is this American ULCC's recent announcement stating that they will fly into Calgary as of spring 2018.
Currently, none of the American ultra-low-cost carriers fly into Canada, although they still target our market by flying into secondary U.S. airports just below our major cities. Their one-way ticket prices are often as low as US$20-$40, however they will presumably be a little more coming in or out of Canada.
In the end though, history has shown all of this is very hard to maintain in Canada. So although we can't say what will happen in the quest for ultra-low-cost carriers, my advice is to take advantage of the low fares while they are available.