NicoElNino via Getty Images
There are a lot of things that can make you worry when traveling. If you are an anxious person you know that your anxiety doesn't take a vacation just because you do. Here are some tips and tricks for your nervous travelers out there.
If crowds stress you out, plan your trip during "shoulder season" when it will be less crowded. Basically this is the time right before and after peak travel season. That way, the weather is still good, but the crowds are at a minimum.
Research, research, research! Learn everything there is to know about where you are going. For some people, the anxiousness comes from the "unknown" factor. Take care of this by doing your homework before you leave. It is impossible to prepare for everything but visiting a new destination with an idea of what to expect is always a good idea.
Are you one of those people that think that you've forgotten something very important when you leave on a trip? Did you leave the garage door open? Was the stove left on? I think we've all worried about something like that at one point or another. Here's a tip for all of us with a little bit of OCD. Take photos of all of the things you are worried about not doing. For example, snap a shot of the stove knobs in the off position or the closed garage door. It might sound crazy but you will rest easy knowing it's done.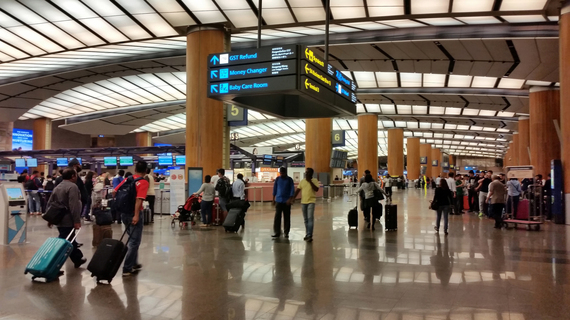 I recommend this next one even if you aren't an anxious traveler. Make lists! Physically checking things off as you accomplish them is very cathartic. Make a packing list and a checklist of things you need to get done before you leave. You should also take photos of your luggage inside and out so that in the off chance your bag is lost it will help the airline identify it.
It's also a good idea to take screenshots of all your flight details, directions, maps, etc. in case you don't have internet or misplace your printed documents. That way they will be easily accessible in your phone's photo library. For important travel documents like your passport and boarding passes, you should designate a spot for them in your bag so you are less likely to think you've lost them. Make sure the spot for those documents has a zipper closure and that you always put the items back into that pocket once you are done with them. This will prevent you from frantically searching for things.
And finally, if flying makes you feel claustrophobic it might be a good plan to spring for some extra leg room if you can. It's usually about $75 -$200 more per ticket depending on the length of the flight to get a seat in the premium economy section or $35 - 50 to get a seat with more legroom like an exit row or bulkhead. This can be well worth it when you just need that extra space to feel calm.
Follow HuffPost Canada Blogs on Facebook
Also on HuffPost: