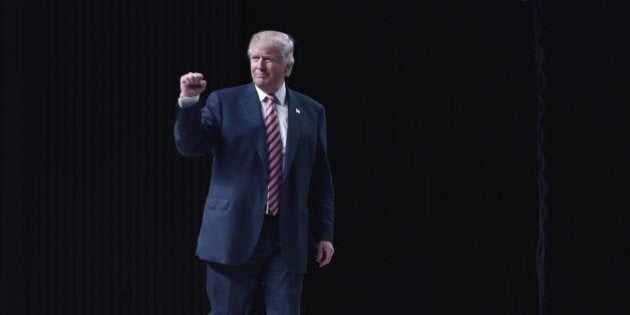 Who is Donald Trump kidding?
Speaking as if his lewd comments, which also suggest sexual assault is okay because he is a star, are okay because it is locker room talk? His apology at the second presidential debate was undermined by his justification of his comments as locker room talk, along with other comments that he has made throughout his campaign.
It is impossible then to accept at face value his statement that he respects women. His behaviour of interrupting Hillary Clinton and lurking behind her also send messages of bullying and intimidation through body language and disrespect for her as a woman.
Only this weekend I was speaking to a friend who works in an organization where she has experienced this kind of bullying from some male colleagues through body language and using size as a means to intimidate.
Coming at a time when many university campuses, for example are grappling with a culture of rape, and the military in Canada and the United States are working to change their cultures to better support women and create a culture of respect, it is disheartening to see a presidential candidate making and shrugging off denigrating comments that affect over 50 per cent of the population, including Hillary Clinton as a first woman presidential candidate, as mere talk.
Women continue to fear for their safety not only on campuses but on streets, in parks and on trails. I have spoken to a number of women who say they no longer jog alone on wooded trails. They also face harassment and implicit bias in the workplace which affects their ability to be effective and to advance in those workplaces.
Sports teams have been working hard to change their image of "jocks" who disrespect women and also felt as sense of entitlement because they were a star. Athletes have been disavowing his message which is heartening to hear. For example Time reported on Tuesday October 11 in the Brief that" Robbie Rogers, a midfielder for the Los Angeles Galaxy, wrote on Twitter: "I'm offended as an athlete that @realDonaldTrump keeps using this "locker room talk" as an excuse."
Time also cited a number of other sports stars as disagreeing with Donald Trump's categorization of his talk on video as locker room talk. Sadly, Donald Trump has many supporters and this sends a message that it is okay to denigrate women as it is just "talk". I applaud these sport's figures who have the courage to disagree and do not want their members to be lumped into this kind of "talk" as acceptable and taking place in their locker rooms.
We know that talk and behaviour have an impact especially from public figures. Movie and music stars regularly influence the next generation and we look to our leaders for setting a standard for the rest of their constituents. Since the activities of US presidential candidates and presidents are observed around the world their behaviours can have broad influence in positive or negative ways.
There is no question that his comments, despite his less than contrite apology, encourage others who support him to see denigration of women as okay because it is merely locker room talk.
Contrast this behaviour of that with our Canadian Prime Minister Trudeau who has repeatedly supported equality for women through both words and actions. Appointing women to 50% of his Cabinet positions, and 50 per cent of his ambassador postings were an example of how words and actions were aligned.
He sent a message and set a standard for all Canadians including business and governments about the importance of equality. He has advocated around the world for equality of women equality is for men and women- it cannot thrive in a culture where women are objectified as sexual objects.
These comments and actions have been observed around the world and tends to bolster Canada's image.
All of us need to condemn behaviour that denigrates women -- our daughters, mothers, sisters, wives, whether in our workplace, in our homes and in our country. I suggest these comments hurt men too because it lumps them into the "locker room talk."
We need to ensure that our sons and daughters can grow up in an environment where they are treated as equals and can thrive by building on their strengths and interests. It takes active participation from all of us to educate our children that the behaviours denigrating women, they are witnessing in this presidential debate, are not acceptable no matter the position or fame of the individual.
Follow HuffPost Canada Blogs on Facebook