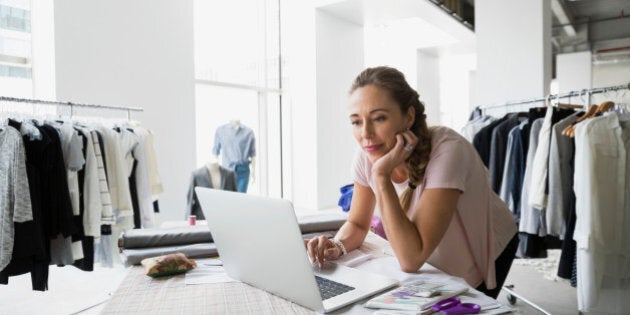 Women entrepreneurs are ambitious and want to grow their businesses according to a new study released on Tuesday. Current and past Literature and reports have resulted in a general assumption that women entrepreneurs are risk averse, thereby impacting their ability to obtain necessary capital for startup and growth.
The study by the Centre for Women in Politics and Public Leadership at Carleton University, in partnership with the Beacon Agency and BMO, challenges these assumptions. Researchers did an extensive literature review, interviewed over 100 entrepreneurs across the country from start-ups to high growth enterprises and brought together entrepreneurs, government officials, academics and other leaders to provide their input.
Risk needs to be examined through a different lens according to the study. Currently too much emphasis is placed on the notion of taking risk as an end in itself which is not the main objective but may be necessary to achieve social and economic goals. Taking a risk to jump from a cliff with a parachute for the thrill, for example, is quite different than making a decision in the context of a business.
Women entrepreneurs often described their approach to risk as being "risk rational."
Instead of encountering a group of risk averse entrepreneurs, the researchers met many women from varied backgrounds who wanted to start a wide range of businesses or already had established businesses that had clear social and economic goals. They were prepared to make the risk-related decisions necessary to advance their goal of achieving a vision for their business such as toys that teach ethics or support services that focus on relationships or less violent video games to name a few, including risking it all to start their business.
One woman told researchers how she shared a bowl of soup with her business partner for months because that is all she could afford while starting their business. Another slept on her friend's couch for several months since she had invested all of her money to start her business. Yet another told her story of seeking and obtaining a large contract to deliver a product before she had figured out the mechanisms to achieve the results. Many risked their savings and family loans to achieve their goal because they could not obtain loans from financial institutions.
Women entrepreneurs often described their approach to risk as being "risk rational." What does this mean? For these entrepreneurs it means gathering as much information necessary to be comfortable before making their decision. As they experienced success and bolstered their confidence to succeed these decisions became easier and often seemed less of a risk because of their deeper understanding of business requirements.
Decisions related to risk are influenced by an entrepreneur's notion of success. Women entrepreneurs tend not only to be interested in the earning statements for their business but also the impact of their business decisions on all aspects of their lives. Some women entrepreneurs told researchers that they contained their rate of growth to accommodate family flexibility and increased their rate of growth later.
In one poignant story a female entrepreneur had to step back from her business to care for a seriously ill child. After the child recovered she moved forward quickly to grow her business. Others made the choice to contain growth to accommodate their lifestyle -- there is more to life than work. Some grew their businesses quickly and most had a long term orientation which meant they did not want to grow and sell quickly.
Another key finding is that women entrepreneurs take a relationship approach with their customers, clients, employees and funders. Women entrepreneurs told how they sought a relationship with financial institutions because they want them to understand their business and what matters to them as an entrepreneur. It is not enough to fill out forms and have a conversation about the money alone.
Many of the financial institutions have not fully understood women entrepreneurs desire for a relationship approach and their longer term orientation. Having a negative experience at an early stage of seeking funding or hearing about the negative experience of others makes them less likely to approach a financial institution for financing for growth potentially impeding their desired growth rate. Some women entrepreneurs have grown their business more slowly because of this lack of access to capital forcing them to self-finance.
This report provides an opportunity for financial institutions and lenders to reassess their current approach to women entrepreneurs to ensure their risk policies and decisions are not being negatively influenced by incorrect stereotypes about how women entrepreneurs assess risk in achieving their social and economic goals. Women entrepreneurs are indeed a force for economic advancement in this country and can augment their contributions if their approaches are better understood and valued.
Follow HuffPost Canada Blogs on Facebook