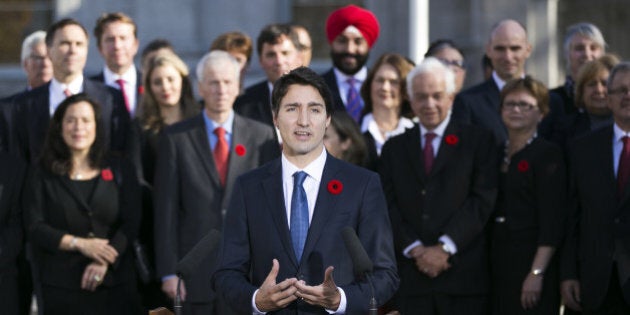 Prime Minister Justin Trudeau showed leadership when he committed to and then appointed 50 per cent of his cabinet women. Instead of trying to justify his appointments he made the seemingly simple statement "because it's 2015."
The message is there should be no doubt about equality in Canada in this day and age and long explanations are not necessary. Despite criticism of his commitment it was apparent when the prime minister announced his appointments that all were very qualified for their roles.
During a recent panel discussion in Davos, Justin Trudeau again made it clear that men and women should feel free to call themselves feminists. The word feminism has been much debated and maligned over the years, harking back to the early days of bra burning and seemingly anti-male sentiment.
Yet it is a word which symbolizes the strong belief in equality for men and women. Justin Trudeau's words echoed that of Emma Watson in her galvanizing speech at the UN when she promoted the word feminism -- "It is not the word that is important. It's the idea and the ambition behind it."
We have progressed considerably since the 1960s, yet the debate continues. The prime minister's strong leadership is welcome and important as he is sending a message both in words and in his actions that he believes equality is essential and the responsibility for achieving it belongs with both men and women.
We can use the word feminism as a rallying point or at the very least the full idea behind it as expressed by Emma Watson. When a male prime minister feels comfortable enough to use the word, it can have a very positive impact. Everyone benefits when all members of society can seek to achieve their full potential without barriers that are based only on their gender.
While the cabinet is now 50 -50, we are still a far cry from achieving equality in Canada. Numbers alone are not the complete solution to the complex challenge of achieving equality. We can see this by looking at quotas which are unable to achieve their stated goals.
Women continue to be underrepresented in leadership positions in both the public and private sectors, as well as in Parliament and the legislatures, despite comprising 50 per cent of the federal cabinet.
In STEM occupations women are missing, battling stereotypes or not being encouraged as young girls and women to grow the strengths needed to enter these scientific and technological fields. Stereotypes and unconscious bias remain and create obstacles for both women and men in achieving their full potential.
When women are constantly stereotyped as the primary caregivers in their families, it limits their possibilities and that of men who wish to contribute equally to both caregiving as well as their work roles.
"Family friendly" policies are often crafted with women in mind and men have not been encouraged to use them equally to allow them to fully participate in family responsibilities. Men want to be fully engaged today in the care of their children and often fear, what women experience, that their careers will be harmed if they take advantage of the policies.
In addition they fear the continued stereotypes about men who become the lead caregivers or step back in their careers to engage in an important part of their lives. In many cases their fears are justified leaving them with difficult choices. If men cannot take advantage of these policies, women are also disadvantaged when they have to bear the greater share of caregiving keeping alive the existing cultural norms that are out of step with our modern world.
Partner violence and sexual harassment and assaults are still major reminders of how women are regarded by some men.
Professional sports and elitist male teams have fostered a culture that does not respect women, nor view them as equals. Words often used to describe women or their body parts are demeaning and objectify women. Only recently have teams and sports organizations begun to address the consequences of such a macho culture, and they have a long way to go.
Similarly, our military and national police forces are coming to grips with negative consequences from cultures that have not yet changed enough to create an environment of full respect and equality for women.
Awareness is a positive first step and does create the potential for positive changes. Male leadership is welcome and can be an impetus for cultural change. The prime minister is a new generation leader who can also be a role model for cultural change. He can clearly go beyond the numbers to influence and encourage the change that is needed to move the yardstick forward.
We will know we have achieved equality when the different talents and perspectives that men and women bring are valued and we live equality rather than having to talk about it.
Follow HuffPost Canada Blogs on Facebook