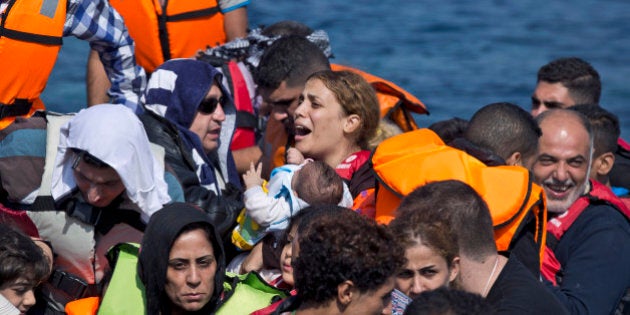 535 Canadian students from all of the 17 Faculties of Medicine in Canada are addressing this open letter to the Canadian Government regarding the Syrian refugee crisis.
In response to the ongoing Syrian refugee crisis, our current Canadian government has reluctantly offered some support. We shall, according to Prime Minister Stephen Harper, accept 10,000 refugees over the next three years, offer humanitarian aid to those remaining in the conflict zone and focus on military intervention to eradicate the source of the problem. As medical students committed to global health, we call into question this lukewarm commitment to such a pressing crisis and call for stronger commitments in line with Canada's values.
According to Citizenship and Immigration Canada, our country has accepted only 2,300 Syrian refugees since January 2014. This insufficient number can barely compare to other countries like Germany, which has considered accepting 800,000 new Syrians by next year. According to Amnesty International, 95 per cent of the Syrian refugees are in five countries: Turkey, Lebanon, Jordan, Iraq and Egypt. It's more than four million in total.
In the scheme of Canada's history, 2,300 new refugees is paltry compared to what we have done in the past: in 1956, Canada accepted 37,000 refugees from Hungary, when our population was only 16,081,000. During the late 70's, in Vietnam, 60,000 war victims were able to flee to Canada in two years. In 1986, the people of Canada were awarded the Nansen medal by the UN High Commissioner for Refugees, in "recognition of their major and sustained contribution to the cause of refugees." During the late 90's, following the Kosovo war, 5,000 victims found refuge, once again, in Canada.
It is a North American tradition to welcome with open arms those who flee war and dictatorship. This custom, in addition to saving thousands of lives, benefits the entire society. Albert Einstein, Michaëlle Jean and Madeleine Albright were refugees who advanced the fields of science, as well as Canadian and American politics. Steve Jobs, who revolutionized the world from California, was born from a Syrian migrant. Refugees, despite being portrayed in decayed conditions, are often educated people who bring a considerable richness to our societies.
A recent study from the Australian Bureau of Statistics found that refugees were the most entrepreneurial category of migrants in Australia. They tend to start their own businesses, thus creating jobs and benefitting the economy. We highlight that everyone's fundamental rights should be respected and that the refugees' dignity should be recognized no matter their economic status, in accordance with the Geneva Convention. The waves of refugees that have arrived in Canada have all contributed to the development of our country, as much from the social view as from the economic. This most recent one might just do so as well.
"Being personnally involved in this issue since part of my family are Syrian refugees, I feel left out by the country I was born and raised in." - Personal comment of Inas, medical student in Quebec
We would also like to remind our politicians that individuals who find refuge on our land should be welcomed with an environment favourable to their social integration -- which starts with the right to healthcare.
Since 2012, the Conservative government has considerably cut on refugee healthcare and services, despite a Federal Court ruling claiming the cuts were unconstitutional, "cruel and unusual." It is undeniable that war victims come in with a series of physical and psychological sufferings that are important to heal in order to guarantee their social inclusion, such as post-traumatic stress disorder, violences, rape, social instability, malnutrition, etc.
To that effect, we highlight the work of Médecins Sans Frontières -- Doctors Without Borders -- and the multiple non-governmental organizations which have tried to give some dignity to the victims and fill the shortcomings of the healthcare system.
We would also like to respond to the Conservatives' rhetoric on the cause of these migrations in the Middle-East. Recently, Stephen Harper's response has been clear: Canada will do its best to welcome these victims, while fighting the "cause" of the war by increasing its military intervention. We would like to remind Mr. Harper that despite the undeniable repercussions of the terrorist groups in place, many other determinant factors are equally important to consider.
One of them is climate change. According to a study of the Proceedings of the National Academy of Sciences published in March, an underlying factor of the Syrian conflict would be the unpreceded drought that has touched the country between 2006 and 2011. Destroying all agricultural hope, the drought has led to an important exodus of farmers toward cities, amplifying an instability already palpable since the massive arrival of Iraqi refugees.
Bachar al-Assad's lack of help and acts of repression led to the uprising. According to Richard Seager, a climate scientist of the Lamont-Doherty Earth Observatory of the Columbia University, the Middle East is facing a rise of temperatures that could stir up conflicts for water and agricultural resources. This warming affects the region in two ways: through hotter temperatures that accelerate water evaporation; and weaker winds that reduce the amount of rain coming from the Mediterranean.
These findings match those of the Lancet Commission on Health and Climate Change, proving once again that ecological disasters already have catastrophic effects on social peace, food security and health of the populations. As future physicians, we cannot accept that this crisis will be our future sociopolitical reality.
"As a medical trainee, I understand the primal importance that stability, safety and basic needs play in the health of peoples. I hope to see Canada play a leading role in supporting the Syrian people in the face of such massive tragedy. " - Personal comment of Sarah, medical student in Alberta
In light of these thoughts, we call the Canadian Government to:
Respect the Geneva Convention relating to the Status of Refugees by opening the door to more Syrian refugees;
Allow family reunification by introducing more flexible measures such as temporary visas for Syrians having family members in Canada
Eradicate or substantially reduce the barriers to private sponsorship of refugees; notably the impossibility to sponsor a refugee coming from Turkey; the excessive quantity of paperwork; and the waiting time adding up to eleven months before the approval of a sponsorship
End once and for all the full cuts to refugee health care, as requested by the Federal Court
Recognize the role of climate change in this crisis; and commit to greener politics that will alleviate the consequences of global warming on social dynamics.
Download the full list of this open letter's signatories by clicking here.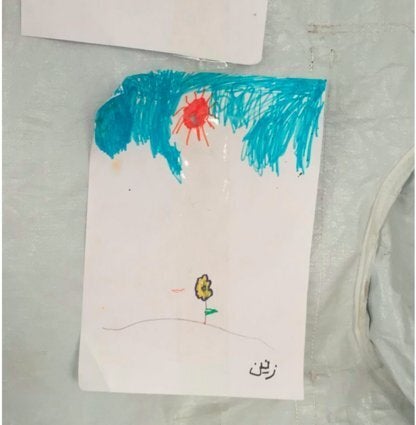 Refugee Crisis: Children Affected Draw Heartbreaking Pictures