Jade City is located on the Cassiar highway, which the Americans use to enter Alaska. It didn't take long for this tiny mining community to become a world famous tourist stop. My father started mining around Jade City in the 1970s and retired in 1992.
My husband Robin and I have taken ownership of the Cassiar Mountain Jade store and set up Dease Lake Jade Mining, all with the help of our family. We're the only family based mining company that we know of. There isn't a large scale in mining in the jade industry -- that is why it's still here!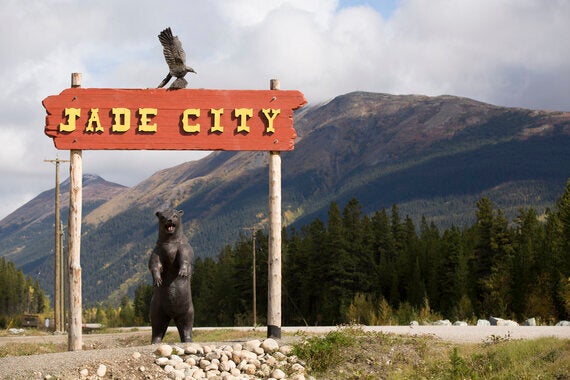 We mine from May to October with our sons -- Josh, who operates heavy equipment, and Justin, who cuts the jade so we can grade the quality of it. And our grandchildren are our best marketers and have entertained the tourists in our store since they were born.
Jade can be turned into various goods including jewellery, Inukshuk puzzles, sun catchers, jade pet rocks, jade plates and bowls. The plates come in all shapes and sizes, from fish-like forms to bears and leaves. We also make head stones and urns for ashes. Anything done out of stone, marble or glass can be made out of jade, and if it can't be done -- we'll invent a way to do it!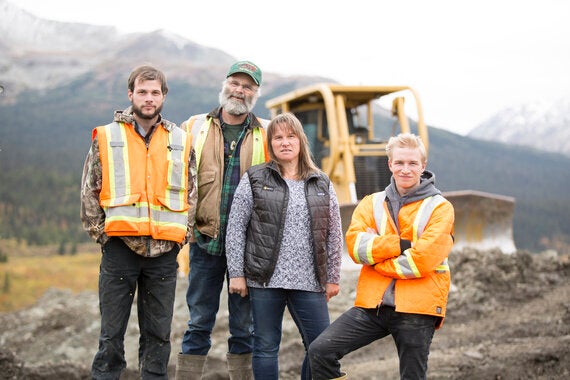 (L-R): Justin, Robin, Claudia, and Josh Bunce
Canada has some of the best jade in the world -- and we are proud of it. The jade mining industry is estimated to be worth billions of dollars. On average, the estimated price for top quality jade can be as high as $1,000 per kilo.
Mining jade is hard work, and it's no easy task to find the good stuff. We are four generations, happy to be making our livings in the jade mining industry -- and we have the fever alright! We didn't realize it would be so contagious, though.
For the last two years, we've been on a crazy ride making a TV show with Discovery about our even crazier lives during the mining season. It all started when Robin did a news interview about mining in northern B.C. and the reporter didn't know that jade was mined in Canada. The last thing we expected out of that was for Hollywood to come calling.
We were just about to sign a deal when we received a phone call from OMNI, a Canadian production company. They told us they were interested in creating a factual drama about jade mining and asked us to hear their ideas. We agreed to meet him and decided to work with them and go Canadian (sorry, Hollywood!).
We were excited to be part of this show, but petrified of looking like crazy hillbillies. We may be that way, but showing the rest of the world was another thing. But we went for it, and it's been a wild ride.
Half the time the crew ends up being more entertaining than we are. They are the butts of many jokes from our miners. They've lost tires on quads, and have been taken into areas that are so bumpy that one of them was ejected from the vehicle while driving!
We spent so much time working with the cameramen every day that they quickly became our second family.
Jade Fever on Discovery is a different kind of reality show, unlike anything else out there. There is no scripting in what we do. We are followed around on a daily basis, going about our own lives, and end up making a television show from it.
Frankly, we don't know what attracts people to the show. We are just a bunch of misfits living the mining dream out in the middle of nowhere and having fun doing it. And now Season 1 has been nominated for a Canadian Screen Award for Best Factual Program or Series!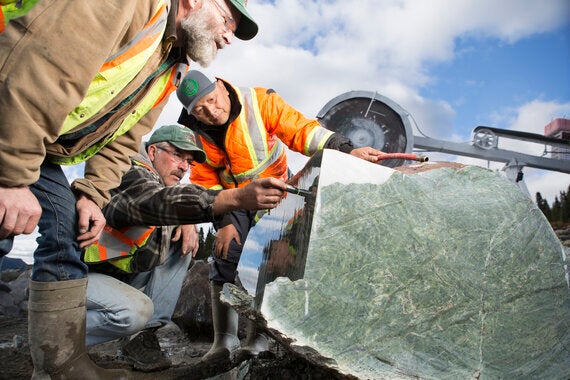 (L-R): Robin Bunce, Guy Martial, and Alan Qiao
Mining keeps some beautiful jade in our country for our local carvers. The impact of jade on local economy is huge. In our economy when there are hundreds of layoffs, we are doing the opposite and growing larger. We are putting more people to work mining, manufacturing the jade here in Jade City, and operating our retail store, and as a result putting food on the table for hundreds of people in our country.
Every year there's increasingly more and more foreign investors in the jade fields, which is why we have taken on Chinese partners on a couple of our jade sites. It took a long time to find the right team to work with and at first, and it was not easy doing business with the Chinese. They operate differently in their culture, but we have learned together over the past four years and have managed to do some great work together as a team.
Now, I need to get back to the dig. There's jade in them thar hills!
Follow HuffPost Canada Blogs on Facebook