Margaret Mulligan
I was interviewed recently and one of the questions went something like this: "Cobi, we all put lots of energy, excitement and time into making our homes beautiful for the holiday season. Then January comes, we simply take it all down and the house 'goes back to normal.' Can you give us some ideas of how to overcome the winter blahs and find inspiration when it comes to winter decorating?"
It forced me to put into words something I've been feeling this January and many before. I love this time of year, partly because I'm an Aquarius and feel a certain ownership over the month, but mainly because of the big "sigh" that it provides us all with. January is like a giant exhale for me and my house, and after the holidays, boy do we both need it.
Decorating for winter is as close as I get to being an anti-decorator. For me, it's the one time of the year when less is more.
The winter months are about appreciating all things clean, quiet and pure. I suggest using this time to clear the clutter, purge unused stuff and put not only yourself, but your house, on a diet. Welcome the purity and quietness that comes with an unadorned, simple, functional home. Put out a few favourite things and let them steal the spotlight! One nice candle on a windowsill glowing in the evening. If I do any seasonal decorating at this time of year, I use white and winter white... it gives the house a peacefulness like newly fallen snow.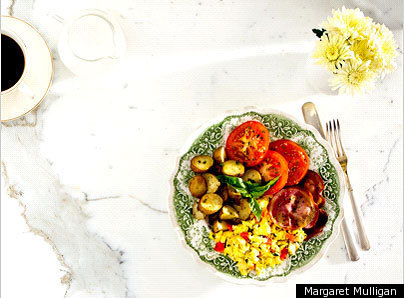 Have you ever noticed how some people seem to make the most humble objects appear special -- almost like art? I think that has to do with the fact that they provide breathing room around those objects so there is space to appreciate them. Try that in your house. One lovely old bowl or vase on a table. Nothing else. Don't worry about "grouping" and "styling" and "layering"... just let the quiet light and space surround one thing. It's quite magical.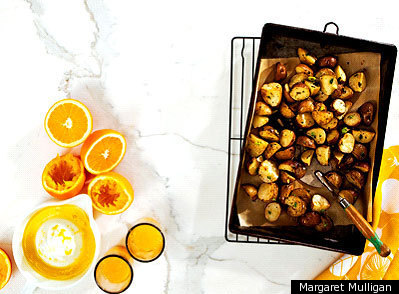 Just before the holidays, I let a talented photographer friend rummage through my kitchen cupboards to use some of my things as props in a photo shoot she was doing for PaperChef. Now as I said, my friend and photographer, one Miss Margaret Mulligan, is very talented and can find beauty in a brown paper bag -- or in this case, baking parchment -- but I have to say, I was astounded at how beautiful some of my humble (and often jumbled) odds and sods look when given "the floor" or "the counter top" in this case.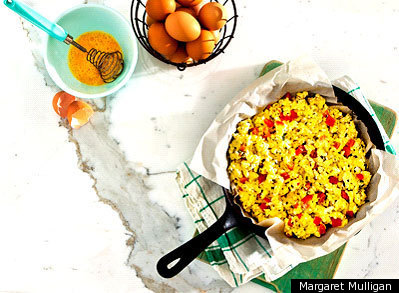 So whether fine or humble, give your favourite things some appreciation this month. Clear the clutter, do some cleaning and see how your old stuff sparkles. Conveniently (in the month of credit card bills) it's the cheapest decorating you'll ever do.