Honour Patrice and Nathan by Donating to the Stand On Guard Fund
The past week has been a horrific one for Canada.
As targets of two separate fatal terrorist attacks, two Canadian soldiers -- Warrant Officer Patrice Vincent and Corporal Nathan Cirillo -- are unfortunately no longer with their family, friends and nation as a whole.
Canadians, and anyone who is a friend of Canada, can show their support by making a donation to the Stand On Guard Fund which will be distributed evenly amongst the families of both fallen officers.
While words, or money for that matter, will most definitely not quell the grief that the families are now experiencing, the fund will hopefully show them that the entire Canadian community is behind them and share some of their heartfelt pain derived from this horrible tragedy.
Story continues beneath slideshow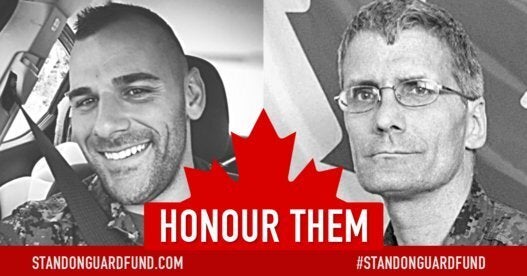 Warrant Officer Patrice Vincent joined Canada's military in 1986.
Patrice was a member of the Joint Personnel Support Unit at the Integrated Personnel Support Centre in St-Jean-sur-Richelieu, a department that was responsible for helping injured soldiers and war veterans, as well as their families to access support services provided by Canada's federal government.
After 28 years of service for his country, on Monday, Vincent passed away as he was hit by a moving motor vehicle driven by a suspected Canadian-born terrorist.
Nathan Cirillo, a reservist out of Hamilton and father of a kindergarten-aged son, had dreams of eventually becoming a full-time Canadian soldier.
Apart from his soldier duties, Cirillo was a personal trainer and a bouncer at a downtown bar in Hamilton, Ontario. His bar manager, Billy Pozeg, mentioned that Cirillo would "bring up the mood in a room with a smile as wide as his shoulders," a good, charismatic young man no doubt.
All that ended horribly on Wednesday as he was shot multiple times in the back by a suspected terrorist while he was on honorary guard at the National War Memorial in Ottawa.
The Stand On Guard Fund currently has a goal of $300,000 in donations between October 22 to 29 of 2014. More than half of that has been donated by five of Canada's major banks: TD Bank Group, Royal Bank of Canada, CIBC, Scotiabank and BMO Financial, as well as Lafarge and a few other Canadian companies.
Now it is our turn to honour Nathan and Patrice by giving back and showing our support at Stand On Guard Fund.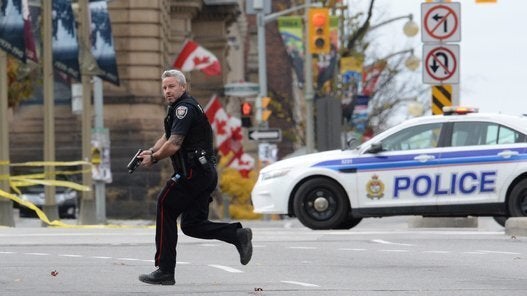 In Photos: Ottawa Shooting