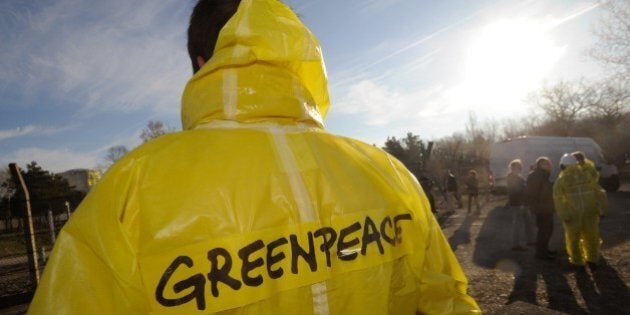 Has anyone noticed how deliriously happy Greenpeace's Mike Hudema sounds as he claims credit for the fact that two reputable global brands are revisiting billions of dollars in Canadian energy investment?
That's right, Hudema and his divisive Greenpeace organization are patting themselves on the back over the fact Norwegian giant Statoil and French brand Total just pulled billions of dollars in planned investment from Alberta's oilsands.
That's billions of dollars toward good jobs for workers and families, and for myriad other goods and services purchased in Canada from Canadian businesses. It's also a huge hit on our federal and provincial tax base that supports healthcare, education and so many other necessary public programs.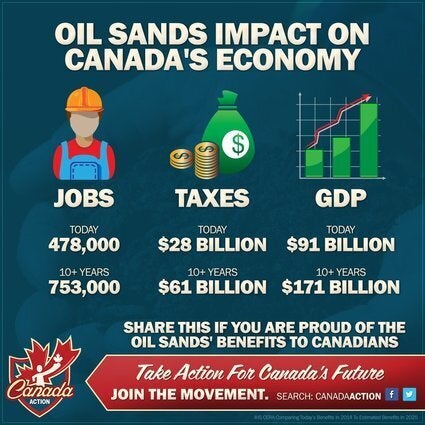 Canada, Oil, GHG and Economics
I suppose Greenpeace might as well pat itself on the back, because some Canadian families will be too busy looking for work and covering household bills.
But for Hudema, it's all good. That's because Greenpeace operates on a business model that's less about finding solutions to climate change and more about generating additional funds to fuel constant campaigns.
"Because of how much we are collectively kicking ass on the pipeline front, Total also had to mothball its $11-billion Jocelyn (oil) sands mine project."
He gives us a useful confirmation of the old Greenpeace strategy there. Did you catch it? If Greenpeace can block pipeline projects and prevent oil from reaching the coast, then the group can achieve its principal goal - shutting down one of our most important industries, the oilsands.
We've seen this brand of Greenpeace antics before: it's reminiscent of the group's continuing vocal opposition to clean, CO2-free hydro-electric installations, or its anti-science stance in calling for a total prohibition against the use of safe genetic technology to increase food production and reduce micro-nutrient deficiency in people in poor countries, as well as its opposition to anything related to fossil-fuels.
Don't forget that this is the same multi-national Greenpeace conglomerate whose international program director admitted a few months ago that he'd been "commuting between Luxembourg and Amsterdam" via fuel-guzzling commercial aircraft since 2012.
You remember. He told the media that he'd been making the round trip about twice a month, despite the organization's campaign to curb "the growth in aviation" which it says "is ruining our chances of stopping dangerous climate change."
Hudema, too, is no stranger to jet travel. From India to Iceland, Athabasca to Athens, and San Francisco to Saskatoon, he's pretty much in constant jet-fuelled motion as he takes his Greenpeace paycheck and puts it toward undermining our energy economy.
Instead of being part of the climate solution, it sounds like Greenpeace focuses on job-killing policies against fossil fuels, employees and families - until, that is, a Greenpeace manager has to commute to work by air twice a month, or needs an exotic vacation.
Can Greenpeace make a positive, sustainable contribution toward an eventual reduction in the use of fossil fuels? With a focus on viable solutions, it could. And given many industry leaders agree we need to continue to make progress on reducing global greenhouse gas (GHG) emissions over time (NOT overnight), a more constructive Greenpeace might even have a positive role to play on that score.
The group could take a page from industry; the oilsands sector has been doing precisely what's needed - reducing its GHG footprint per barrel through innovation and new technology.
Compared to China whose GHG emissions amount to more than 26 percent of global GHG emissions, or the US where that country is responsible for more than 17 percent of the global figure, or even Europe's 12 percent figure, Canada's contribution is tiny. Greenpeace could afford to gain some perspective on proportionality. That's something the discussion needs.
In fact, in many ways, current oilsands emissions and the trend to reduce those emissions per barrel make Alberta a model.
So let's not rub our hands together too enthusiastically, Mike. Whether Greenpeace really had anything to do with the investment decisions of Total and Statoil, your apparently gloating comments affect a lot of potential employees and their dependents who were really hoping they had a future with these two projects.
Not only that, but the comments miss the mark. Society needs oil today. Someday that may change. But until that day comes, there is no disputing the fact the safest way to transport oil over long distances of land is by pipeline.
The jobs that come along with providing that oil to world markets are a very valuable by-product from which Canadians from coast to coast continue to benefit.
Cody Battershill is a Calgary realtor and founder / spokesperson for CanadaAction.ca, a volunteer organization that supports Canadian energy development and the environmental, social and economic benefits that come with it.