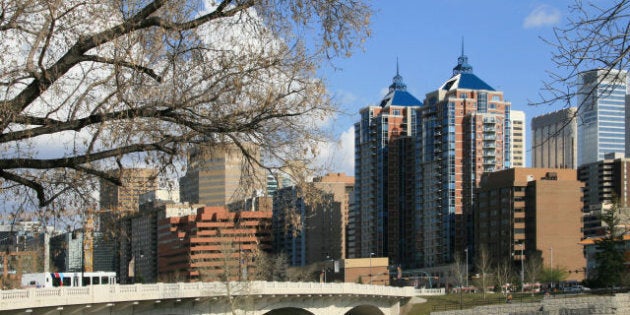 Calgary is a Great Place for Families
Calgary is an amazing city to raise a family in, there is no question about that. If you find yourself questioning that statement then my reply would be to consider the context and perspective of alternate choices. With 1.25 million people living in Calgary we enjoy a quality of life and level of economic prosperity almost unrivaled anywhere else. As a born and raised Calgary enthusiast, I could tell you in great detail about many communities in Calgary that are designed as family oriented neighbourhoods.
Places to live that are safe, convenient and offer a wide variety of living opportunities for families from all walks of life. Places that have developed a strong sense of community within and have spilled over into our city's community as a whole. These are some of the best areas of Calgary to live in.
It's true, our city is a place where many say please and thank you, hold the door for you, and show courtesy in lots of other ways. I frequently see these acts of kindness in public that are testament to this.
But desirable family orientated neighbourhoods and a tight knit community are only a few of the building blocks needed to be named the best major city for families and kids in Canada. A few others would include access to daycare, housing, healthcare and culture, factors which just happened to be taken into consideration in a recent report released by MoneySense Magazine.
Best Place for Families in Canada
Calgary has been named by MoneySense Magazine as the best place to raise a family in Canada . Many Calgarians would have told the rest of the world that our city was great for kids and families many years ago, but sometimes people and organizations just have to figure it out on their own! This ranking adds to the numerous other top placements for our great city including best city in Canada and the 5th best city in the world, and 2nd on the prosperity index (between 1st place Paris and 3rd place London)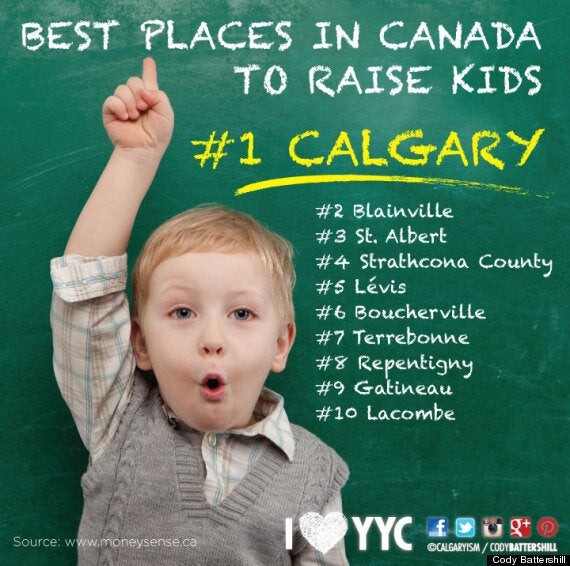 Don't get me wrong, there are other nice places to live in Canada and by no means can MoneySense take into account the personal experiences of each and every person in Canada that might make one place as special as it gets for an individual. What they can consider is the numerous sources and measures by which they tabulate the final rankings for each city.
Why is Calgary the Best?
So what makes Calgary different from all the other great places in Canada to live? Well, according to MoneySense, two of the largest contributing factors to set Calgary at the top are high incomes and low taxes.
Just how high are our incomes?
According to Calgary Economic Development, for the past 12 years Calgary has had the highest average salary and wages per worker. In 2012 that average was $66,844 big ones!

Calgary ranked second in the highest average annual growth for salaries from 2003 to 2012 at 4.9 percent. Our city also ranked second in total growth in salaries from 2002 to 2011 at a whopping 57.1 percent!

If these hard facts aren't good news for families, then I don't know what is!
And how low are our taxes?
They are lowest out of all the Canadian provinces. Alberta Government says we have one of the lowest property and gasoline tax rates, have one of the highest spousal and basic tax exemptions in our nation and have no GST (most Canadians probably knew that one already...).
So what can we conclude from these facts?
Well, let's just say that raising a family costs money, and usually lots of it!

Calgary's low taxes and high income levels are two very appealing characteristics hard to look past for many families who already live here and for those who might be considering making a move to Calgary at some point in the future.
Family Activities
Besides the financial factor, Calgary is host to a wide range of family activities and events year round such as the world famous Stampede and numerous festivals to name a few, while the city's close proximity to the Rocky Mountains also open up endless possibilities for family fun.
Reach the Rockies in less than an hour from Calgary's border and enjoy some of the best outdoor recreation around; from hiking and skiing to biking and the hot springs, the Rockies have all the bases covered when it comes to family activities.
Feel Safe
One of the best things about Calgary is how safe it is. Calgary has also been consistently ranked as one of the safest urban centres in Canada, especially for a city of its size and prosperity.
Calgary Economic Development says that the city has actually become safer as it has grown in population, a result of the City of Calgary's continued investment into technology, equipment and workers involved in protection and security services.
So what are you and your family waiting for? Come and find out why Calgary has been named as the best place in Canada for families in 2012!