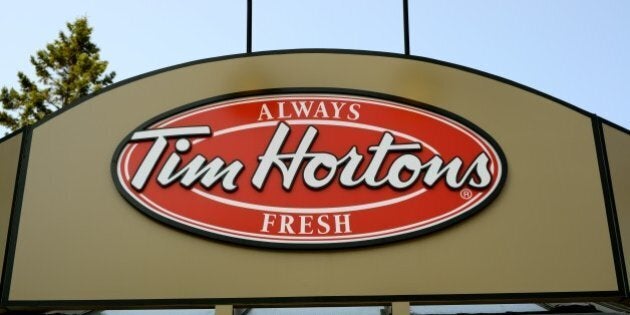 The sounds you are hearing are Tim Hortons' corporate office giving Canada's energy community the back of its hand, and those same energy workers and their friends and family pushing back -- hard.
That's right. Tim Hortons, the Oakville, Ont.-based coffee retailer made popular by unpretentious, family-loving, hard-working resource employees from Prince Rupert, B.C. to Fort McMurray, Alta. to St. John's, NL, just told its core customers to take a hike.
I don't know about you, but it makes me scratch my head. What was this once-popular -- even beloved -- brand thinking?!
According to news reports, the lead-up to the bizarre event was all pretty typical. An energy company that, among other things, transports the liquid and gas products of several other Canadian energy companies from A to B -- and is also one of Canada's largest wind energy producers -- had been in the ad market.
For its simple, indisputable message that energy is a key part of our lives, Enbridge selected different ad networks including the Tim Hortons in-store video platform.
So far, so good. After all, if there's a Canadian retail chain with a clientele better suited to the message that common-sense energy decisions are part of life, then I don't know about it.
The rest of the story is equally typical. Spoiled, misguided, bullying activists who increasingly love to celebrate their own hypocrisy as they fly from meeting to meeting planning fossil fuel boycotts and then vacation in far-off Guatemala on Air Miles, started a petition to bully Tim Hortons into doing what turns out to be completely the wrong thing.
And it worked. Tim Hortons cancelled the pro-energy ads. After all, the coffee chain is pretty big by Canadian standards -- nearly 4,000 stores across Canada, almost 1,000 in the U.S. They probably thought they could weather this.
In other words, what does Tim Hortons care about Canadian resource workers? Energy workers and all their related communities are busy. They'll never make a fuss about the fact a transmission company that services virtually an entire industry has been banned from the very stores its employees frequent every day.
So really, who cares? Right?
No. In fact, if you thought that, you'd be very, very wrong. If social media channels are any indicator, Timmy is firmly on the losing side of this unfortunate series of events. Everyone from oilsands workers and suppliers to executives in large cities to ministers of the Crown are weighing in. And for Tim Hortons, it's not good.
Let me give you an example. When the federal minister of state for Western diversification tweets that it's time to draw a line, and then references the hashtag #BoycottTims, you know something important is happening.
And when the minister of national defence states categorically that he's proud to represent thousands of constituents who work for Enbridge and other Canadian energy companies, you know Tim Hortons would be well advised to rethink its irresponsible, alienating move.
There are some lessons here. The blowback against Tim Hortons' stunningly shortsighted decision is a warning for all companies and their valued brand names: if you pay lip service to a small group of anti-Canadian energy activists, it's probable that a great many more Canadians will stand up and tell you they can't support your views.
And once that happens, it's a long, expensive climb back.
Tim Hortons may have just inadvertently solved that traffic problem. I know I won't be ordering a double-double anytime soon.
Timmy -- what were you thinking!?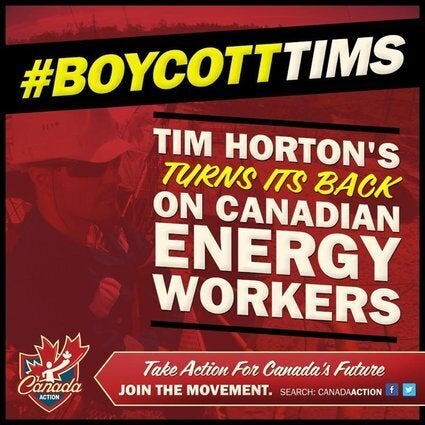 Cody Battershill is a Calgary realtor and founder/spokesman for CanadaAction.ca, a volunteer organization that supports Canadian energy development and the environmental, social and economic benefits that come with it.