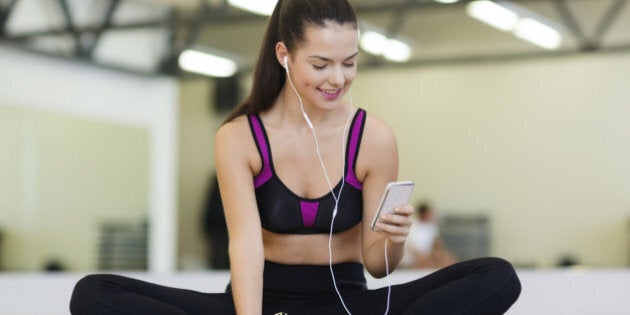 The world of fitness is one that seldom stays the same, and for good reason. As we get closer to the New Year, a time when many of us vow to make exercise a priority, here is my forecast on fitness trends that will get you pumped to try something new and turn your resolutions into reality.
Obstacle courses and other race formats will continue to grow in popularity, as will the overall number of their training facilities. Newcomers to the scene will be drawn to the challenge of finishing the race. For others who have been at it for a while, they will continue to be competitive with themselves and others.
Rebounders look conspicuously similar to mini trampolines from the 1980's, but this time around there is a new approach, strongly rooted in the functional fitness craze. Workouts performed on an unstable surface like a rebounder help to increase muscle strength and stability, while improving balance and providing cardiovascular benefits.
For those of you who like to do as little sweating as possible, this will be good news. High Intensity Interval Training has been shown to provide many of the same benefits of longer workouts, especially when considering the fat burning properties of the exercise. Some examples of this are High-Intensity Interval Training (HIIT), the four-minute Tabata exercise that originated in Tokyo and the 7-minute Workout.
Barre classes combine both the principles of classic ballet and Pilates with the use of a ballet barre. In the last few years, barre exercise classes have become the go-to method for those who want to perform smart and mindful movements while still "feeling the burn" and blasting calories.
5. Functional Fitness Training Zones within the fitness centre
Functional fitness exercises simulate activities you might perform in day-to-day life, with an emphasis on core stability. They're fun, they can be performed individually or in groups, and by using small equipment (medicine balls, Bosu, stability balls, TRX), they don't require a lot of space on the gym floor. The Miles Nadal Jewish Community Centre offers small group training using the indoor "Jungle Gym" facility. Since they installed the apparatus last fall, they have seen a dramatic rise in small group training participation.
6. High Definition User Experience (UX)
The High Definition User Experience (UX) is coming. We live in the technology age, and fitness equipment is no exception. Within the next year, you can expect to see a growth in equipment consoles that sync with wearable devices and smartphones, and can share biometric data to social media and other sites.
7. E-booking and transferable fitness memberships
Restaurants have been using technology for years now that allows diners to make a reservation from their computer or smartphone. Now you can book a bike in a spin class, or a space for your mat in a hot yoga class the same way with services such as Flywheel and Classpass. The best part is, you are not limited to one fitness club -- you can move around and take different classes that interest you at participating host clubs.
8. Branded Group Exercise
Pre-packaged fitness programs are continuing to gain in popularity such as Tribe, Zumba and Power. People know what to expect from the pre-choreographed workouts, and the integrity of the brand demands a high quality class experience. I asked one of our members why she attends Power classes regularly and she said, "I love the team atmosphere and the music. I really get into it, and before you know it, the hour is up, and I've done a full body workout!"