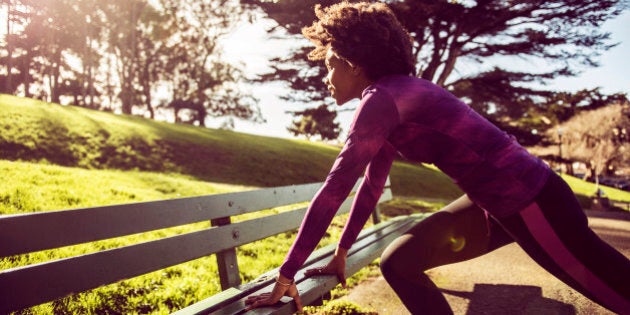 It is summer, and our thoughts and bodies lead us to the great outdoors. When you're outside enjoying the fresh air and sunshine, sometimes the last thing you want to do is pack up a gym bag and head into a climate-controlled (or hot and sweaty!) gym for a workout. One of my favourite things to do as a trainer is to take my clients to a big park and introduce them to a simpler approach to exercise: interval training.
Interval training combines body weight exercises with cardio. Ideally there will be a flat area where you can perform the cardio component. This will take the form of a sprint, a jog or a brisk walk, depending on your training intensity level. If you're lucky enough to have stairs at your park, running, jogging or walking the staircase is another great cardio workout. Also, most parks will have a park bench or a picnic table you can use for strengthening exercises.
Here are a few ideas so you can skip the gym, enjoy the great outdoors and get in your best shape this summer:
Cardio perform two to three minutes of cardiovascular exercise. This could be:
Running up and down stairs
Park Bench or Picnic table:
Box steps forward/lateral. Targets: quads, glutes, hamstrings, core. Place one foot on the seat of a park bench or picnic table; facing forward, step up so that both feet are on the seat. Repeat 15 times and then switch legs. For the lateral step-up, face sideways while stepping up.
Pushups. Targets: pecs, shoulders, triceps, core. Perform 15 reps on the ground, or for variation, from the seat of a park bench. For an easier version, perform the reps from the tabletop of a picnic bench.
Bulgarian Lunges. Targets: thighs, glutes, core. The Bulgarian lunge, or split-level lunge, is a challenging but rewarding exercise. Place one foot on a park bench and step forward with your other foot on the ground into a lunge position. Bend your front knee and bring your back knee down towards the ground. Repeat 15 times and switch legs.
Burpees. Targets: full body. Burpees are one of the all-time toughest exercises. Using a park bench can make the exercise more manageable but you will still see the benefits. Facing the bench seat, jump up in the air, then bend forward, placing your hands on the bench. Jump your feet backwards, then return them to their starting position, and stand up and jump again. Repeat 15 times.
Up and down planks: lie flat on your stomach with your forearms on the ground. Raise your body up into a plank position and hold for a three count, and then lie back down on your stomach. Repeat 15 times.
Side planks: lying on your side, with your weight on one forearm, raise your hips up off the ground so that only your feet and forearm are touching the ground. Hold for 30 seconds and repeat on the other side.
Hold planks: just as it sounds, you are going to hold the plank for as long as you can. 30 to 60 seconds is a pretty standard length of time to hold a plank.
Repeat the entire sequence three times, i.e. cardio, strength, core exercises. Performing this routine two to three times a week will get you in great shape -- fast!
Follow HuffPost Canada Blogs on Facebook