Standing, frozen to the ground, in our client's calamitous kitchen, we deliver (hoping not to overly offend) a relatively innocuous "blimey." But we're wincing. Oh yes, we're seriously wincing. In fact it's fair to suggest we're shocked by the unstylish world unto which we've been suddenly exposed.
Nothing in our path is savable. The space, by our client's admission, was last indulged when sputniks first circled the globe. OK, so a degree of updating, courtesy of feel-good phrases and mottos (scribbled with a Sharpie) had been attempted a few years past. But the naïve 'on cupboard' project had fallen flat at the first hurdle.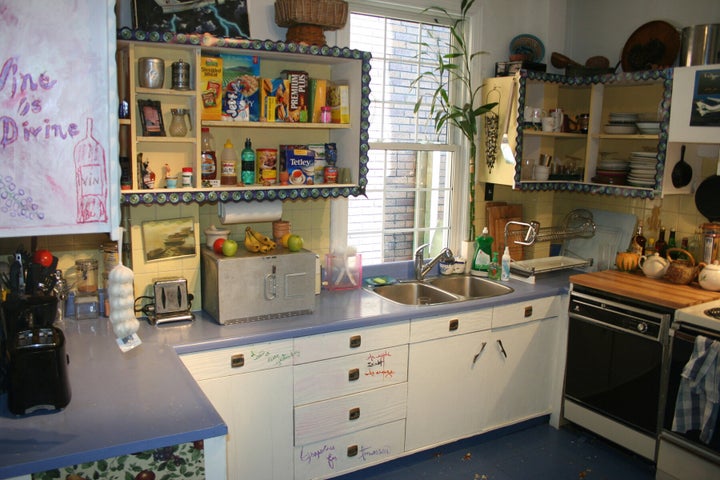 Over animated convo in the gloomy room, we established our client's love of colour — particularly yellow and grey. Hmm. Might we reversion the unappetizing food prep' zone with this palette, we inquired? Buoyed by positive response, we suggested a shot of ebony to anchor the proposed scheme.
To us, the project served as the perfect observation of how not to fit in with the fitted kitchen crowd. Hey, why follow the pack? Mightn't it be fun to use 'off the peg' cabinetry to deliver tailored, couture aesthetics? Our client seemed thrilled at the suggestion so we set to work.
After consulting with Altima, an affordable company upon whom we regularly call to create cabinetry drama, we concluded it's just as easy to specify two colours of cabinetry — one for eye level and one for base — and thereby ramp up the drama tenfold.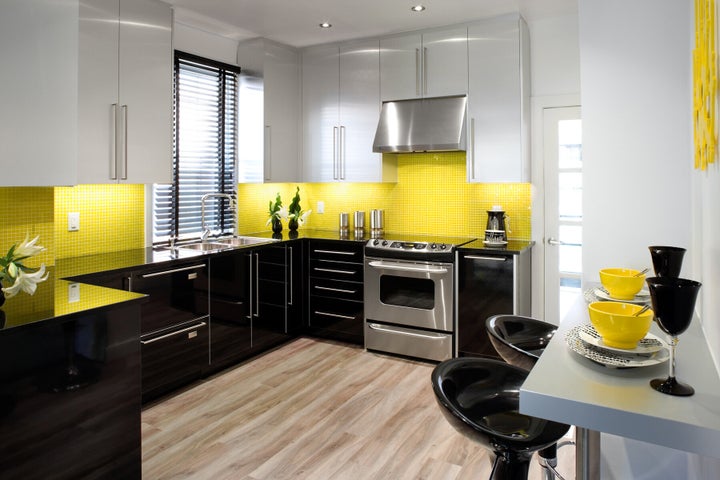 Stylistically, we generally play with colour "gravity." In an application such as this, positioning the heavier tone below makes better visual sense than flipping the principal. A tactic like this would work similarly well with two tones of grey, or perhaps with wooden base cabinets and, say, cream Shaker doors above.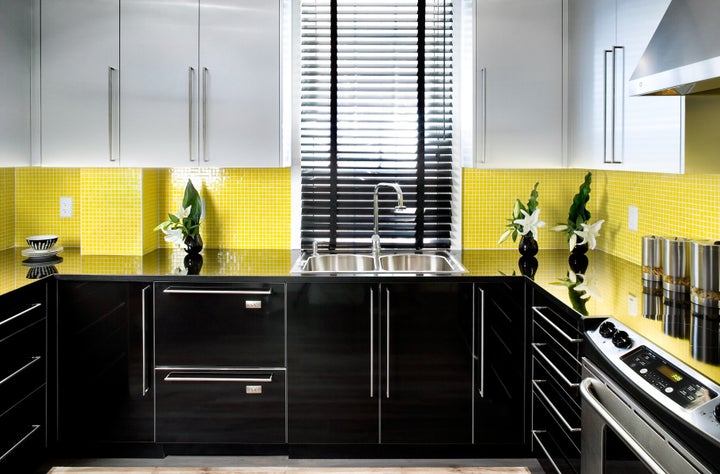 To floor our vision, we specified Karndean which is, for us, a kitchen and bathroom default mechanism due to its water repellent quality. Relatively indestructible (being composed of recycled PVC, resin and enduring polymers) this flexible strip product comes in plank form and boasts visual qualities similar to genuine lumber.
As our project is arranged, semi-open concept to the dining room, we decreed it unnecessary to clutter the space with a full sized table and chairs. An eminently more casual — and certainly space sensitive — solution was to configure a cute breakfast bar. Assembled using an Ikea floating shelf, stools and chrome legs from Lowes, it provided the perfect spot at which to enjoy coffee or a lunchtime bite.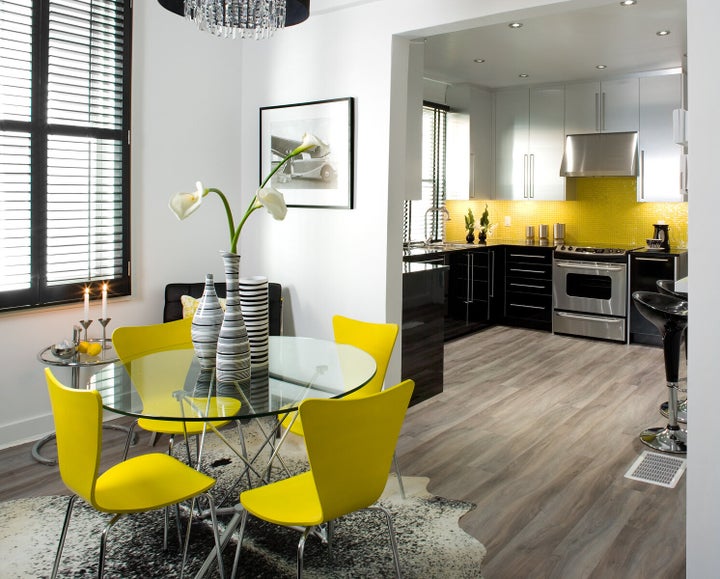 Our dramatic black granite specification, from Ciot, is a glossy solution to our paymaster's demands for a hardwearing countertop. And take it from us: surfaces don't come much tougher than granite. Sure, it's pricier than laminate or Formica, but if a job's worth doing, it's worth doing right.
Our final style note was mini mosaic tiling, added to provide intrinsic visual balance. Yup, it's sunny yellow but it serves, nonetheless, as a complementary relief to the project's darker tones. What's more - future proofing at the forefront of our minds - it'll be easier (and considerably less expensive) to replace than cabinetry if, further down the line, a whole new look is required.
Independent of today's 'before and after', here's our guide to composing the perfect kitchen recipe.
• Carefully measure your room and note positioning of existing services, windows and doors.
• Establish where you hope to position appliances, countertops and cupboards.
• Mark up any changes to services such as electricity, water and drains that may be required, mindful all the time that changing the location of appliances costs more than simply swapping out like for like.
• Don't try and save cash by tackling electrics. Unless, that is, you're trained and able. Similarly, leave plumbing to the experts.
• Consider form and function. It's great to dream but, unless there's space for food and crockery (and other paraphernalia) plans may stumble.
• For efficiency, ensure all functions are close to hand. Remember your 'work triangle': that all-important relationship between sink, fridge and stove.
If you want maximal visual return for minimal outlay, here's how...
• When one door closes: switch out old fascias but retain existing cabinetry.
• Swap countertops: butcher's block, for example, would look fab above existing pine fascia painted cream. Abracadabra - a brand new look for less.
• Replace handles: a change of knobs or pulls will revive the dullest cabinetry. Check out Lee Valley for the market's best range.
• Add an accent wall: paint is the least expensive way to add drama, so opt for one of this season's biggest colours — rich green, sunny yellow or, if you're feeling bold, poppy red.
• Counter-scaping: jaunty storage jars, shiny steel toasters, kettles and colour-coded dish towels will update without breaking the bank.
• Overhead lighting: is your kitchen dull? If space above your ceiling permits, pot lights are ideal. Run a line down the length of your kitchen (or pick out corners and above work station areas) and watch space come alive.
• Under cabinetry illumination: more than just atmospheric, this addition will significantly add to your completed vision. Carefully installed, you'll have a better chance of holding onto your fingers when chopping and dicing.
In conclusion, remember every penny you spend has a twofold benefit: you'll enjoy results in the short term and your efforts will reap dividends when time to move on. Buyers, after all, love nothing better than a new home that doesn't need work.
So come on, start cooking up a storm — and let your kitchen refit be the recipe for major domestic success. More from us next time...
Follow HuffPost Canada Blogs on Facebook