In a flourish of decorating majesty, Colin and Justin turn a formerly desperate basement bedroom into a perfect slice of Scottish slumber fancy. Here, step by step, is their magic spell...
"Jeez" -- probably the least colourful expletive, shrieked by us, while witnessing our cottage bedroom for the very first time. Yup, the language was ripe (to say the very least) as we viewed and spewed our way around every nook and cranny of the lack luster "dungeon."
Boasting walloping great whiffs of mouse poop and fusty linen (the house had been run as a rental for years) we knew we'd have our work cut out to knock it in to shape. But nothing gets in the way of two Scotsmen on a mission of decorative beautification. D'you hear us? Nothing!
And so it came to pass that we bought the cottage -- but you already know that cos you've been studiously reading our previous Huff Puffs and watching 'Colin and Justin's Cabin Pressure' on Cottage Life. Right? If not, tune in without further ado -- catch new episodes each Tuesday at 10 p.m. and previous eps on rotation throughout the week. Hey, the lakeside weekend vibe simply never ends.
But anyway -- where were we? Oh yes -- the bedroom. Having bought our cottage with another couple, we elected to do the gentlemanly thing and give what was (at the time, certainly) the best nest (the one at the top of the house) to Cherri and David. Manners, an' all. FHB, as our wee Scottish grannies would say; family hold back.
But we had a plan. We knew we could turn the cottage runt into a pedigree beauty. Sure, it would take time, money and effort, but it was all (we certainly thought) perfectly doable. So we settled at our drawing board, poured ourselves a large dram and started planning.
A few short weeks later (permits in place) we started work. First to be banished was the kinky hot tub (indoors? Hello, crazy?) which we dispatched, immediately, to the garden where it now sits, centre stage, in a specially constructed grotto along side an outdoor hot and cold shower. Bliss.
With the space cleared, we wielded our demo ball and tore down the stud partition drywall that dissected the (potentially generous) floor plan from the small adjoining bedroom. We'll reveal the transformation of the integral bathroom in an upcoming blog though at this stage will whisper that its previously shoddy ventilation had much to do with the entire basement's damp issue.
Being that the newly revealed "double" space was also affected by mold, we had to remove several wooden partitions before the room could be properly dehumidified and insulated with Thermoseal blow in fibres. This done, we clad all walls in lumber and stained everything (scan previous C&J Huff Puffs for detail) using Nescafe coffee granules. We're, ahem, nothing if not resourceful. And, God dammit, we love a nice cup of coffee...
The specification of a 48" rolling barn door (custom produced by the artisans at Rebarn (http://www.rebarn.ca) improved sightlines between bedroom and family area and, with the portal rolled open, we can enjoy wonderful vistas to the oil fire flaming away next door. Cozy or what?
As far as décor is concerned, we kept the majority of our palette grey scale with only occasional pops of yellow for punctuation. Principal drama arrives courtesy of the giant headboard, custom manufactured to our specification by Toronto based N'Shape Designs -- http://www.nshapedesigns.com . French tufted and attired in grey linen, 16" Queen Anne 'wings' provide visual -- and literal -- depth. Frank, owner of N'Shape, is an absolute expert in bespoke manufacture -- hit him up to discuss your requirements.
Case goods? The pale wood chest of drawers and the console are from Urban Barn while the cute drum tables are part of the current collection at Sunpan. You'll notice, as we assemble our visions (on this and all our shows) that we tend to plunder high street stores rather than forage through expensive designer outlets. As we've said before -- it's not where you shop, rather how you put it all together that makes the biggest difference. Aspirational attainable? Yup, those last two words remain our stock in decorative trade.
On the subject of 'aspirational attainable', the nightstands came from another 'every day' store (this time Pottery Barn) while the lights above were sourced from Marshalls. And how about the chic grey linen bedcovers? Oh, you know -- from that yellow and blue mecca of affordable every day goods; Ikea. The mustard toned blanket? Winners.
To add seismic dods of decorative pop (having saved so much on other layers) we indulged our vision with Robert Allen fabrics which the team at Amazing Window Fashions machined into large Euro style cushions and complimentary drapery. Every good scheme (as we see it, certainly) is a financial balancing act. It's that simple -- save a little here, spend a little there. It's how we like to roll.
All things considered, our runt basement bedroom has been transformed into a pageant-ready queen. All it took was a little stamina as the project endured. And a firm belief that under every tired, worn face there's a gorgeous beauty just bursting to get out. See the full facelift, unraveled, tonight at 10 p.m.!
Colin and Justin's Cabin pressure airs on Cottage Life at 10pm each Tuesday. The network is currently in free preview -- check your listings for further information.
Before - two rooms about to become one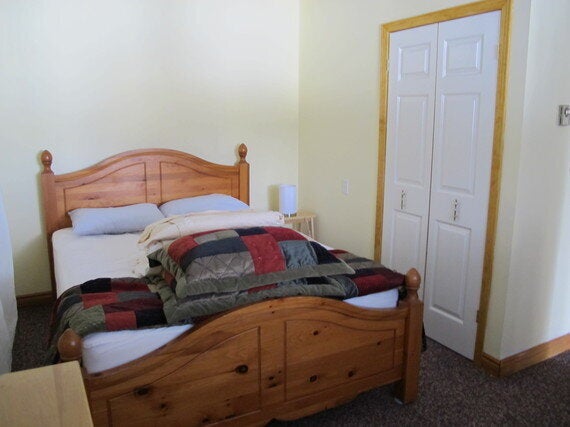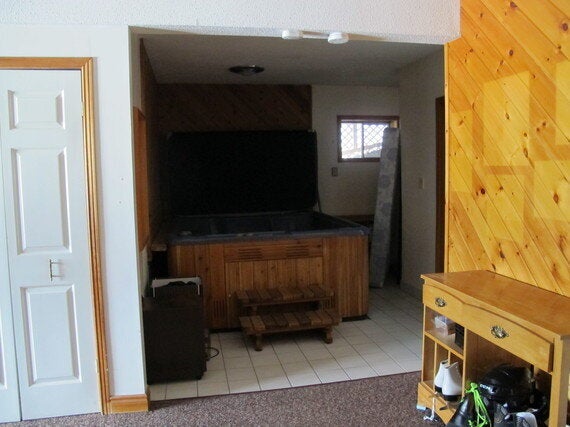 Justin's a dab hand with a paintbrush!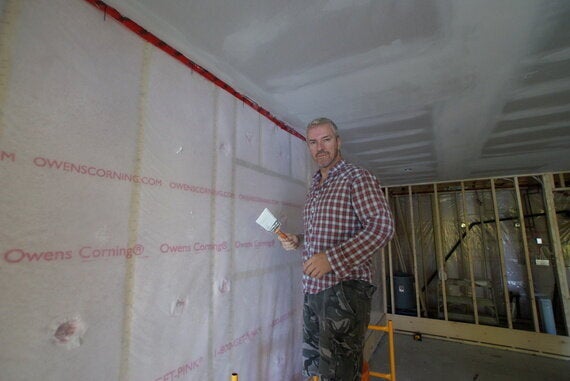 After - a very large cottage bedroom