Domino
Check in to a hotel-inspired bathroom reno that's guaranteed to provide a five star experience say Colin & Justin.
As gentlemen who navigate the globe with vigour akin to Kim Kardashian (are we the only ones who find the reality TV family tiresome?) rushing to a West Hollywood nail bar, we'll go crazy if we have to listen to one more commentator squawk about "boutique hotel" this or "hotel style" that.
Take it from us: matching nightstands, vertiginous cushion stacks and an artfully arranged bed throw do not (alone) the luxury hotel aesthetic deliver. And we should know: in our line of work, God damn it, we've been in more hotel rooms that the Gideon Bible.
As we see it, conjuring up that elusive luxury vibe also takes more than a waxy chocolate positioned daintily on a pillow sham or a swan shaped towel effigy, artfully arranged by an over zealous maid. There. We said it.
For us, a welcoming chamber, preheated and illuminated to 'cozy' proceedings pre arrival, better defines hotel style. It's that feeling of indulgence that settles as a thick towelling gown is plucked from its hanger and draped across travel-weary shoulders. It's the fresh orchid, the bedside 'next day weather' note, or the friendly concierge who calls to establish that everything is tickety-boo. Little things, but played properly they make such a difference.
But hold it a mo'. We're not saying that chic hotel style is the exclusive preserve of expensive destinations. We've stayed in many a three star where enthusiastic staff went that extra mile to make us feel thoroughly at home. Conversely, we've camped out in five star outposts where disappointment settled from the moment we arrived. Aye, it's less about spend and more about how interested your host is in making your stay a night to remember... for all the right reasons.
The good news is that Canada, from our experience, knows better than most how to proffer a tremendous welcome. Arriving in Toronto several years past, we lodged for a time at the Four Seasons and, though its grandeur was certainly fading, the Canadian gem retained a luxurious feel courtesy of wonderfully competent staff. It's no surprise to note that their new offering in Yorkville is similarly balanced with a welcoming team and stunning aesthetics that warrant its five-star rating. In Tofino, on Vancouver Island, we're all about The Wickaninnish, a beautifully appointed outpost whose position, on Chesterman Beach, is undeniably one of Canada's most arresting. In Ottawa, we've relaxed at the Fairmont Chateau Laurier: sited next to the government buildings, it's a joy to behold. We could go on and on...
And the common denominator, which links our favourite hotels? In a word, the bathroom. A good bathroom, for us, is an utter necessity, both at home and on the road. This considered, what does yours say about you? Is it a tranquil, organized home spa, or a chaotic scene awash with soap scum, razor blades and squeezed out tubes of toothpaste? If yours favour the latter category, it's time to rinse off the past and embrace a glossier future.
Ready for another monolithic before and after? Just look at today's subject: a commodious -- yet frighteningly dated -- barfroom. Err, bathroom. Last decorated in 1975, our clients (by their own admission) used it to wash and go... as quickly as humanly possible. But of course we love a challenge. And so it came to pass that, plundering our strictest book of designer spells, we removed the Barbie doll cabinetry, the absorbent gold carpet (yuck -- shag, in the bathroom? Little more than harbour for bodily drizzle and ooze) and made a beeline for our waiting dumpster.
Stone Love
We created a 3D drawing of our proposed vanity (structured to fit drop-in sinks) all the time factoring ample space for towel storage below. Following our plan, our trusty contractor created a timber frame supported on articulated metal brackets and, this done, we clad the surfaces with toffee brown marble tile. For an inspired range of stone at affordable prices, visit Ciot. These guys can arrange for your choice to be cut into whichever shape or size you need: tile, slabs, blocks -- the choice is yours.
Vanity Thrills
Small mirrors positioned above sinks is all very well (see our before shot), but a huge mirrored section makes the space seem twice as large while more than satisfying reflective needs. A competent glazier (we used Adanac Glass) will measure, supply and fit with ease. Installed correctly, your finished results will be sleek and beautiful.
Dress to impress
A well-dressed vanity should be visually inviting and should immediately suggest order and cleanliness. Opt for mirrored trays, chrome lidded bottles and cut glass jars: scour the aisles at The Bay for sensibly priced, well-designed options. The Brian Gluckstein line, for example, is affordable, as is the Calvin Klein towel range, which starts at just $12.
Lighten up
It's easy to get lighting 'right' but similarly easy to get it wrong. Lights hung above your mirror, for example, will cast unattractive shadows, whereas side lighting -- as shown here -- will illuminate your face more evenly. Switch yourself on to Lighting Originals for an inspired assembly of vanity thrills.
Successful Storage
Adding shelving for fluffy towels will give your bathroom a hotel/spa-like feel and is a great way of storing grooming paraphernalia without overcrowding your airing cupboard. Here, towel storage works particularly well due to the modesty wall constructed between the sink and the WC -- you don't want towels too close to the loo, for obvious reasons. Hello, absorbency issues?
Bath and shower enclosure
Encasing the new bath with more toffee-toned tile made the resultant fit out feel very indulgent. Can't you just imagine long hot beauty baths in that tub? Bubbles, candles, soft music? Dreamy. Positioning a huge glass enclosure, on the other hand, provided the option of grabbing a quick shower when time prohibits a relaxing soak.
Luxe up for less
Collect free perfume miniatures and store in glass jars, wrap soap bars with organic twine or decant budget supermarket bath oil into junk store crystal decanters to make a luxurious statement. In a quest for perfect accessories, you're as likely to find us wandering the aisles of Dollarama as you are Holt Renfrew: we're not shy when it comes to tracking down optimum deals at either end of the retail spectrum.
Our final piece of vanity fare? "Check it out when you check in" -- when visiting new hotels, get into the habit of taking notes and pictures and become sufficiently inspired to make your bathroom a luxury destination you'd happily visit over and over. The best hotel souvenir we ever enjoyed wasn't a dressing gown or a pair of terry towelling slippers, rather a wealth of ideas, which we employ to this day in our clients' domestic settings. Now go reflect on that!
The dated bathroom before: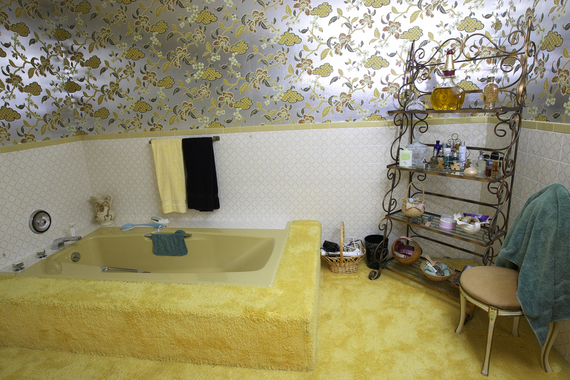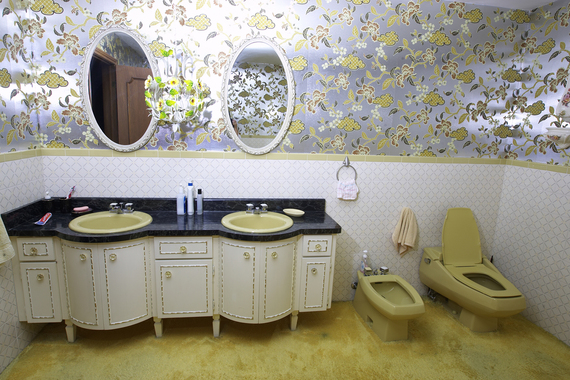 The hotel chic after: