Are you serious? The Cabin Pressure (Season 3) journey draws to a conclusion this coming Sunday? What the? We can hardly believe our 13-week run is about to end. God damn it, time flies when you're having fun. Fun? Well, actually not all the time (the project nearly killed us, if we're being entirely honest) but in day-to-day terms the fun quotient was undeniably relevant. Through all the tears.
Our plan, from the start, was simple. Track down a dog rough cottage and correct every last frickin' problem. You know the deal: find the worst property on the best lake and then undertake a makeover of Jurassic proportions. Which is precisely what we did. We lifted our cottage, shook the hell out of it, and then placed it back down on brand new foundations. And that was just for starters. We also added a new bunkie, a dreamy kitchen, several new bedrooms, a laundry, an outdoor spa and, well, enough blah blah blah and yada yada yada to send our contractors over the edge...
Building a whole new floor more than doubled our livable proportions. And making it all super gorgeous ramped up its appeal. As our wee Scottish grannies oft' opine: "If you can turn chicken sh*t into chicken pie, you'll never go wrong." And that's precisely what we did. Call it real estate alchemy, property magic or cottage conjuring, we baked (metaphorically speaking) to our grannies recipes, and the results -- we hope -- speak for themselves.
In a career that spans two decades across three continents (Britain, Canada, and Australia) we've kicked the crap out of hundreds of dowdy rooms, but this transformation is probably one of our favourites. If you'd like to appraise what one commentator called "The Haliburton miracle" (allow us to blow our own trumpets and say it's quite the transformation) crawl the interweb (at Cottage Life) where you'll find all three seasons via iTunes: the back catalogue should more than prepare you for today's dramatic living room spell. And when your swooning has subsided you'll be up to date. And ready for Sunday.
OK, so the living room's shape remains largely unaltered, but holy moly: look at the bitch now. To flood the space with light we punched out the smaller windows that view onto the lake (why they were built so small in the first place is anyone's guess) before installing larger double-glazed units and sliding portals by Euro Vinyl Tricked out with wood Venetians (Select Blinds) to embrace the views, incoming light can be controlled to suit at the merest tug of a cord.
To provide safety between the upper kitchen level and the sunken living area we used the same railings as those specified for around the deck. While indoor products don't always work as well outdoors, outdoor products are often eminently suitable for interior application. Ours (by Sunspace Sunrooms) work just as well inside as out, and the resultant black-framed lines enhance the cabin's architectural feel.
Flooring throughout is Cougar Rock by Kentwood (available at Metropolitan Hardwood Floors) a hardwearing, engineered product that marries beautifully with the ceiling which we faced with Western Red Cedar, a superior genus derived from environmentally sustainable forests. Whirring silently overhead, a wood trimmed fan (from The Fan Shoppe) cools proceedings even as the mercury rises. We have yet to install an A/C system in any of our cottage builds -- cross breeze, good quality fans and windows have always more than sufficed.
Anchoring the look (and warming the space into the bargain) is a Stuv log fire (http://www.stuvamerica.com) with heating qualities that can only be described as spectacular. To moderate spend (DIY alert) our contractor created a wood frame into which he poured concrete, surplus from our basement build. When the compound hardened, the wood frame was peeled away and the solid slab taken indoors and positioned as a chunky solid hearth. One, we might add, which more than satisfies the stoves' installation recommendations as far as heat transfer is concerned. And hey: being that the concrete was surplus from the basement build, the hearth was effectively free. And we loves us a bit of no cost. Who doesn't?
As we've got it in such big quantities downstairs (living space, that is: all squashy sofas and flat screen TV), we decided to keep proceedings a little more tailored on this level. A pair of leather tub chairs from Bowring adds maturity, whilst chunky wicker and linen sofas provide adequate seating with pillows to amplify the comfort quotient. A woven top bench (used as a coffee table) provides a touch of ethnic/Rhoda chic (circa 1975) and a useful spot upon which to balance wine glasses by night. By night? OK, in our case from lunchtime onwards. Day drunk at the cottage? Count us in. Responsibly, of course.
So we're done. Plan B is finally complete. It's been a long journey but we got there. And we're beyond proud. Knocking the place down (as most everyone suggested we should) was never an option. As renovators, you see, we prefer to rescue, rather than raze. If at all possible. When we viewed for the first time, the house was barely alive: only a vague pulse hinted at potential. The rarely used cottage had been brutalized by the elements and its prospects looked decidedly bleak. But we were smitten.
Post transformation, our lil' wee place has a tangible, unstoppable pulse. We're proud to be its house doctors, along with the real estate home surgeon Randy Blain. He's a contractor, it should be reported, who brought the A game... to our game plan... at Plan B. Reimagining the wee shack was indeed our collective honour.
Catch the final episode of Colin and Justin's Cabin Pressure, Season 3, Sunday, 9 p.m., on Cottage Life.
Picture perfect? A room with potential...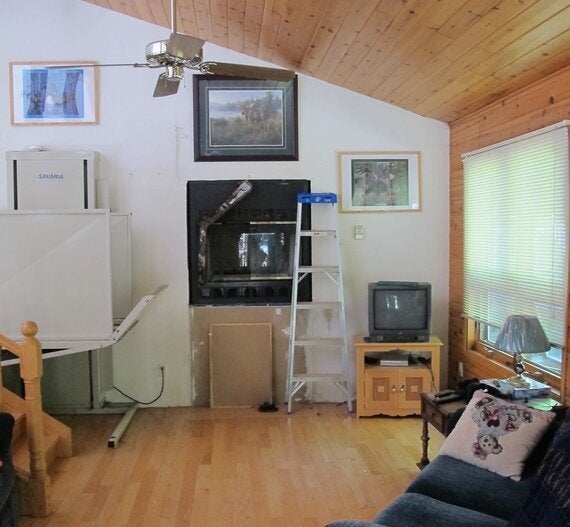 The new Euro Vinyl windows connect to the great outdoors perfectly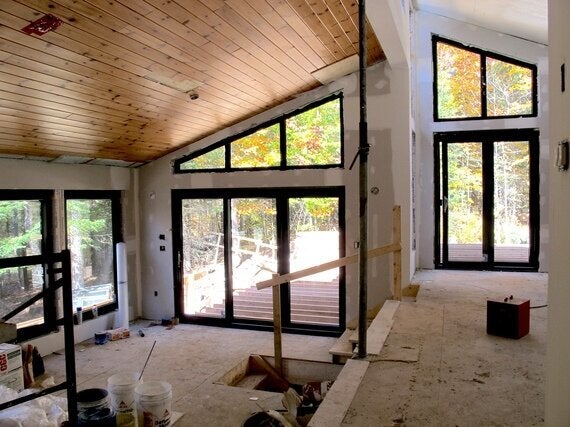 Split level living - our renovated cabin living/dining/kitchen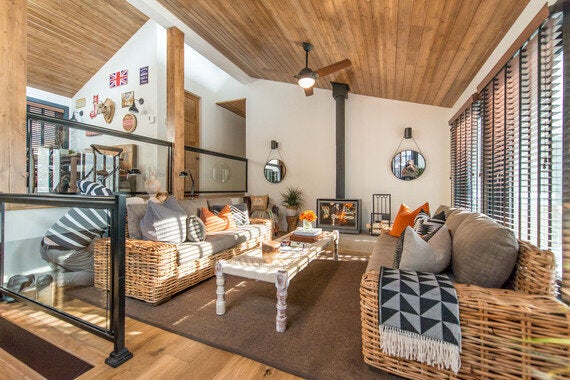 Burning bright - our Stuv log burning stove warms the heart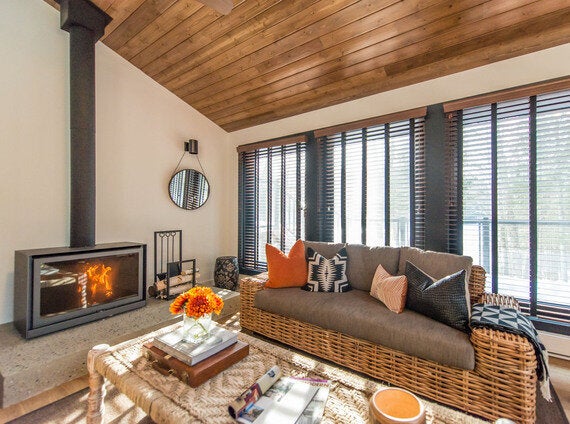 Bathed in sunshine - our south facing living room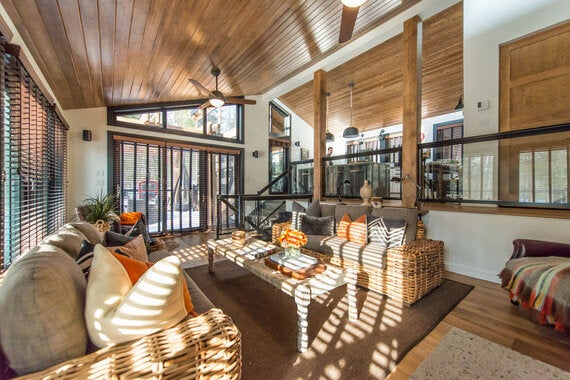 Glass railings separate our upper and lower zones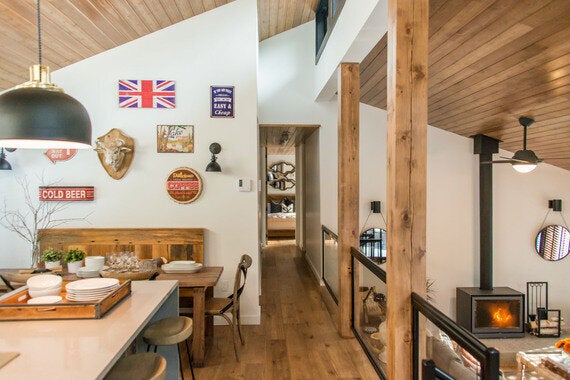 Follow HuffPost Canada Blogs on Facebook