In this, their latest dramatic before and after revelation, Colin and Justin amply demonstrate that basements, with due care and attention, can become truly inviting lower level worlds. And not just places where unwanted furniture goes to die...
If we whispered that Nescafe was our cottage 'wood stain' of choice, would you rush to put the kettle on? Confused? Well don't be. But coffee -- as wood stain? Bizarre as it sounds, it's not quite the unusual proposition you might initially think.
Wood finishers the land over, you see (and crafters, for that matter) have been aging and maturing lumber using tea and coffee for years. OK, typically for smaller projects (like scuffs and scrapes) but we figured if the principal works to darken dings and gouges, there was no reason it shouldn't work on larger surfaces too. So we did a little testing. Settled around a cauldron like Macbeth's witches (together with our art director Laura Fowler) we began brewing our potent spell. Anything to save literally hundreds of dollars on standard DIY stain. We'll come back to our experiment presently...
But first thing's first. Just look at our cottage basement, as it was. Boasting all the allure of a maximum-security twilight home, it was moldy top to bottom and stank, quite frankly, of mice poo and abandon. In one corner sat a hot tub (kinky key swapping parties and Appletinis, anyone?) a bubbly phenomenon that surely exacerbated the cloying damp problems. Opposite this den of decorative iniquity sat a rusty oil stove perched high on a weird, brick built platform. The French doors to the porch were falling off their sliders and the carpet was threadbare in places. And then there was that chevron pine cladding. Everywhere. But for 'knotty' pine read 'naughty' pine. Aye, it all had to go.
So where to start? Hmm -- let's try the very beginning. We tore away acres of dry wall (ceiling included) and washed down all evidence of black mold -- tune in to Cabin Pressure on Cottage Life at 10 p.m. Tuesday evening to see the abject carnage unravel. This done, we worked with Command Performance, Toronto's premier sound and vision guys, to install wiring for concealed ceiling speakers and security cameras. Take a tip: order of work (in any project, not least a cottage) is paramount. As much as these systems can be retrofitted, if you're opening walls and ceilings, now is the time to get wired in.
Next, we hired Thermo Seal to 'blow' in the most amazing fibrous insulation (our heat bills, we should report, have dropped dramatically) then set to work hanging re-sawn lumber that skinned us just a buck per linear foot. To tell the truth we had initially planned using barnboard but, at many times pricier than re-sawn lumber, our sporrans began to twitch in panic. So white pine resawn it was. Note the word 'white' which precedes pine...
Oh yes -- white. While the boards looked awesome (arranged horizontally to update proceedings and 'visually 'lengthen' walls) their colouration was distinctly pallid. Nae, anaemic. Hence our aforementioned deliberations with the caffeine fueled potion. We couldn't imagine why applying great quantities with a wallpaper brush wouldn't immediately help 'amber' the wood, thereby achieving the same effect that happens naturally, over time. Testing first on scraps of board allowed us to distill the perfect tone (one 200g jar per half gallon of water produced this soft honey complexion) and procure massive savings when compared to the cost of standard DIY store stain. Four tins at $80 a pop? We're canny. We're Scottish. Do the maths.
Walls corrected, we turned our attention to the fireplace. In its initial incarnation, the dated red brick (not to mention the weird elevated stature of the stove) shrieked 1980s. So, in association with a qualified oil fire expert, we unhooked everything, peeled away the brick and lifted the stove off its peculiar stilt. Using granite personally blasted from the Muskoka Rock quarry (more of that in coming weeks both here and on TV) we carefully refaced the surface to the rear of -- and below -- the fire. Adding a new black painted pipe completed the transformation.
Next up was the installation of a wonderful Rebarn.ca door which slides effortlessly on beautiful chunky cogs along an antique style rail. The barn door, as well as adding rustic charm, takes up far less space than a standard portal -- especially important here as the room is rather narrow. Problem solving? It's our stock in flipping trade...
Buoyed by how well things were going, we deftly tore away the carpet and replaced it with engineered wooden planking by Kentwood. Engineered flooring, we should report, is eminently more stable in basement application where moisture issues can be problematic. Should solid wood become wet it runs the risk of 'cupping'. Engineered boards, on the other hand (with these, a solid timber sliver sits atop a composite base) are more resilient to problems of this type. Always check specifications with your flooring professional to ensure you choose the best product for your job.
Heading towards the finishing line, we added visual and tactile layering with a cow hide rug from Ikea and a raft of modern furniture from Sunpan. The mix of contemporary pieces in a rustic setting is a great way to update cottage style. As final 'layering', we framed new patio doors using Robert Allen drapery. The gentle plaid suffuses our project with the perfect amount of 'highland hideaway' chic. Well we are Scottish. And if we can't have a brave heart at the cottage, where can we?
New episodes of Colin and Justin's Cabin Pressure air on the Cottage Life television network, Tuesdays at 10 p.m. Catch daily re runs. Cottage Life is currently in free preview -- check your listings for details.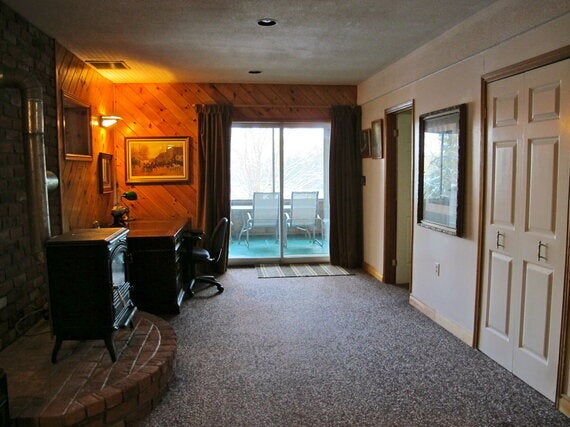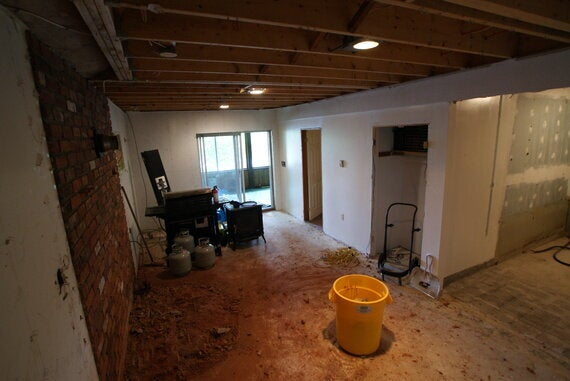 Ripped out, replaced and thoroughly insulated -- this formerly dank basement now breathes easier thanks to a high efficiency 'Blown-In Insulation System.'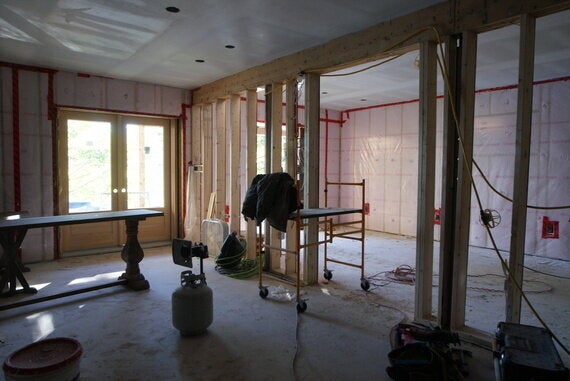 A new granite wall and hearth from Muskoka Rock transform the look of the oil stove, providing, as they do, a wonderfully natural focal point feature.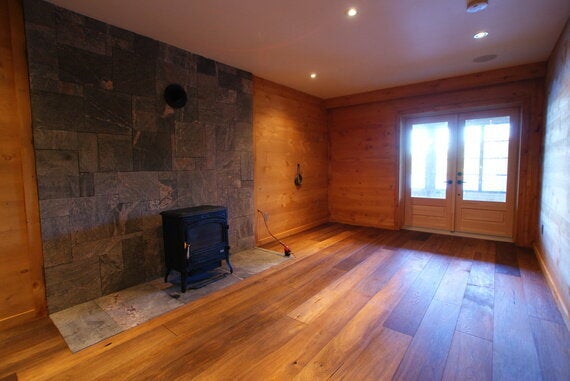 Adding modern furnishings to our newly rustic vision creates a contemporary vibe.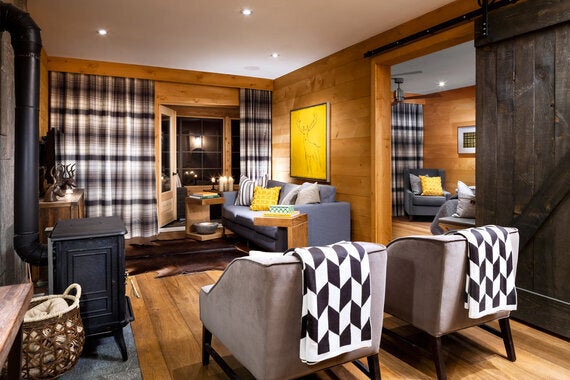 The sliding barn door is a rustic charmer and extremely space saving into the bargain.