Paper Boat Creative via Getty Images
Colin & Justin find that reflecting on 2014 provides the perfect platform for the year ahead -- and what a year it looks like being: from Canadian cottage country to the Sydney Opera House, 2015 promises to be a global design adventure...
A thousand curses on whoever decreed that, with the passing of each year, we should methodically list all the things we'd like to achieve as the next annum approaches.
It's not that we're averse to life strategies (we regularly counsel that "to fail to plan is to plan to fail") more that we've learned to detest that settling, niggling regret, the one which reminds us that our grand master plans don't always materialize.
But should we call it failure? Not necessarily. We prefer to think that sometimes, just sometimes, we birth plans that are simply too ambitious in the available time frame.
We, you see, just like everyone else, are prone to a degree of fallibility in everything we tackle. Looking back at last year's plans (some of which materialized, some of which didn't), we attempt to avoid that guilty feeling as we stare into the boxes that remain un ticked.
This in mind, let's wander back to Jan 1, 2014. Yup, this time last year we designed various resolutions and now, 12 months later, we're prepared to expose those which materialized and those that fell by the wayside. Balanced prose as writers, you see, is always our Holy Grail and to exclusively relate only the positives would be biased and unjust. So ready yourself for an honest account of our triumphs and, ahem, our tribulations.
As 2014 dawned, we hoped to buy ourselves a desert dream: a holiday home in the sandy -- and somewhat rocky -- Californian haven known as Palm Springs. Blisteringly warm, the joyous destination has long been a source of C&J wonder, enjoying as we do, the halcyon recollections of cinematic glamour.
During the 1950s and 1960s, Palm Springs was the undisputed playground of the Hollywood elite: luminaries such as Bing Crosby, Marilyn Monroe and Frank Sinatra would regularly dispatch there to escape the cut throat hustle of Tinseltown.
Back then, the desert magnet boasted bright and glamorous allure, long before the dawn of Kim Kardashian and Paris Hilton and their paparazzi-snapped knicker shots. Jeesh: why do we give these 'celebrity' vacuums air space? Guess that's another column altogether.
Anyway, after a decline in the '80s, Palm Springs has once again become terribly au courant, although this time the stellar glow of Hollywood A listers has dimmed. These days, the stars are architectural: lovers of all things Mid-Century battle a path to rent or buy up the (still affordable) achingly cool housing stock. Think low-slung, white painted bungalows, some rendered with concrete and many surrounded by cacti gardens. Filled with Eames chairs and Danish credenzas they're a designers dream.
The 'Alexander' with its butterfly roof is perhaps one of the most popular. Alexander was a celebrated local builder who constructed many of the mid century homes that survive to this day.
For the early part of 2014, we played around with the math and figured that, with a little careful planning, we could secure a 3,000-square-foot fixer-upper for the cost of a one-bed condo in a typical Canadian tower. Entranced by this vision, we engaged a realtor and started our search.
So did we end up buying? Well, actually, no. Not for the time being, at least. As we were preparing to swoop upon one particular diamond in the rough, a second season of Cabin Pressure was greenlit. In short, the funds we'd allocated for Palm Springs had to be sprung in another direction: namely the purchase of a run down 'slanty shanty' in Haliburton, the backdrop of our Cottage Life television show. And holy moly: just wait till you see what we created up north. Catch Season One on Cottage Life (Thursdays at 10 p.m.) and Season Two in Spring.
But our Palm Springs dream wasn't the only ambition that didn't materialize. On an (admittedly) smaller scale, we also planned to take flying lessons (yes, seriously!) but our diary hasn't allowed that plan to get off the ground quite yet. This year, perhaps. Yes, this year...
Our plan to chase work opportunities in Australia did materialize and, to that end, we spent June dashing between Sydney and Melbourne planting seeds for various projects. The upshot is that we'll be back down under for February and part of March tending the seedlings that sprouted from the seeds of June. A bit of TV, some live appearances and, well, some other fun projects which we'll reveal in due course. Watch this space!
And our other ambitions for 2015? Countless, actually, although our new resolutions take a less selfish tone than some of those we set over the past 12 months. We never underestimate how fortunate we've been as our career stretches our profile across 30 different countries and we're happy, but never complacent, with our lot. These days, however, we're more inclined to give a little back to a world that's so generously given to us.
Being that today is Thursday (as well as New Years Day) here's a little 'Throwback Thursday' clip from us -- a recap of 'the Estate', one of our U.K. shows. Watching the trailer in a recent meeting reminded us there's still much to be done everywhere, for everyone. We plan, when our schedule permits, to work on a similar project in Canada that demands better standards for those who've been dealt unfair blows by a sometimes unjust world.
As 2015 unravels, we also hope to optimize quality time with our family and friends and, on a lighter note, we're going back to the gym with gusto, if only to work off the excesses of a particularly indulgent festive period. Hitting the weights at least three times a week, after all, will tempt far better results than hitting them three times a year. Yes, we've been somewhat remiss. Only time will tell if we actually manage to raise the bar, literally and metaphorically. Our intent, however, is without question...
We'll sign off with one last resolution: that being our plan to champion the principle of 'daily random acts of kindness'. And we hope you'll be inspired to do the same: wherever you are, and whatever you do, please find a moment to make someone smile. It might be letting the car you're about to obstruct take priority on the highway. Or it could be letting someone else take a parking spot you're about to bag. It could be slotting some loose change into a collecting box to assist your local community or perhaps visiting a lonely elderly neighbour as New Year dawns. Or it could simply be reminding a loved one that they truly make a difference to your life.
We hope and pray that exciting times lie ahead for all of you, but, as you embark upon this next -- hopefully -- glorious calendar, take a moment to brighten someone else's existence. May all your dreams come true in 2015 and may the world, with your assistance, become a brighter and better place for us all. Happy New Year!
From shack to chic -- a before shot of 2015's Cabin Pressure cottage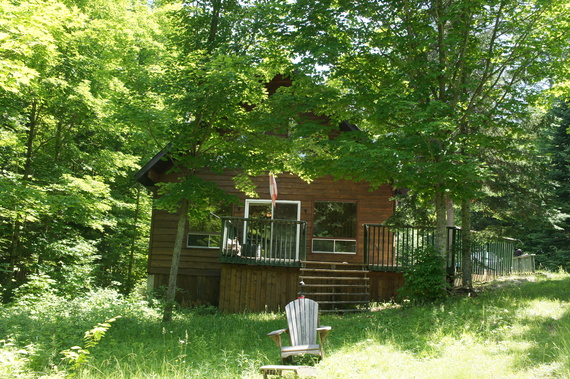 Colin & Justin and the Sydney Opera House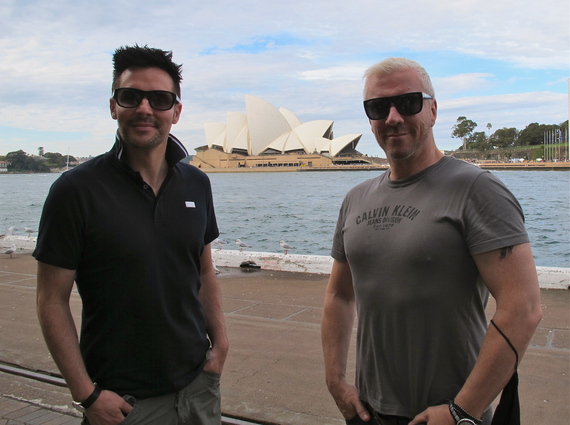 Justin -- well lit at the Vivid Festival in Sydney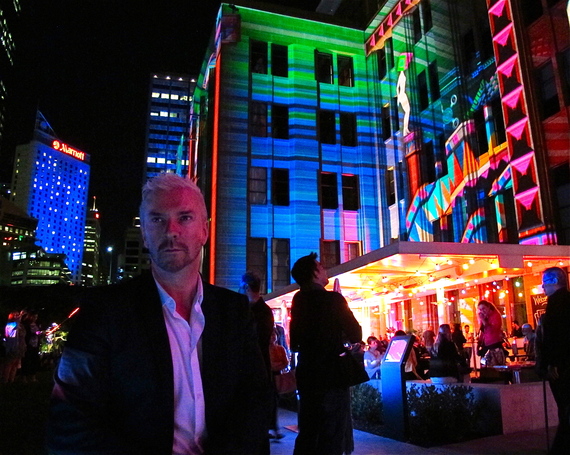 Colin's ultimate selfie on the balcony of the Crown Metropole hotel in Melbourne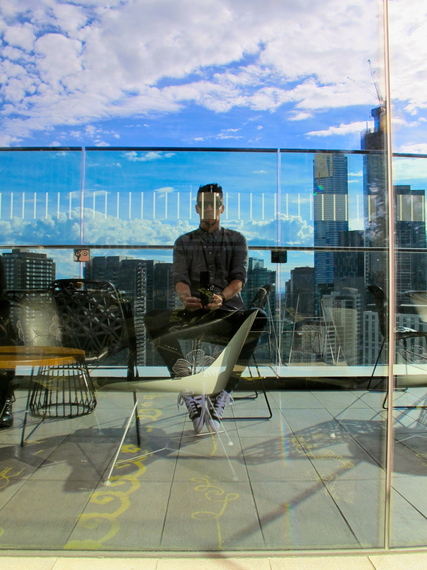 Essential Alexander House reading