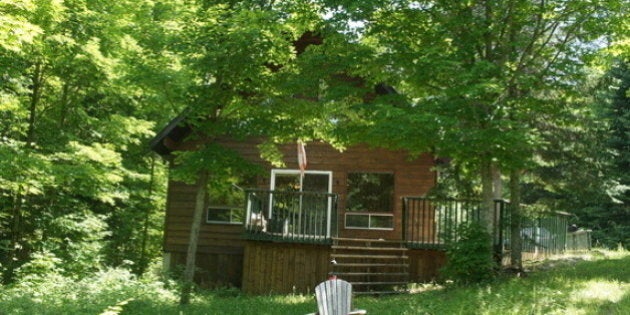 As Colin and Justin's Cabin Pressure (Season 2) prepares for its Sunday premiere (9 p.m., Cottage Life) the Scottish designers discuss the perfect lake side fixer upper...
Four months of extreme nail biting. The appraisal of several hundred pages of property details and appointments to view perhaps 45 cottages. Yup, the search for a new cabin was arduous. Nay, depressing...
Thankfully, we'd hired a capable realtor who remained calm as our Haliburton search protracted. Rob Serediuk, as host of What's For Sale (another Cottage Life show) was adamant he could help, but we were quickly disillusioned. Inventory, at the time, was low. Yet while our enthusiasm waned, Rob's determination escalated...
Each morning our mailbox groaned under the weight of 'diamonds in the rough', many of which, sadly, turned out to be more like lumps of coal. The irascible realtor, apparently undefeatable, would counter each "no" with: "At least go see it -- it's got potential." Bless the Robster. We grew to admire his tenacious 'tude.
And of course persistence can -- sometimes -- pay off. Just as we were about to throw in the towel, Rob emailed one last prospect: a 1980s A-frame. Staring at the grim photography, we prepared to write it off. Measuring approximately 850 square feet, it looked semi-derelict. With a wildly overgrown garden and shot piers -- which had resulted in a 40 degree tilt -- it was clearly a bag of problems.
The roof was in shocking disrepair. The deck was collapsing and the dock had long since sunk into the depths of Drag Lake. Stop. Wait a minute. Drag Lake? We LOVE Drag Lake. The massive waterway had been on our wish list since the start, but nothing had come up. Until now. Hmm....
With renewed vigour, we agreed to take a look. Girding our loins, we battled a path up Highway 35, then held our breath as we eased down the overgrown path that led to the tired cabin. Pulling open the doors of our truck, time seemed to stand still. Boasting a southwest elevation, the property itself was amazing: a gentle slope meandered towards a beautiful bay where crystal waters lapped gently at a granite-crusted shoreline. Yes, we know, we know: location, location, location.
At the water's edge stood Rob, chatting animatedly on his phone. We made our way towards him. When he finished his call, he smiled and said simply: "Do you like?" We nodded as our realtor picked up momentum: "You can change everything about a house, boys, but you can't change its position. That's all I'm going to say."
We stared at the lake. We looked at Rob, who smiled. Then, without muttering a single world, we turned and walked towards the cottage. Rob opened the door and, for the second time that day, we held our breath expectantly...and walked inside.
Boy, was it ever bad. Water dripped from the ceiling at various points. Threadbare carpets were stained and damp. The kitchen cabinetry appeared to have been assembled when Victoria was still on the throne. There was mouse crap everywhere and evidence, throughout, of larger animals (squirrels and raccoons?) having staked their claim to the deserted space.
As we wandered, the horrors ramped. The bathroom had all the allure of a caravan toilet. Windows wobbled in their frames. Stairs to the top floor looked insufficiently wide to satisfy Canadian code, and there was a massive wasps nest lurking in a rear bedroom. But there was something about the 'slanty shanty' which piqued our interest...
On Rob's suggestion we agreed to deliberate the opportunity overnight, and, without further ado, booked a local hotel, devoured some beige food and sank a bottle of Argentinian red. As you do.
The next day, visiting again with Rob, the sun seemed even brighter than the day before. And the lake seemed to glisten even more dramatically. Was Mother Nature conspiring to tempt us? As we surveyed the water, a friendly young woman eased by on a strip wood canoe, waving as she passed. And at that precise moment a loon popped up from below and delivered its haunting, melancholic cry. Seriously. We couldn't make that moment up.
Hypnotized, we stared at beautiful Drag Lake and imagined ourselves swimming in those crystal clear waters. And then we turned and looked at the cottage. "You should make an offer, boys," chimed Rob. "This won't last long on the market." We were lost in the dreamy moment. Rob's voice seemed to fade, becoming little more than a whisper. "An offer. An offer. Make an...." By now we were back inside the tumbledown shack, lost to its atmosphere. Lost to the dream. And lost inside our own heads...
We looked again at the animal crap. And we glanced at the collapsing kitchen. We peered at those narrow stairs. And we absorbed the sloping floors and all the other aspects that would certainly put many buyers off. We looked at each other and we smiled. And then we turned to Rob. And at the same time we said, "We'd like to make an offer."
The next few days happened quickly. We asked for a short close and, after a degree of to-ing and fro-ing our contract was accepted. Just 18 days later, we took possession and, in typical Colin and Justin style, did what we always do -- we packed our sleeping bags and headed for the cabin. A sleepover on the first night of ownership has long since been a C&J good luck charm, a ritual we've played perhaps 30 or so times across the globe.
So our first night was? Dreadful. Hellish, in fact. The wasp nest, whilst essentially abandoned, put the fear of God into us. And there were ants everywhere. In the wee small hours we saw perhaps six mice. And while we never found out what type of critters were running marathons behind our drywall, they seemed hell bent on scaring the living bejesus out of us.
When morning came, we called Randy Blain Construction on the recommendation of a trusted pal who swore blind the cottage country contractor was the most capable he'd ever engaged. It would prove to be one of the best calls we've ever made.
Later that day, when Randy arrived to cast his critical gaze, we watched, horror building, as he poked and prodded walls, measured sloping floors and trouble shot plumbing, electrics and water ingress.
But his friendly face collapsed at every inspection point. Accompanying him outdoors to look at our problematic piers, we prayed for good news. His expression, however, as he emerged from the crawl space, said it all. "It's way worse than I imagined. Probably one of the worst set of problems I've seen. There isn't even any insulation under the floor." Silence. Then, from us: "But can the cabin be saved?" We looked at Randy, noting his furrowed brow. "To be honest, guys, it needs to come down. It's a mess."
Sh*t. We knew from our inspection that we had problems, but demolition was the last thing on our minds. "We just can't, Randy. We want to save the building, give 'her' another chance." Randy, by now smiling sympathetically, replied: "Sometimes, fellas, you just have to be realistic. This place really needs to...." We cut him off before he could finish, explaining that we'd grown to love our wee shack. Randy, smiling again, whispered: "Well there needs to be some compromise."
Over coffee, we described our ambition as our contractor attempted to provide balance. "This place," he purred, "is a wreck. And I've got so many big jobs on at the moment." Randy, it transpired, runs several teams of tradespeople who are all, by his enthusiastic account, among the best in the business. To make our project work he'd have to juggle men, skills and timetables, but he agreed to get back to us by the next day with a decision. We liked that about Randy: he was extremely honest. He didn't rush to land our job. As he said, he'd get back to us.
So we were in a holding pattern. Would Randy agree to become our contractor for the monolithic transformation? Had we bitten off more than we could chew at Drag Lake? And would project costs confound us? Would our lil' wee cottage collapse before work could begin? All these questions, and more, will soon be answered. Catch the series premiere on Sunday and stay with us for our 13-week journey, on screen, and here in these virtual pages. It's an exciting adventure you don't want to miss!
Colin and Justin's Cabin Pressure starts Sunday 22nd March at 9 p.m. on Cottage Life. The network is currently in FREE preview.
Our cabin -- raw and ready to reno...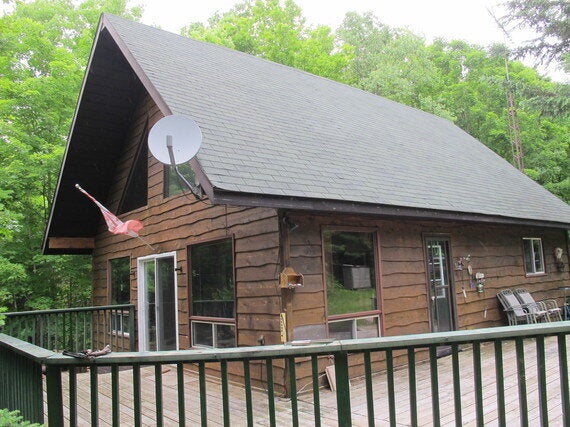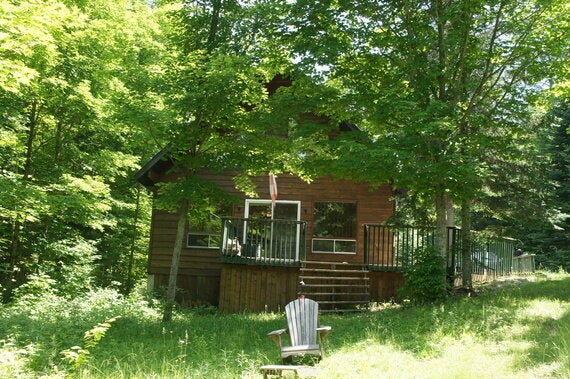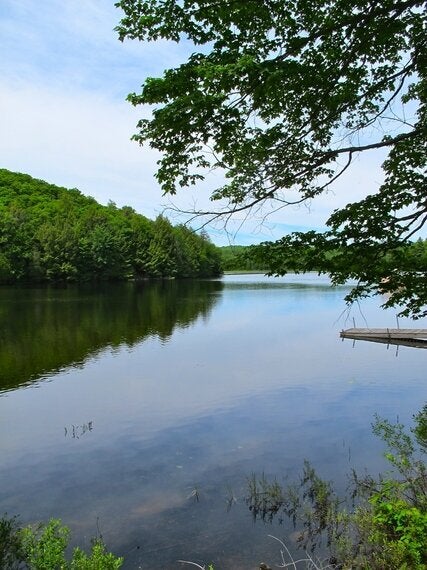 It's a jungle out there...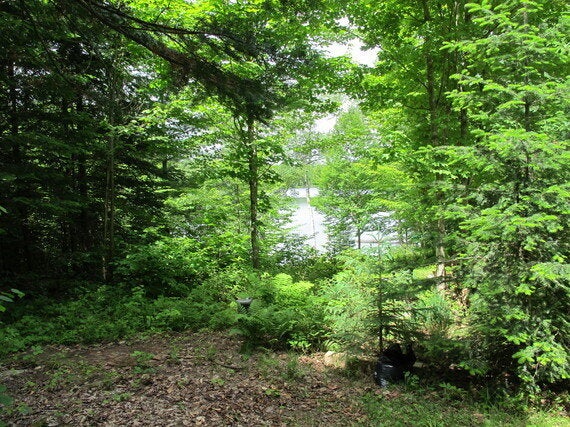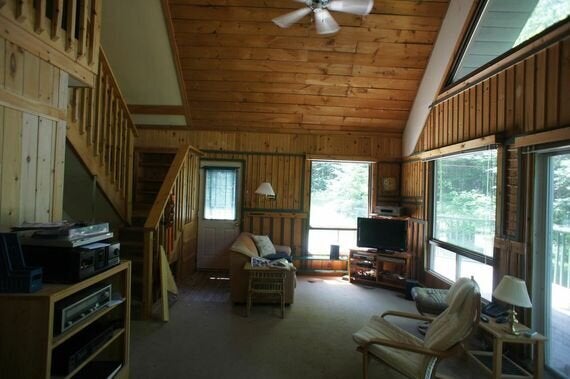 Something's cooking in the kitchen!