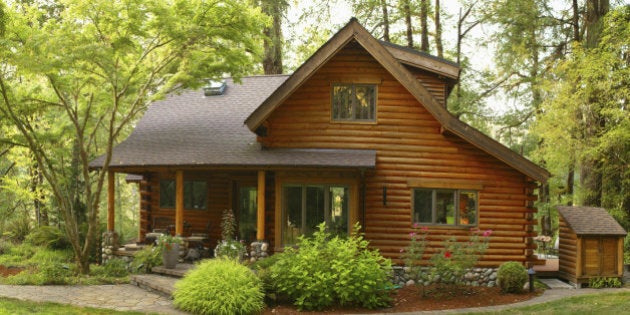 Creating the perfect cottage bathroom and the perfect cottage laundry, Colin and Justin style.
Can we really make seven luxurious zones out of the former crawl space at our Haliburton cottage? Can a previosuly 48" high, damp, animal infested solum become a living room, a whisky lounge, a kids play room, a walk in electrical plant room, a bedroom, a pimped up laundry and a swanky bathroom? Hell yeah! You'll see all seven zones rock out over the next few weeks but for today, well, we're concentrating on two dramatic reveals: our tricked out laundry and a fresh as you like bathroom. Here goes...
Holy moly -- we're totally thrilled with the guest bathroom. Lavished with European vintage style ceramics from Saltillo http://www.saltillo-tiles.com and a rumbustious wood framed stone vanity by Unikstone http://www.unikstone.ca, the commodious space features ample storage, slick chrome fittings by Moen http://www.moen.ca and a glorious, glazed shower stall.
Hey, we can totally imagine our guests throwing off their cozzies and splashing about in the well-equipped room. And that, after all, is what it's all about: indulging our peeps to the max. We want everyone who visits to leave feeling energized - yet relaxed - whether the come in spring, summer, autumn or winter. Accordingly, under floor heating by Nuheat guaranteed that, even when Mother Nature is playing hardball, the bathroom mercury will remain temperate. Who, after all, wants frigid tootsies as they pad around?
In our tricked out laundry, an 11' x 5' compartment, first job was laying hexagon tile (supplier, as before). These, jaunty as they are, serve as the perfect compliment to the creamy, hex' ceramics on the rear wall. Grouted grey to add punch, they're wipe clean and easy maintenance. To moderate costs, we specified Ikea cabinets in white, detailed with recessed 'grain' handles which compliment butchers block counters. Why overspend via expensive suppliers when the big blue and yellow proffers such affordable wares?
To deliver ample function, we specified a deep sink and tap by Blanco http://www.blanco-germany.com as well as a Nespresso coffee maker. And why not? We like to spoil our guests and besides: who knows when that pang for caffeination might hit. Mid wash cycle? We got it covered!
Having ourselves rented many cottages over the years (before dipping our toes into rural real estate ownership) we were often disappointed to find that clothes washing facilities were somewhat limited. These let downs in mind, we decided to amp up facilities at Plan B.
GE machines (http://www.geappliances.ca) guarantee clothes washing self-sufficiency even though our guests are many miles from the nearest public laundry. One, a washer, whirs almost silently with a large capacity drum, whilst the other, a whisper quiet drier, is equipped to swallow a veritable laundry load of clothes.
A fun project is the shelving. Assembled with $120 worth of interconnecting big box store gas pipe from Haliburton Timbermart https://www.haliburtonlumber.com and Ikea worktop off-cuts, it adds a touch of that oh-so-popular 'industrial' vibe. And it's a useful spot upon which to stash towels and associated washroom paraphernalia like detergents and baskets.
Assembling both space was fun and you'll see the rooms evolve in full television detail on this Sunday's Cabin Pressure episode. In subsequent weeks, in these virtual pages, we'll show you what else we've got downstairs. But for now; get the popcorn ready. Pour the beers. And settle in front of your telly for the latest installment of life by the lake, Colin and Justin stylee...
Cabin Pressure airs on Cottage Life, Sundays, at 9pm
Colin and Justin are resident judges on Game of Homes - W Network, Tuesdays at 10pm.
Our very own creepy crawl space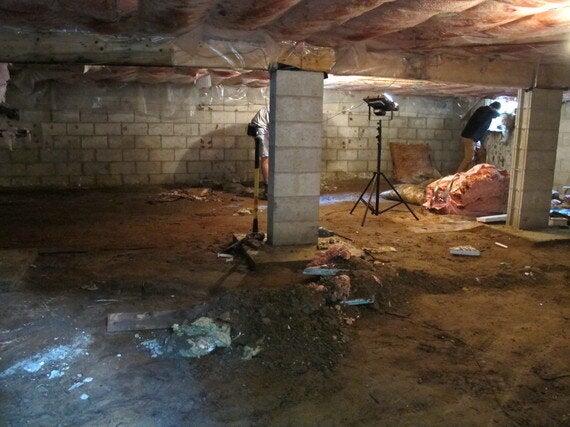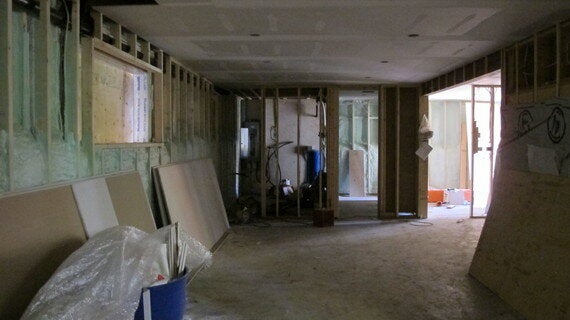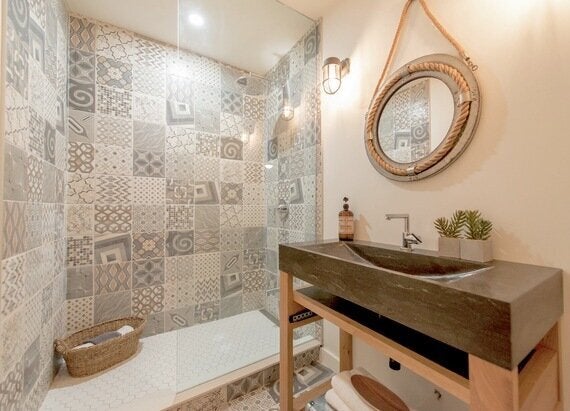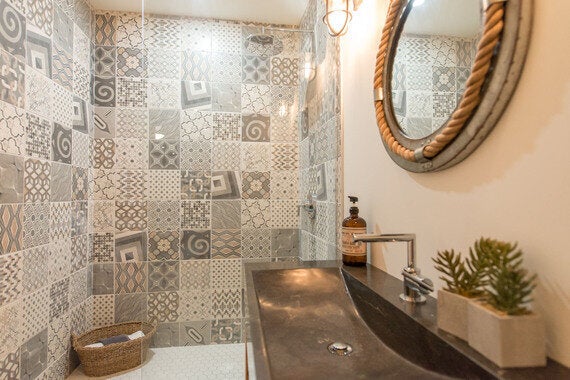 The tall, blond Milette doors add a Scandinavian feel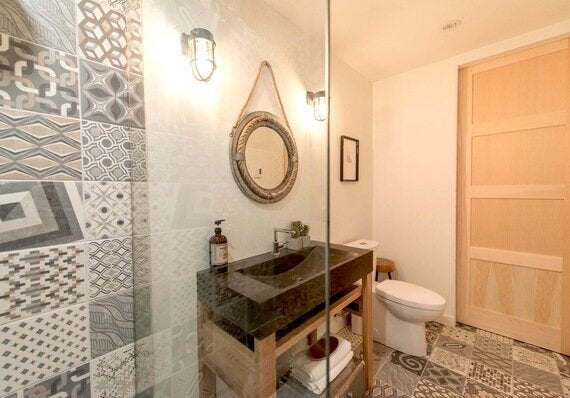 Having an onsite laundry at the cottage is essential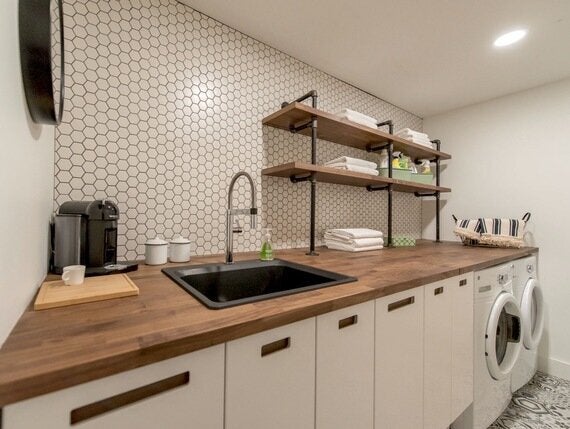 DIY gas pipe shelving adds an industrial edge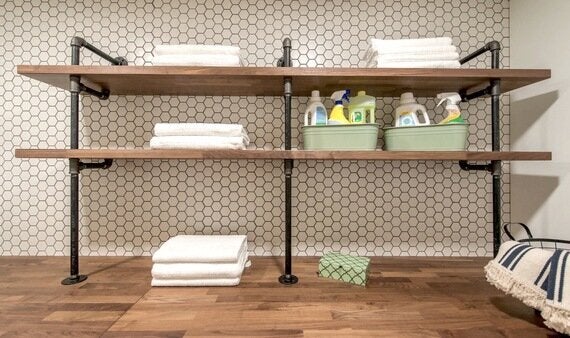 Cream or sugar with your laundry? A coffee station keeps the caffeine levels topped up!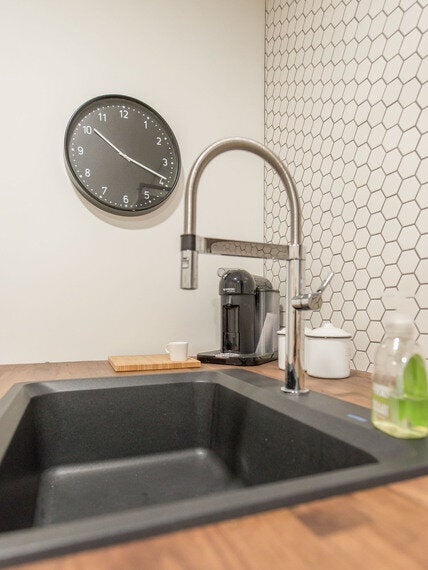 Follow HuffPost Canada Blogs on Facebook