Spare room "correction" -- Colin and Justin banish their unwanted scuttling guests to make way for their invited (and eminently more welcome) guests...
We're not gonna lie: our guest room, as we found it, was more like a petting zoo -- for unwanted critters -- than a potentially indulgent space for our friends to relax. In fact, being that literally hundreds of rodents had fallen to their deaths in a horror trap of biblical proportions (all will be revealed further into this article), the space was fast becoming less of a pet project and more of a pet cemetery. Jeesh.
While the cottage had certainly been loved by its previous owner, a year on the market (during which time it succumbed to the elements) had exposed it to the original inhabitants of cottage country. Hell, Mother Nature's meaner side had infested its every nook and cranny, resulting in a cabin that reeked of damp and neglect. Sure, it was potentially pretty but, as we found it, more like the lair of a serial killer than a fabulous home from home. Dramatic? Us? Okay, perhaps -- but this place was on its last legs...
In the bedroom featured here, the rank odour of death was particularly hellish. When our contractor tore away acres of drywall, what we discovered was little short of shocking. Literally hundreds of dead mice had been trapped (just as they had been in the bathroom next door, described in a previous C&J Huff puff) then semi "dissolved" over time, their only remaining parts being tails, teeth and fur. Yup, that's what happens when a mouse decays. The resultant revolting fluff mountain stench was like a sewer in medieval times.
Cue a weekend long clean up, gallons of bleach, miles of new drywall, acres of replacement plasterboard and a careful construction plan that meant no channels for the pesky mice to invade and thereafter become entombed. Building discord "exorcised," we were finally able to get on with the job in hand: that being increased "connection" to the great outdoors so guests would feel like they were sleeping in the forest.
To this end, we demolished 80 per cent of the room's rear wall, only to replace it with a black framed custom glazed unit from Euro Vinyl Windows, a fantastic modern manufacturer who just happen to be neighbours on our lake.
The next stage of our grand master plan was the addition of a decked area. A simple wooden framed table and cute folding chairs positioned here, to the rear of the bedroom, create a stretched eye line to the garden beyond. The increased natural light feels uplifting and promotes a thorough sense of well being as the sun rises to welcome guests to yet another low-key day at the lake.
With one eye trained firmly on the future (but another trained respectfully on the past) we chose a fresh esthetic with snowy toned drywall, a lumber ceiling and a matching Barbican brushed oak engineered timber flooring by Kentwood. The oiled finish adds a "heritage" vibe while the eight-inch boards create a feeling of extra floor width.
When working through ambition for overhead lighting, always ask your electrician what's possible before ordering new fixtures. Stinson Electrical our project "sparks," took into account the overhead beams and ancillary pipework before advising upon the optimum location for a new course of pot lights. In short, we positioned them in a grid fashion but with sufficient clearance from the central ceiling fan to ensure the lights don't strobe as blades rotate.
With the room's restoration complete, we were finally able to turn our attentions to its decorative mood and furniture style. In neutrally toned rooms, furniture and accessories are ever more important to set an indulgent mood. Our schematic "holy trinity" -- timber, white and black -- made things relatively easy. This in mind, we battled a path towards Artemano in search of a wooden framed bed with a contemporary vibe. This one, thanks to its rectilinear form and multi-toned wood grain, more than fits the bill.
To proffer a spot of organic mood, we bagged contorted 'root' stools from St Lawrence Market in Toronto -- topped with glass to extend their surface, they make cute nightstands. And the office style lamps? From Ikea -- we love providing unexpected shots of drama in our schemes: mixing and matching like this helps conspire a relaxed and personal esthetic.
Our project nearing completion, we visited our favourite barn destination, Lambs & Ivy in nearby Gelert. It was there we uncovered several antique books, a wooden duck and a vintage iron, all of which were easily incorporated into our guest room vision. To amplify the importance of these items, we displayed them in metal framed glass boxes from HomeSense: a charming marriage of old and new was quickly born as the retro paraphernalia learned to box clever atop a four-drawer black painted unit from Ikea.
The transformation concluded, our human guest book is bulging and, thus far, there have been no sightings of unwelcome scuttling guests. The renovated room even boasts "sonic" rodent plug-ins and, coupled with a strict approach to food debris, it seems we're in the clear. Aye, we're well aware that even a tiny cookie crumb is enough to send mice into excited meltdown, so we've learned to be extra careful.
Ensconced in a leather armchair at the lake, our fingers darting frantically across our Smith Corona typewriter (okay, we use a Mac, just like everyone else, but we can dream: the idea of a standard keyboard is so exciting) to prepare this epistle, we're reminded just how sweet cottage life actually is. It's bliss: the sun's going down, the Rioja is uncorked and the cutest lil' red squirrel is scampering up a nearby tree. Wait! Squirrels can do so much damage, right? Looks like we'll have to strike a deal with our bushy tailed pal. If he sticks to the forest, we'll stick to our cottage. He's officially warned -- if we see so much as one paw print on our new cedar deck... nuts are gonna fly!
Watch Colin & Justin's Cabin Pressure, Sundays, 9 p.m. on Cottage Life -- the network is currently in free preview. Catch up on past episodes at www.cottagelife.com
Vintage suburban decor -- a relic of the past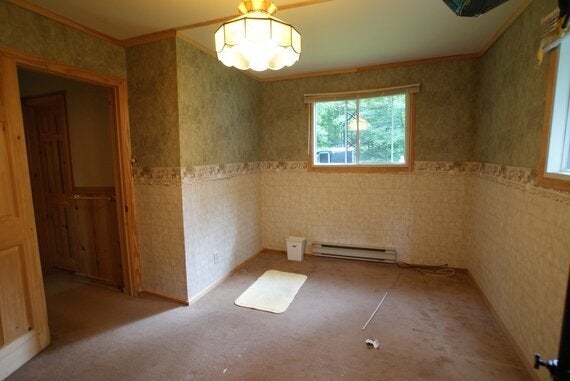 Wall gone, wood in -- the room already feels much more modern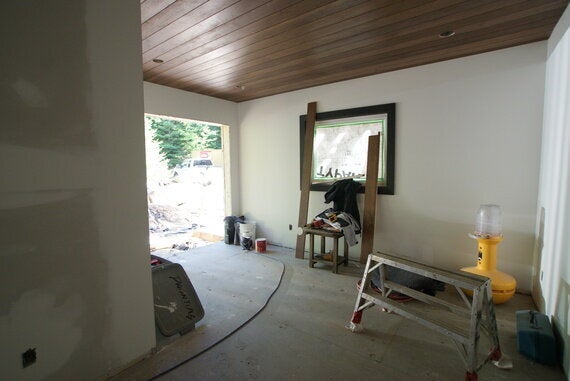 The new Euro Vinyl windows benefit both internal mood and external architecture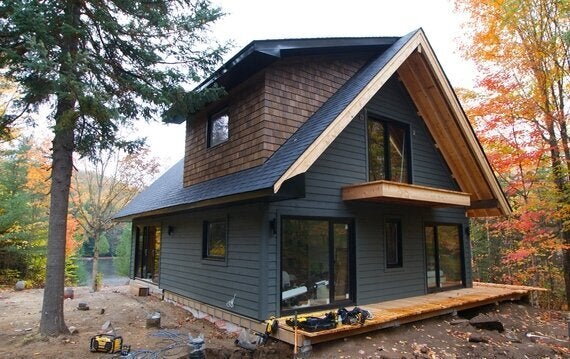 New ways with wood -- a streamlined bed from Artemano and painted Ikea chest combine to create a modern feel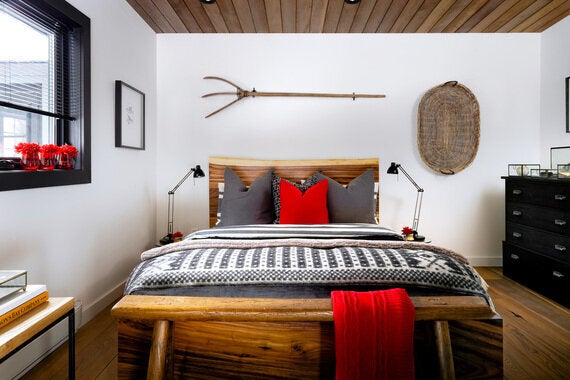 Vintage ducks, books and even a baseball are all showcased in glass boxes from Homesense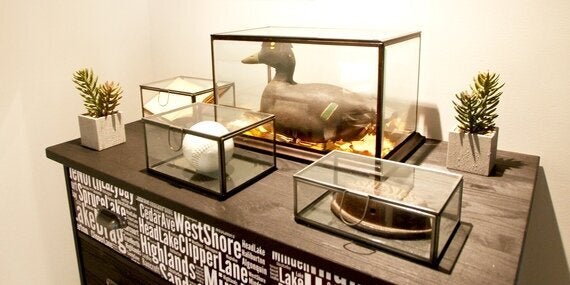 A classic Windsor Workshop chair adds tradition to a modern space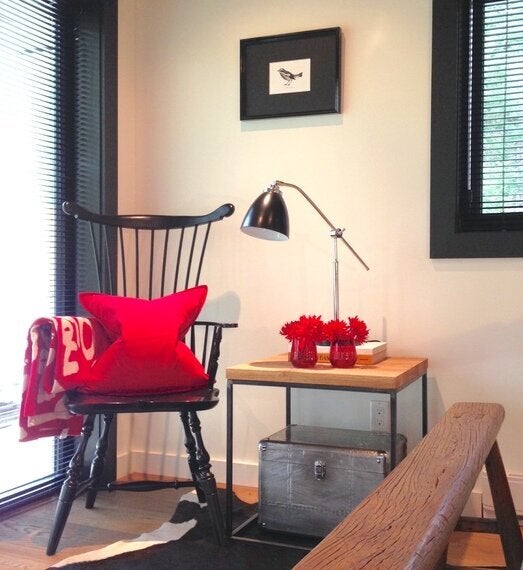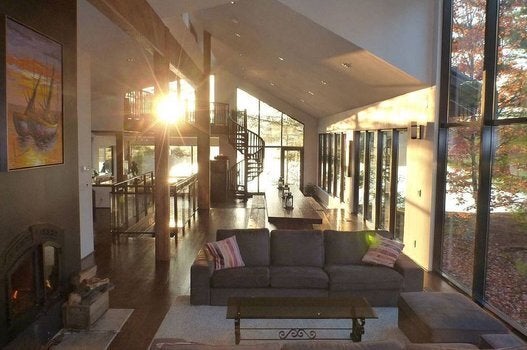 Cottages For May 24 Long Weekend