To coin lyrics from the famous George Michael song: "Let's Go Outside." Aye, it's time for another action packed episode of Colin and Justin's Cabin Pressure. This week we're skinning our cottage with dreamy Cape Cod siding, giving it a dramatic black Vicwest metal roof (SO damned chi chi) and surrounding it with a 2000 square feet cedar platform installed by the lovely team at Boys With Big Decks. As you can imagine we've had more than an element of fun with that particular company moniker.
An exercise in precision timing, the exterior portion of this renovation is testament to the great Canadian traditions of kindness and communication. Our main contractor Randy Blain seamlessly orchestrated the dance of Mason Brothers' specialist timber construction, Kind Roofing steel roof installation and the gang at Nortech as they installed the EVW windows to a crescendo and very happy ending.
To celebrate our latest episode, we thought it'd be fun to outline our ten best woody wonders. A tip sheet of timber tricks, if you will, to make your home or cottage shine. Here goes...
Oh what a feeling when you're wooden on the ceiling:cladding overhead 'walls' with wood amps up the rustic vibe -- and if you use it above plain painted drywall, it takes on a sexy mid-mod feel into the bargain.
Walk on wood: new decking provides a soft tone finish that'll remain gorgeous for years to come. Ours is Western Red Cedar. Our builders call it 'catnip for contractors' -- the olfactory quotient is astounding and, when it arrived, our entire team swooned. Boys and their wood, eh? With Sunspace black framed glass railings to provide perimeter safety, sofas and chairs from Canadian Tire and a gas powered Solus firebowl, the scene is as tempting as it is comfy.
Wield a heavy metal axe -- once your arborist has tamed and limbed your tree stock, you'll have piles of spare timber to use for the next few winter's warm up. Without further ado, reach for the axe and chop up your offcuts for a cottage workout and a source of free fuel for your log burning stove. Nothing elicits the cottage vibe more than the warmth of flickering flames and the smell of burning timber on a brisk evening.
Whose side are you on? Dreamy board and baton siding completely reworks the feel at our formerly rough as hell cabin. Vive la difference! We specified a combo of black stained and complimentary honey toned Cape Cod siding and the transformation is little short of staggering. The vertical product is complimented by a course of ebony framed glazing and sliding portals by Euro Vinyl Windows and the completed vision remains low key as viewed from the lake.
Canadian barn chance: recycled barn doors are a go-to for those looking to add rustic texture, heritage and colour to a cottage inspired design. The sliding nature of the whole mechanism is a huge space spacer too...
Stumped: Head outside, reach for your chainsaw and chop up a tree stump to create chunky 'live edged' low slung tables -- if you're in the city (or if you're a fancy Scottish designer) find similar styles at Homesense, one of Canada's best suppliers of discounted accessories and furnishings.
Dock Shock: the dock we inherited was virtually derelict so it had to go. Last season we worked with an amazing company who interpreted our dreams to deliver what we though was the ultimate lakeside party platform. This year, however, Interco jettisoned our plans to the next level by building a three level dock - one part fixed, landside, which connects to a stilted over water platform which in turn leads to the main floating dock. Our plan was to provide an area where every generation feels secure -- kids, parents and grandparents. Dressed with Cabana Coast outdoors furniture the final vision is luxe to the max.
Sink to a new level: try using a section of live-edged cherry to create a floating vanity for your new stone sink and achingly chic black faucet. It's a look that's guaranteed to bring a smile to your face as you clean your teeth in the morning. We used an old Singer sewing machine base (80 from Kijiji) as the 'vanity' for this project.
Clad all over: we created this walkout basement in our current cabin: horizontally dressed with real cedar planks, the look is rustic and refined. And hey: the smell of cedar takes the décor to a whole new olfactory level -- go on, sniff that wood and feel the difference...
On the skids: On a recent episode of Cityline, we said 'sofa so good' using recycled timber palettes: sanded, painted and stacked (and topped with bunk mattresses from Ikea) they transform into great patio furniture.
Season 3 of Colin & Justin's Cabin Pressure airs Sundays, 9 p.m., on Cottage Life. The network is currently in free preview.
Colin and Justin will be appearing at The Cottage Life Spring Show at The International Centre, Toronto, on Saturday 2nd April at 2 p.m.. Visit www.cottagelife.com for further information.
Follow on Twitter, Instagram and Facebook
The starting point...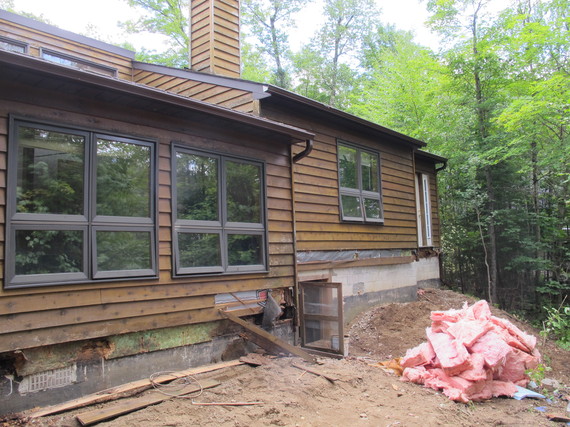 Raised, wrapped and glazed perfectly - the deck work begins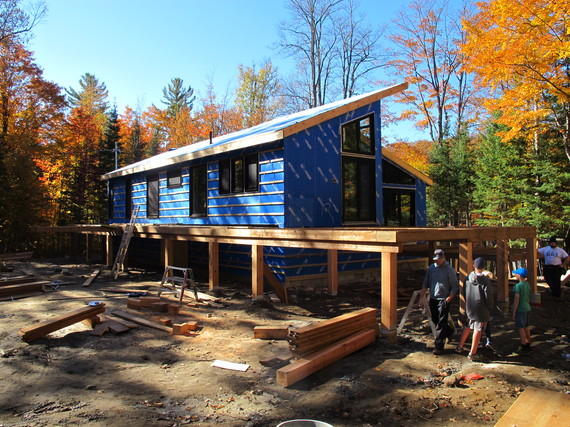 Front elevation showing the extended roof line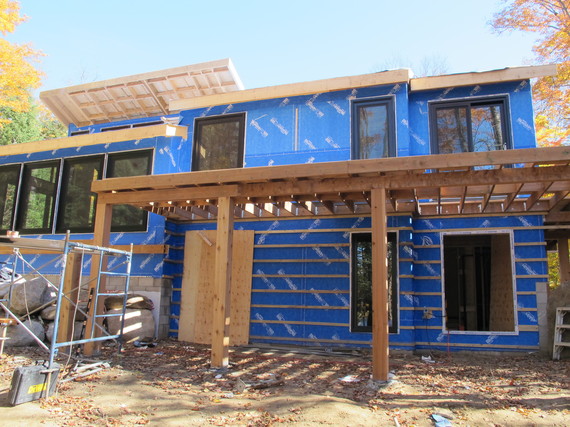 It's shaping up...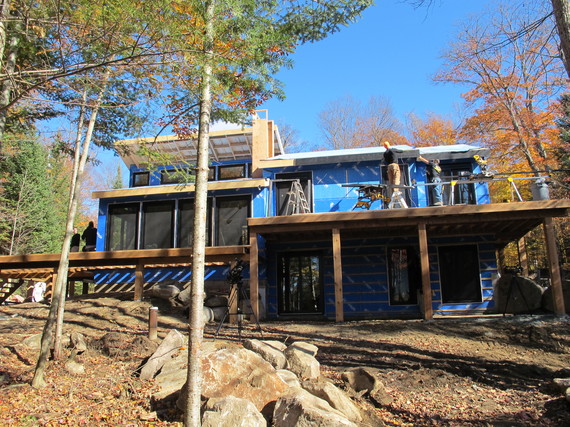 The Sunspace glass railings surround our deck with safety and keep the view unbroken too!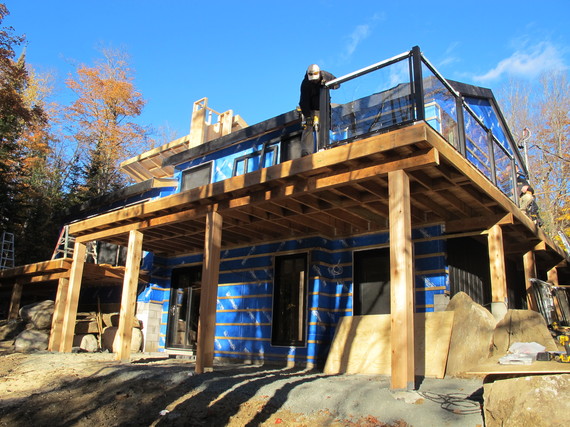 The board and batten siding echoes the ribbed lines of the statuesque steel roof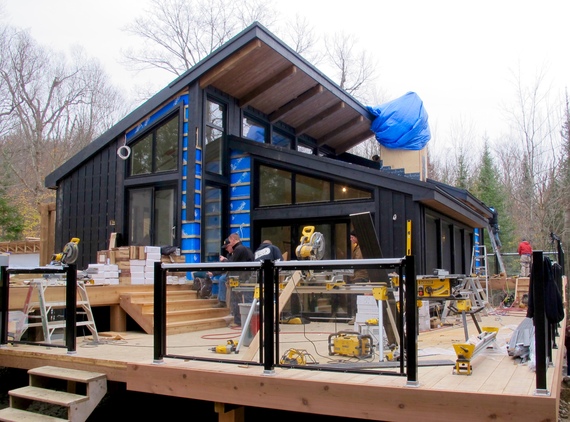 Just the chimney to finish and we're done outside...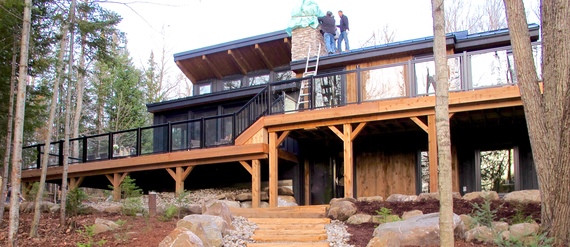 Loving the Solus firebowl...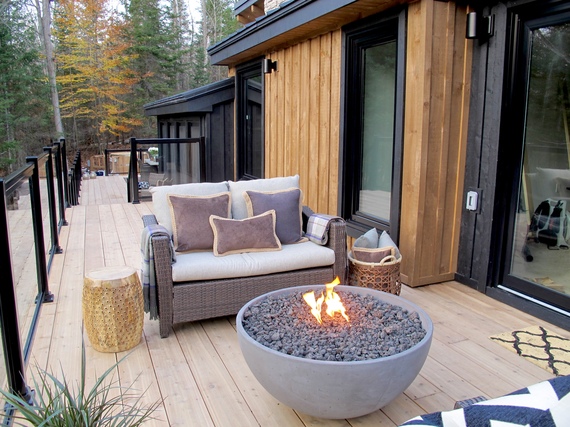 Colin & Justin's 10 Ways To Get Your Wood On At The Cottage
1. Oh what a feeling when you're wooden on the ceiling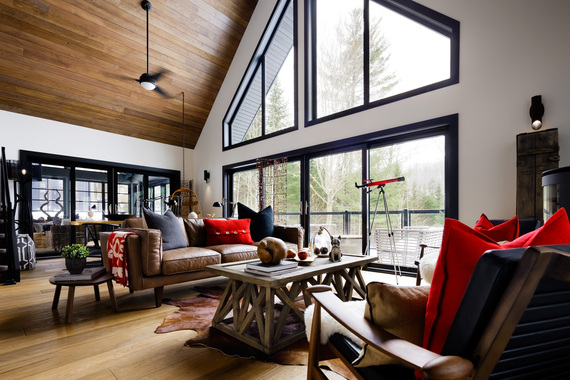 2. Walk on wood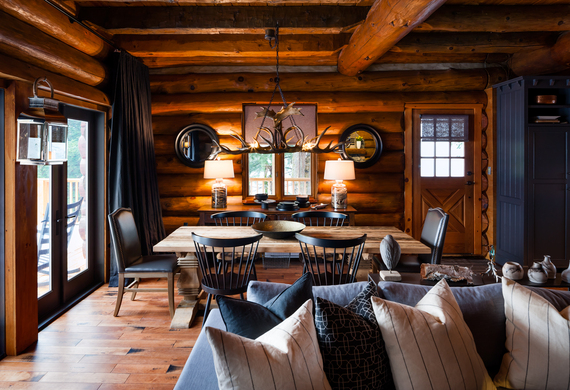 3. Wield a heavy metal axe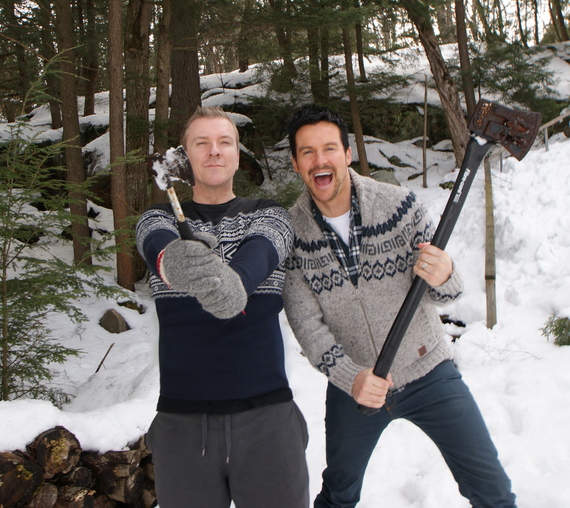 4. You're for the chop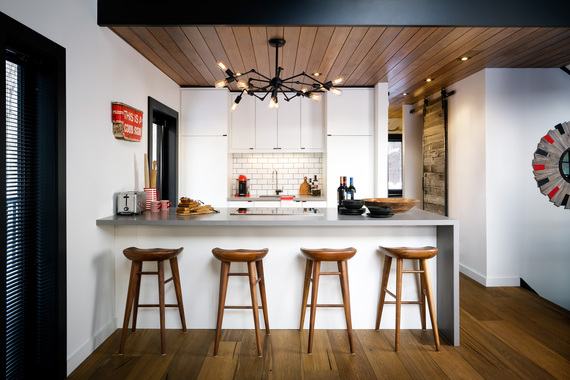 5. Canadian barn chance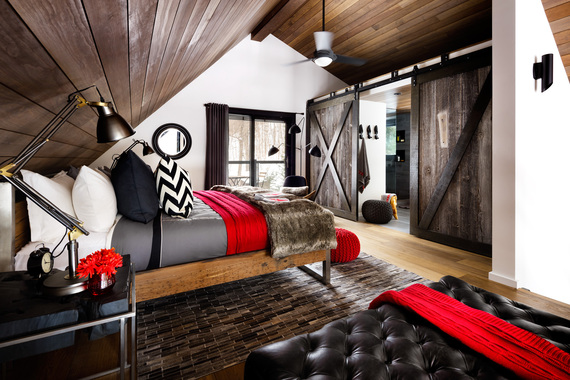 6. Stumped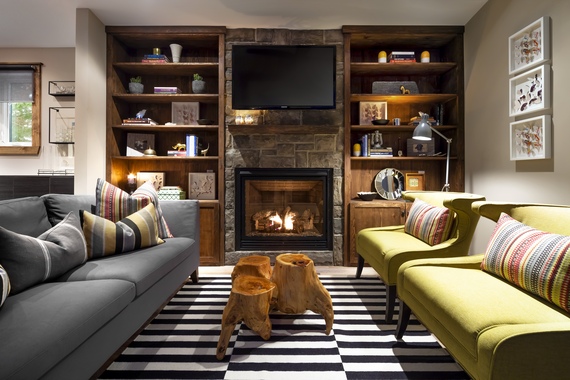 7. Chip of the old block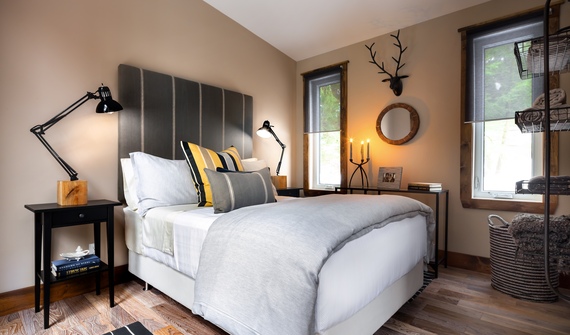 8. Sink to a new level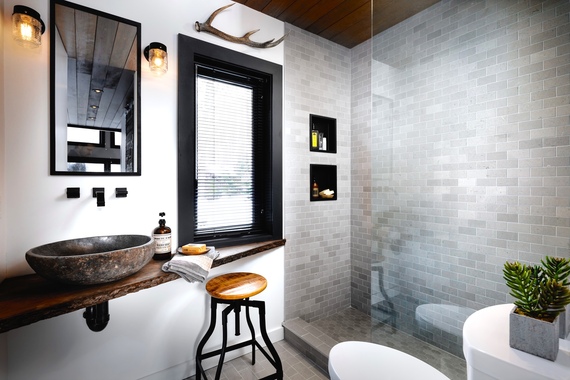 9. Clad all over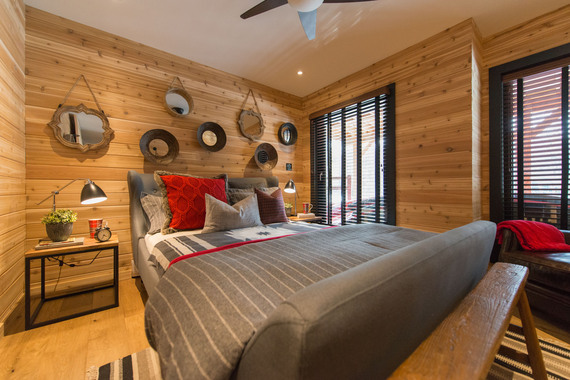 10. On the skids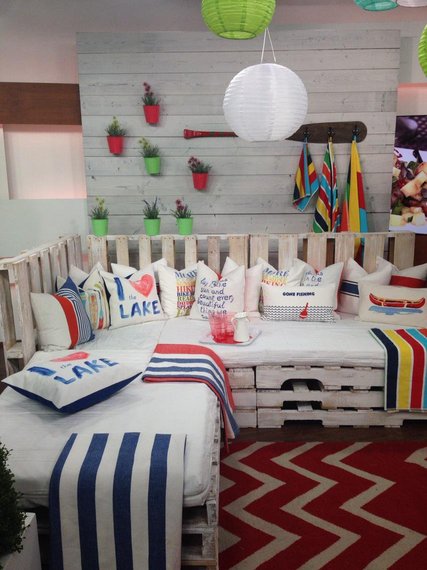 Follow HuffPost Canada Blogs on Facebook