Sometimes a spot of decorative Botox simply isn't enough. Cue a full facelift, and some grand scale reconstructive surgery, say cottage-style surgeons Colin and Justin...
Stop the virtual press. Do the images shown below REALLY represent the same house? Aye, they certainly do, but be under no illusion: this particular act of transformative alchemy nearly killed us. Yeesh -- there were tears and tantrums on an almost daily basis as the monolithic job played out. Thank God, then, for a happy resolve.
Gird your loins and scan, if you will, our before shot -- a cabin so crappy we wondered if, to raise it from the dead, we'd need to raze it to the ground. Now cast your critical gaze upon our after shot. Vive la difference. The Jurassic scheme, overseen by Randy Blain (of Randy Blain Construction) is a veritable joy to behold. We should report, however, that appraising the process, for your stylistic delectation, makes us wanna swoon. Even gag a little. Yup, we went to reno hell and back.
At this juncture we should probably take a moment to thank the adorable Tanya Blain (Randy's wife) a woman who patiently allowed her betrothed to work late on an almost daily basis so our project could actually complete. As our professional bromance with Randy grew (seriously: best contractor EVER) she'd call, we'd apologize for detaining her hubster and she'd generously concede that Randy is a simply man of principal who never leaves a job site till everything is done.
So did the scale of the job take us by surprise? Absolutely. But be under no illusion: we're far from inexperienced when it comes to full-scale renovation. We've flipped -- without flops -- on countless occasions in houses (of all shapes and sizes) across the globe. But we had little idea of what lay ahead when we bagged this latest fixer upper.mWhen we bought the crooked shack, our ambition was relatively simple: fix, paint and learn to love the house for all its initial faults.mAnd then patch the roof as required. Our primary ambition? "Repair and make good." How we laugh as we recount that innocent ambition.
And yes -- before you ask: we did conduct an inspection but problems still arose for which no one could properly account.mThe windows were shot, God damn it, "cloudy," and ready to fall from their rickety plastic coated frames. But don't sweat it: we'd already decided upon new black framed glazing to modernize the overall esthetic.
Enter "Euro Vinyl Windows and Doors" with whom we worked closely to address every aspect of installation. Thank heavens for company director Chris Meiorin: a windows and doors demi-God. And, conveniently, also a resident on Drag Lake, location of our tumble down shack from hell. Popping by regularly on his paddle board (we jest ye not: head to toe in Neoprene with reglazing concepts secreted in a water tight zip lock bag) he carefully worked through concepts, appraised our ideas, and then drew together his exacting plans. Hey presto -- within weeks a taller glazed apex was added, and wide aperture sliding portals (which add commanding "sightlines" to the lake) inserted into the front elevation. Genius. We knew pretty much how we wanted everything to look but the thoroughly affable Chris took the project to the next level.
Battling a path towards Haliburton Timber Mart (located, conveniently, just a few miles from the cottage, but with branches cross Canada) we worked with the knowledgeable in store team and specified Cape Cod siding in dramatic grey to create external drama. Having developed wonderful trust with Jodanne Aggett (part of the in-store design department, she crafted all our technical drawings) we felt confident to employ other aspects of the company's guidance. Haliburton Timber Mart, in fact, became our "go-to" resource for most associated building supplies.
Jodanne patiently toiled on site on numerous occasions to redraught internal layouts and was always available to give her expert opinion on anything construction or design related. Liaising with a seasoned professional (such as Jodanne) in cottage country is perhaps one of the best pieces of advice we can ever offer: expertise, such as hers, is crucial when interfacing with local townships and planners.
Next stage? Roof repair. We contacted Dave Baker Roofing (with whom we'd worked during Season One) and, after Randy and his boys had replaced virtually all joists and boards (the previous timbers were rotten and not even remotely to code) and insulated with Roxul product to keep everything warm, he positioned Building Products of Canada Corp shingles to provide a tight, hermetic seal against the elements. We're nothing short of thrilled with the results and the grey black vision is testament to our plan for a tailored Nordic-cabin-in-the-woods aesthetic.
Consigning our words and pictures package to the virtual style library in the clouds, and casting our eyes, once more, over the transformation, we can still hardly comprehend its scale. That said, please don't mistake our driving enthusiasm for self-satisfaction: quite the contrary -- we're simply proud of the before and after. And of course it all comes down to one word teamwork. Hey, wait a minute: isn't that kinda two words?
Word count aside, we're certainly so much less without our experts, each of whom toiled relentlessly to bring our polished vision alive. Without Jodanne at Haliburton Lumber and without Randy Blain and his contracting apostles, this monolithic rebuild might never have finished. Sure, it's been a joy (for the most part) but it nearly flippin' killed us.
Come play with us again in these virtual pages, next week, and see what happens when we come face to face with the biggest deck we've ever tackled. And wow: did someone say Western Red Cedar...?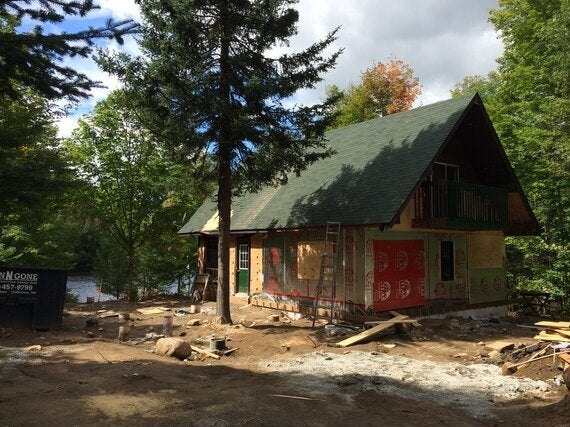 Where did our cottage go?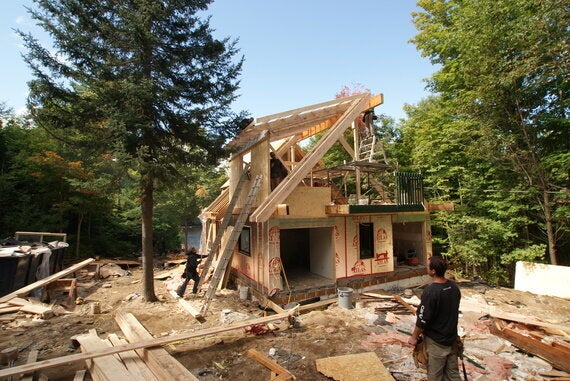 It may be a pile of wood... but it's OUR pile of wood...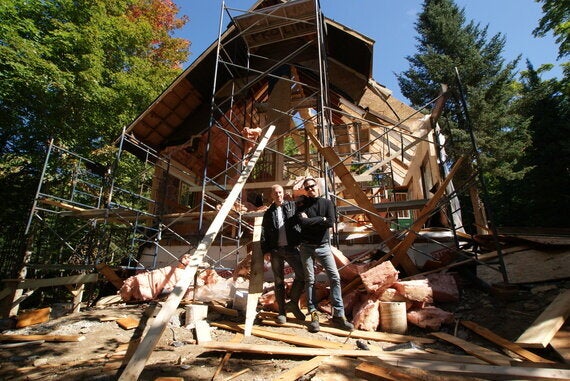 Dormer added and new windows installed... can someone bring some cladding please?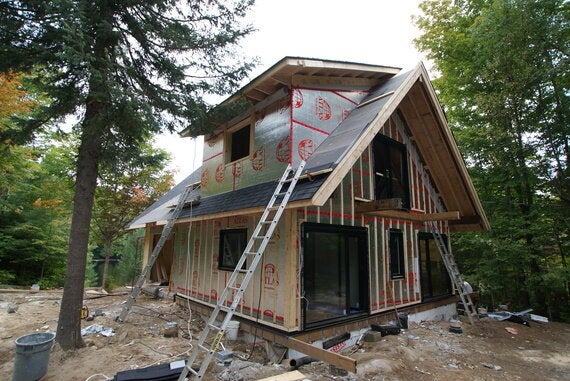 Rebuilding the front of the cottage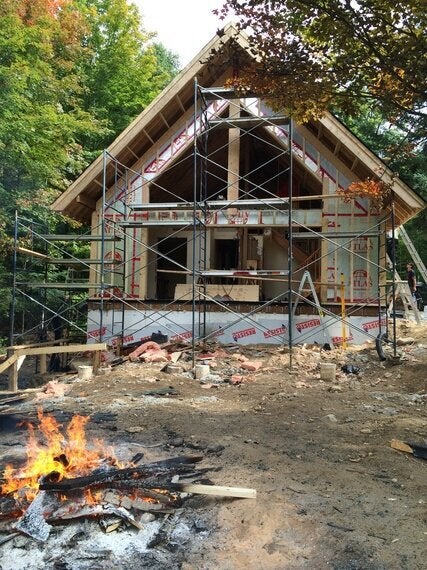 Roofer Dave Baker does his thing...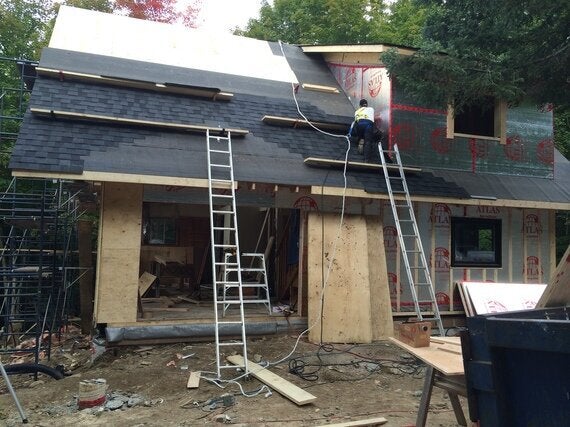 Cedar shakes add a natural feel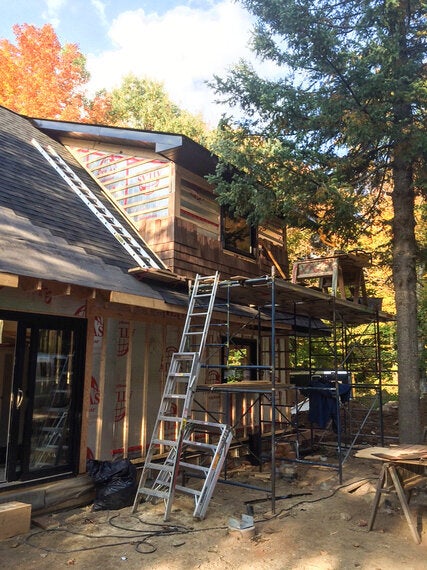 New windows = new architecture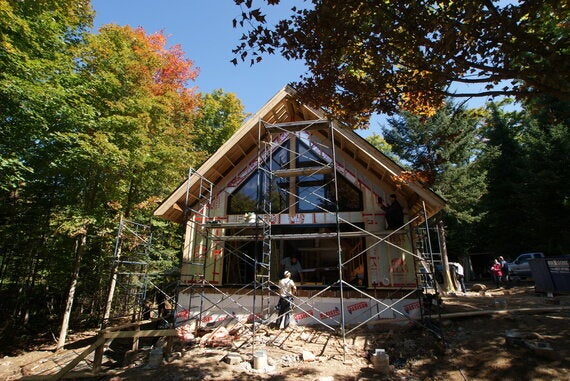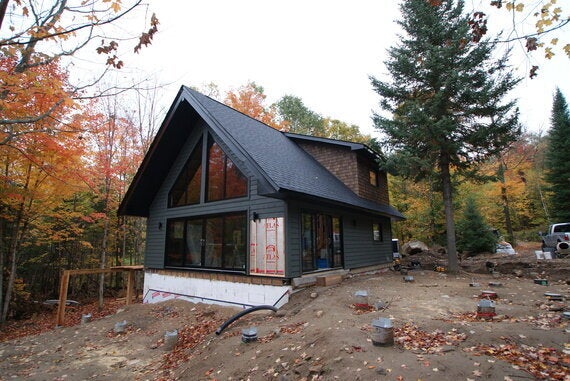 New siding, new windows and a new roof later...