In the wider, outside world, many folk live in the past, trapped by a lack of knowledge which has rendered them "paint paralyzed" and unable to make decisions. Some people think "maintenance" is a bad word and, consequently, allow their homes to fall apart around them.
Others piece together domestic style based upon an "it'll do," laissez-faire approach. Hell, if they adopted the same attitude to matters sartorial they'd be wearing tutus, diving boots and toques. Quite the vision, huh?
Is cash a restriction? Well, to be fair, the procurement of home style shouldn't be about how much money you spend, rather how much time you spend trying to get it right. It's about knowing how you want your home to look, how you'd like it to function and how you want it to feel. When all these aspects are appraised, then and only then can you create the ideal home.
The procurement of home style shouldn't be about how much money you spend, rather how much time you spend trying to get it right.
Game of Homes is all about decorating inspiration. It's about creating the perfect domestic space, and the more perfect each competing duo makes theirs, the better their chance of winning overall. Watching, we hope, will provide the inspiration required to play your own game of homes. And to make the very best of your place.
How will the show ensure you become a winner rather than a sinner? First up, you'll learn from other people's successes (and failures) via the adventures of our teams: husband and wife Kim and Harry, mother and son Shelley and Alex, best friends Dom and Michael and engaged couple Tyler and Courtney.
The houses in which the renos are carried out had been scheduled for demolition (to make way for land redevelopment) but they were "saved" to become the subjects of the show. "Monster moved" and transported across Canada, they were set down in an outdoor studio -- a TV street, if you will-- just outside Toronto. At which point the games began.
As the series endures, you'll learn that even the most ordinary home can be made extraordinary. And you'll marvel, we hope, as one team walks away with first prize: their project bungalow, the furniture contained therein and a plot of land upon which to position their newly renovated dream home. Epic, right?
Today, ahead of tomorrow's series launch, we hope you'll be inspired by our guide to home harmony. So jump aboard our style shuttle as we propel you into the dramatic world of C&J before and afters. These images are proof perfect that even the most down at heel homes can be transformed into stylish abodes.
Turning sinners into winners...
Living room before - Sinner!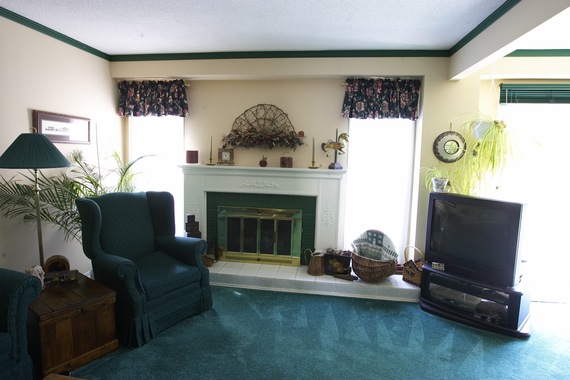 Immaculately clean but more than a little bit dated, this space suffered from poor furniture placement. Come on: did the furniture display any relationship to the fireplace or indeed the TV? Disproportionally small curtains confirmed our belief that the room's design references hadn't moved on in years.
Living room after - Winner!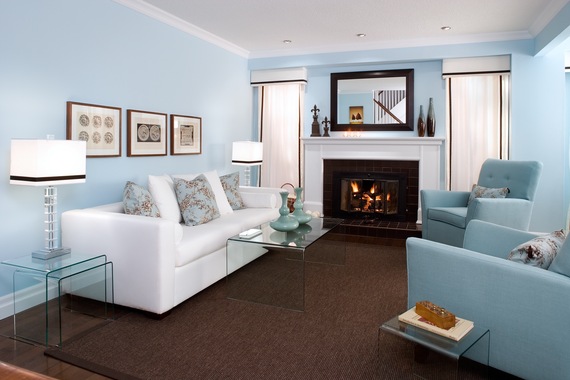 The soft colour scheme is expansive: all about pared back elegance and the feel-good factor. The new furniture has been placed to establish connection to the fireplace which we indulged with a new insert to amplify appeal. We dressed the long, narrow windows to flank the fireplace and increase the sense of wall height.
Bedroom before - Sinner!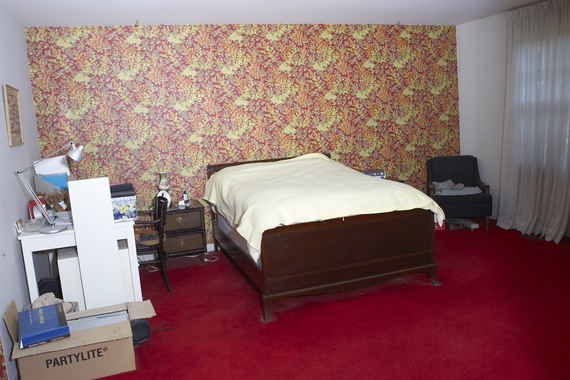 The strange lumpy divan, the 1970s wallpaper, the brash colour scheme and the fact the room was a hybrid of sleep zone and computer room... just didn't work.
Bedroom after - Winner!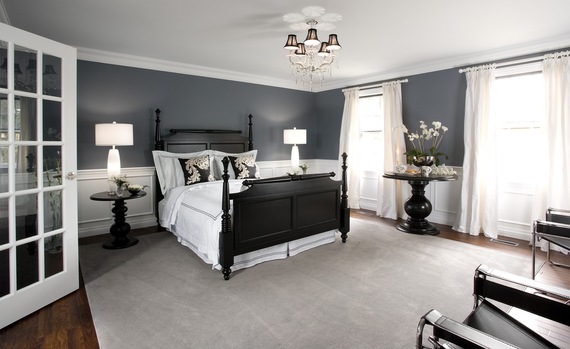 Adding features adds value as well a sense of opulence. This in mind, we paneled to break up the expanse of space and created balance between the new grey and white classic colour combo. Black furniture and white bedding continued our new schematic profile.
Office before - Sinner!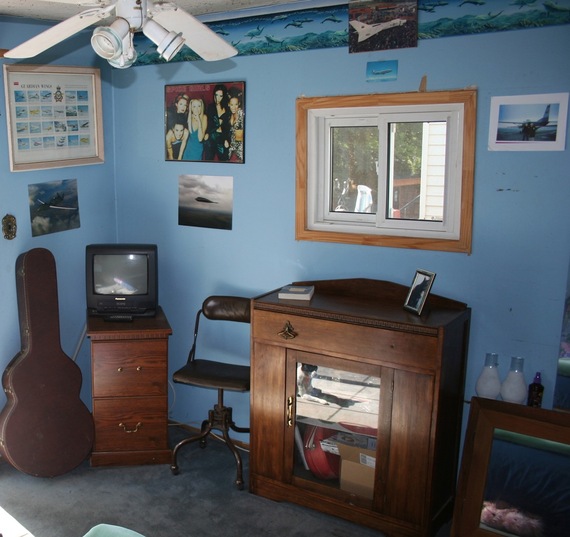 Not even the Spice Girls could save this room from its lack of design cohesion, dated age-inappropriate wall borders (this was an adult's room) and the overall feeling that it was little more than a corner where unloved furniture had gone to die.
Office after - Winner!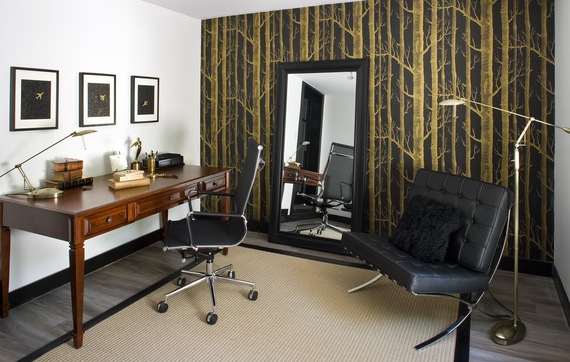 Retooled, our project boasts punch and personality thanks to the focal point wall, employed to introduce a single dramatic element. We also added an extra seating zone and a desk with storage to complete our executive reversion.
Kitchen before - Sinner!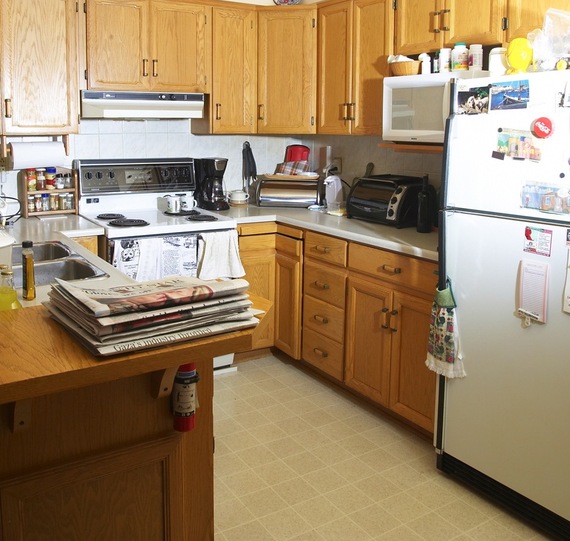 Dated, cluttered and desperately in need of a renovation. In design terms, to be honest, it possessed all the allure of a vet's clinic.
Kitchen after - Winner!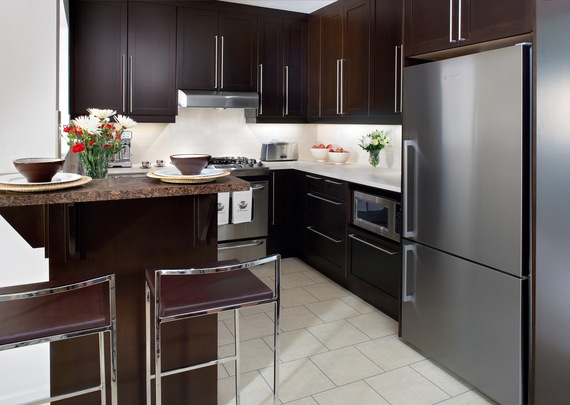 Shaker doors are flexible enough to be modern or traditional, depending upon application or context. In this project we used long metal handles to create a modern feel, with new steel appliances and accessories coordinated to proffer a professional vibe. Moving the microwave below and keeping the countertops clear completed our spell.
Now that you've seen a few of our projects, it's time to see what the Game of Homes contestants can muster: We promise 28 eye-popping transformations across the series.
Join us, series host Dave Salmoni (Animal Planet, Discovery U.S. and Jimmy Kimmel expert) and weekly celebrity guest judges as we sift through the drama during Canada's biggest reno challenge to date.
With the prospect of bagging a fully furnished house and a plot of land, what would you do to get onto the property ladder? You'd play the Game of Homes, right?
Game of Homes premieres April 12, 10 p.m., on The W Network and airs Tuesdays thereafter.
Follow HuffPost Canada Blogs on Facebook
MORE ON HUFFPOST: