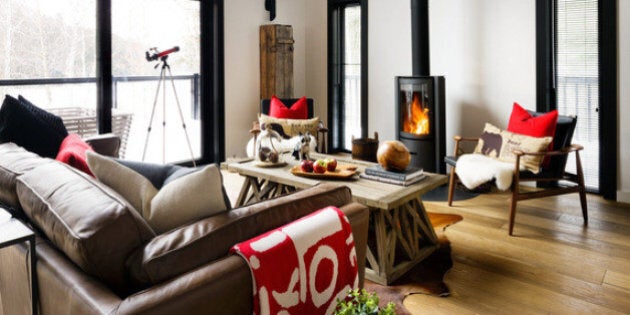 Sad though it is that the end is near (this is the last room in Colin and Justin's 13-week cottage "special" -- back to traditional urban and suburban makeovers next week) there's no let up in lakeside drama just yet. Today the boys tackle their great room...
At long blinkin' last our monolithic lakeside reno is drawing to a conclusion. We're pooped, sure -- to the power of ten -- but hey: the arduous slog has been more than worth it. An almost complete rebuild has been undertaken. Walls have been painted, floors laid and windows replaced. We've added a new roof, built a new basement and undertaken a comprehensive landscaping programme.
And so, from the dilapidated shell of a run down slanty shanty, the beauteous Grey Gardens has emerged, triumphant. We're beyond happy with our labours, even if the monolithic transformation nearly killed our team...
But anyway: we digress. Today we're focusing on our great room, a behemoth of a space with wood clad lines that soar twenty-five feet above floor level to the beautiful apex. Our living room is all about open concept space where relaxing, dining and cooking coexist under the gaze of tall trees, rippling water and wildlife, beyond the huge expanse of glass at the front of our cottage.
Ah yes, the windows: changing these did way more than just reglaze the building: it was a process that utterly reinvented our cottage. Swapping the dated panes of the past for larger, black-framed Euro Vinyl. alternatives transformed our cottage from spectacled geek, to full fashion eyewear chic. As viewed from the lake, the vibe has totally changed. And on the inside? It's an aesthetic miracle. The re-invented space is bathed in light, embellished, all the time. with a panoramic vista that create the ultimate "season by season" living feature wall. In this room, nature is décor...
Creating an efficient room for all seasons requires insulation and a precision approach to build quality -- thankfully our principal contractor Randy Blain has an exemplary reputation for creating homes where meticulous finishes are paramount. Flexibility and environmental control-ability are key -- we aspire to being warm in the winter and cool in the summer. Who wouldn't? To this end, a Stuv 30 Compact wood stove sits at the centre of the rear wall, creating a focal point and somewhere to nest when temperatures plunge.
Installing screened windows on all sides allows breezes to whisper through the cottage on warm days, ably assisted by ceiling fans from The Fan Shoppe to keep things cool. When purchasing a ceiling fan, investigate how quiet the mechanism actually is -- that way you won't be disturbed as you slumber gently on warmer nights. Our fan Shoppe selection, it should be reported, whirs silently to ensure noise bleed is never an issue.
Traditional cottages are all about wood, and so, as an homage to the past, we clad out the peaked ceiling in walnut-stained pine and laid "Barbican" wide planks by Kentwood, to provide continuity and an increased feeling of space. The timber "sandwich" effect works particularly well in the double height room, proffering, as it does, a modern church like aesthetic. Holy cow: appraising the room we pray thanks each and every day.
Furniture is spaced into two areas -- sitting and dining -- with a brown leather sofa from Urban Barn providing the familiar "lived in" look you get with soft tan leather. Adding to the Mid Mod vibe, we specified Redford style chairs from MFKTO, to flank the stove. As final detail, we installed a reclaimed munitions box from Smash, Toronto wall mounted to add useful storage and a talking point, to boot.
In the dining room, boundaries are set with a grey metal console from CB2 dressed with Ikea desk lamps and naïve pottery forms from Ontario ceramicist "Gypsy Potter." The live-edged dining table from Artemano delivers a "wow factor" and, clustered with Wegner-style MFKTO wishbone chairs, the look is complete.
Lighting? Hmm. Every evening, when we turn on our black floor lamp, we reminisce about how the lumiere began life as the cottage's old TV antennae. Cropped to lamp height, rewired, painted and topped with a smart shade, it resembles a mini Eiffel Tower. Positioned to the side of the chic black-framed Sunspace stair railings, the resultant aesthetic is clean, contemporary and perfectly defined.
We can honestly say we've had the most rewarding experience ever whilst birthing Grey Gardens. And so we deliver gratitude, in spades, to the planning department, our technical drawers, our sunroom installers, the bunkie builders, landscapers, painters, carpenters, electricians, plumbers, tilers, roofers and deck builders, all of who toiled relentlessly to bring our vision alive.
Our thanks extend, also, to the good people of Haliburton (who have made us feel so at home in our weekend retreat) and of course to our talented production team who carefully filmed the entire adventure to share with you on the Cottage Life channel. Thank you, thank you, thank you. If you're in the area, come on by. Just make sure you bring a bottle. We DO like the odd tipple...
Cabin Pressure airs on Sundays at 9pm on Cottage Life. Catch up with previous episodes at www.cottagelife.com
Empty, but full of promise -- our not so great room...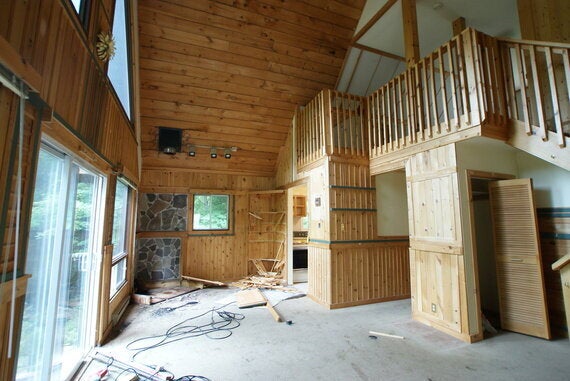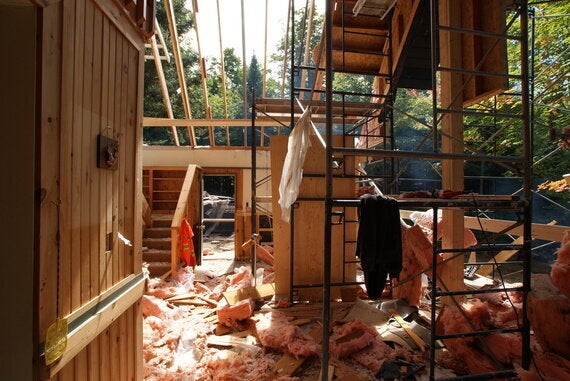 The renovation version of air conditioning...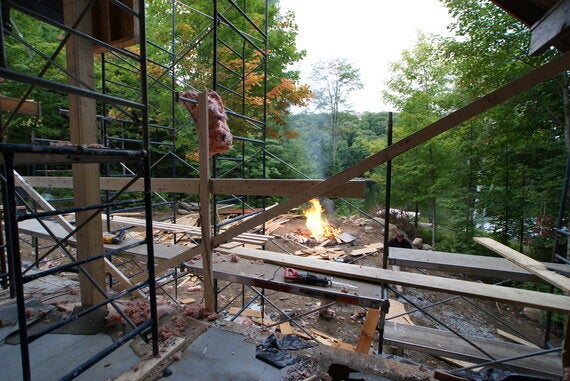 Let the reinstatement begin!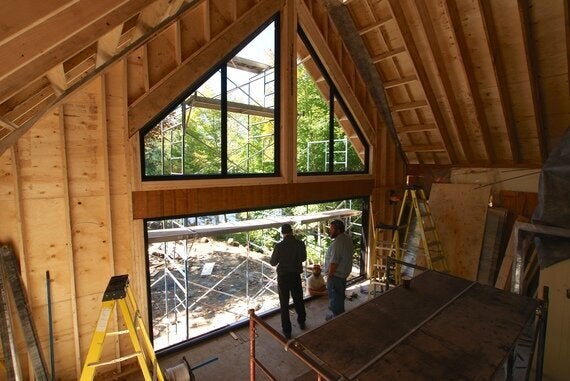 The replacement windows underpin the entire look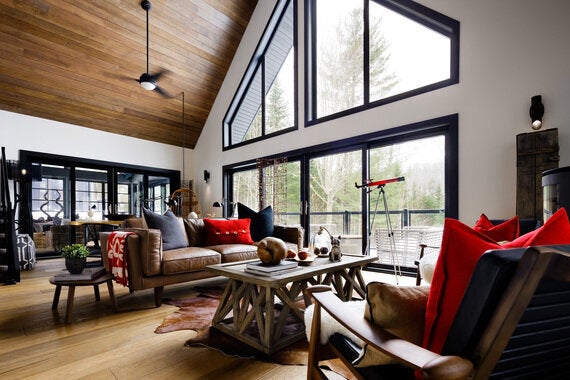 Live edge timber meets mid-century modern in the dining room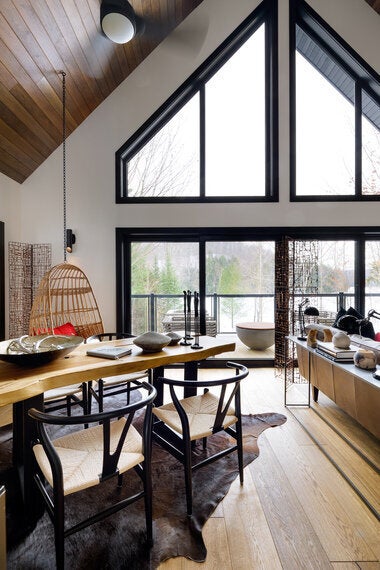 A warm welcome from the Stuv wood stove...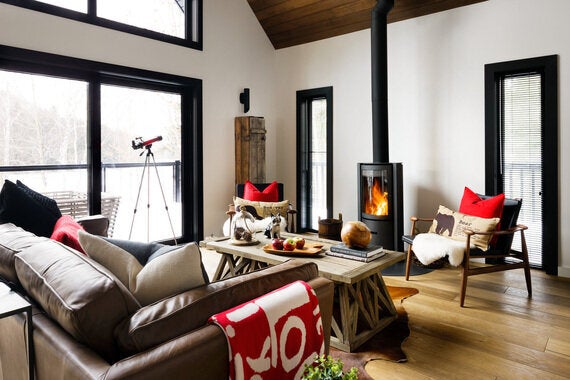 The Sunspace black framed glazed railings define the shape of the climbing staircase