Colin & Justin's 12 Ways of Christmas
1. Let the currently wonderful choice of Christmas dec's problem solve your room -- if your space is a bit cold and bland, add rich reds, natural elements and gold to seriously warm things up. If your starting point is a little on the dark and heavy side, lighten space with sparkly finishes, cool silver and cream or white accessories. It's all in the balance! The Christmas range at Chapters Indigo is sublime.
2. Transform a scented candle into a large style statement by placing it in a glass storm lamp to increase both table presence and light. Bowring carry beautiful storm lamps.
3. Don't go overboard with too many garlands everywhere -- remember it's Christmas time, NOT camouflage time! As is often the case, less is more, so spend time and money on a well dressed tree or some tasteful accessories that will enhance your existing décor rather than compete with it. Pop into Winners and find a huge selection of festive adornment.
4. In addition to the tree, the fireplace is one of the main focal points so make sure yours looks stunning with decorative garlands and candles. You could also decorate the mantelpiece with holly, white berries and rich red poinsettias or add some sexy sparkle with a polished nickel Reindeer statue. The Bay has a wicked decoration inventory so stop in and plunder their shelves while stock remains!
5. If you don't have a fireplace or mantelpiece to decorate then all is not lost. Simply create an alternative festive focal point. Try transforming a dresser, table or sideboard into a real festive eye catcher. Swag with real or artificial greenery and bows, pile on baskets of fruit and nuts and decorate with candy, candles and your favourite greetings cards.
6. For a quirky eye-catching display, peg cards onto a bunch of sturdy twigs placed in a large vase. Or decorate an artificial potted tree with jewel coloured candy. Wrap a little wire round each sweetie twist and suspend from the branches. Okay, so the candy won't last long but the tree can be reused from year to year. Alternatively, showcase Christmas cards in a wire holder.
7. Start outside -- hang a festive wreath on your front door to give family and friends a warm welcome and, if your florist is making your wreath or garland, ask for all the off cuts and use on the mantelpiece to tie your 'in and out' looks together. Come on guys -- we're having a credit crunch so don't waste a penny!
8. Gather cones and pile into baskets interspersed with a few which you've sprayed gold or silver. Or add a few pretty baubles to the mix. A great -- and inexpensive -- way to create a natural look with just a little added shimmer!
9. Be style aware: add colours, shapes and mediums that tie in with your existing room. If 'Eames' style mid-century modern is your home choice then add decorations that share a similar feel.
10. Make sure your home is as safe as it is fun -- too many electrical items plugged in can be a potential safety hazard so be careful! And remember never to leave unattended candles burning. And always switch off lights etc., before you go to bed.
11. When decorating your tree, position baubles into the 'depth' of the branches and not just on the outer edges -- this will create a 'fatter' and more complete look. And remember this vital order -- lights on first, followed by garlands and then finally ornaments. This layering effect works best from a design perspective and makes dressing the tree a breeze.
12. And don't just think visuals -- remember that olfactory titillation is important too! Think about scents -- as well as the fore mentioned sights -- and use natural pomanders (try L'Occitaine or Jo Malone) or clove studded oranges to bring a festive bouquet to your tree.
Colin & Justin's Top 10 Table Tips:
1. Using 'charger' plates will add colour to your table and transform your food presentation to the max. And remember to work the colour scheme of your 'charger' plates out across the rest of your table. Black chargers will add extra punch to a gold dressed table (and vice versa) while cranberry red chargers will enliven a plain white table.
2. Use inexpensive gift tags as place names for each of your guests. And attach a token gift as an additional surprise! Or try using massive glossy castor oil leaves as place 'cards' and write guest names on each leaf using a gold pen. Simple and dramatic!
3. Candles are a must which is great news because the shops are crammed with stunning candelabras at the moment. Homesense have a staggeringly good selection of options at affordable price points. But don't just plonk a candelabra down and hope for the best...build the drama -- a tall candelabra looks fab but even better with lots of tiny tea lights clustered below. Or try storm lamps for a change of mood -- Ikea has a great selection from just a few bucks apiece.
4. Avoid scented candles on the dinner table -- the rich smell can get in the way of delicious food aromas. Visit Ecotique for wonderful waxy lovelies.
5. Use metallic finishes on runners and napery -- these will pick up on the glow created by a candle centrepiece thereby providing magical sparkle across the entire table surface.
6. Scatter wrapped chocolate coins across your Christmas lunch table for delicious added sparkle. A great way to persuade the kids to behave on the promise of a 'hoover up' after the meal! Dollarama has chocolate coin strips at a fraction of the price of other stores.
7. Centrepieces are a great way to add drama -- try a jewel toned glass bowl with floating candles and flower petals to bring a romantic touch, or place several dwarf Poinsettias along the centre of the table -- they look particularly good in shiny gold pots. But remember 'eye lines' -- ensure your centrepiece is short enough to allow guests to see each other and chat comfortably.
8. Give each adult guest their own chilled miniature Champagne bottle as an aperitif at the table -- pop in a metallic toned straw for extra fun. A great way to get the party started!
9. Avoid splashing out on too many expressly Christmas items that can only be used once a year -- instead, fix classy foil snowflake stickers to existing champagne flutes and side plates to add temporary sparkle without the expense. DeSerres art stores have gorgeous self-adhesive beads that will enliven even the plainest stem wares. Simply adhere (avoid the rim of the glass and concentrate on the stem and base) enjoy and then wash off!
10. Hit your local Claire's accessories and buy glittery hair bands and baubles to use as napkin rings. Hey, your very own Christmas look for next to nothing.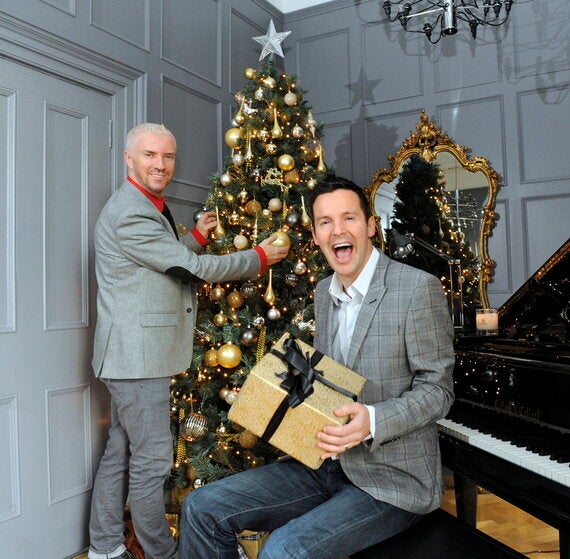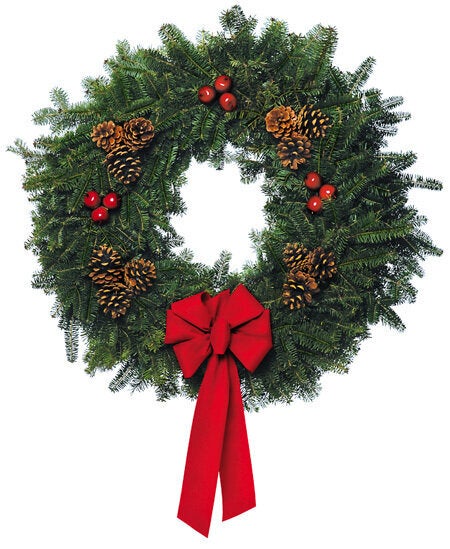 Deck The Halls: Holiday Home Decor