Canada's newest cottagers say why wait for the May 24 weekend to open your cottage? Beat the crowds and do it now...
So, have you, erm, glanced outside lately? Checked your thermometer? Heck, it's been so much warmer this past while and, though we opine with trepidation, for fear of jinxing Mother Nature, it certainly seems spring is making an effort to dispatch the mercury on its (hopefully) vertiginous ascent. That said, where the barometric scale is concerned, nothing is certain. Not in Canada, anyway...
Weather observations aside, we anticipate a wonderful summer in Muskoka as our cottage dream gathers momentum. Hell, not even the prospect of congested highways, cranky builders or black flies (we hope there'll be less of the airborne menace this year, our premise being that larvae stock will have been killed off by Canada's extended ice age) will curb our enthusiasm. For we have countryside to discover. And landscaping to tackle. And deck furniture to buy. And. And. And.
Confirmed cottagers, we're in a state of frenzy as the prospect of summer 2014 rolls forward. In fact we, and a multitude of like-minded pals are already gearing up for warmer climes and plan to "open" the cottage early this year.
To be honest, as far as comfort is concerned, we're pretty much ready for the heat -- our recently completed Muskoka room (featured here) is more than prepared for summer's arrival, its Sunspace bug screens and sliding vinyl window system installed by Porch to Pier, impervious to flying critters. But it wasn't always picture perfect; on "Cabin Pressure," we chart the complete demolition of the previously rot infested space; one of the biggest aspects of the series, it almost killed us. Literally.
Tune in tonight and witness the ceiling and roof (essentially the deck above) collapsing due to their rotted nature. But expect some light and shade too -- in association with The Muskoka Rock Company we visit a quarry to get our rocks off. Aye, we actually explode a spot of cliff face (several tons of it, in fact) which is promptly transformed into flooring for our rapidly transforming project.
As much as our big jobs are pretty much taken care of, we, like many other folk, remain mindful that a legion of smaller (but still important tasks) must also be undertaken in preparation for summer. If your cottage is winterized, the job list will probably be smaller but, if your retreat is more of a two or a three-season space, then your time will be busily consumed.
Working, as we do, with Blue Ant Media (they air Cabin Pressure on the Cottage Life television network) we chatted with Penny Caldwell, editor of sister publication Cottage Life Magazine. A busy executive, her title covers every aspect of cottaging from buying, selling and renting, to planning, decorating and entertaining. To be fair, it's a "go-to" resource for anyone even remotely interested in owning -- or renting -- a lovely home from home.
Ahead of summer at the lake, we asked Penny to compose a "must-do" hit list to help us -- and you -- prepare for the coming months. Her no nonsense approach is compelling and her advice informative.
"Spring is a fantastic time for cottagers," she explains. "We've spent the winter making lists and planning projects, and now we're ready to put it all into practice as summer stretches ahead."
Pausing, for a moment, she adds; "Sure, there's lots to be done but it's all about balance. The trick is to stay on top of everything before problems arise. That way you can kick back and relax with family and friends and properly enjoy the summer."
"Opening" your cottage for spring/summer
Monitor
Penny suggests a preliminary walk-around to observe any aspects that need attention. "Look for overhanging branches, especially around your cottage, as these can pose a fire hazard. And check for squirrel holes or entrance points by other animals...When you arrive for the first time this season, check for and replace broken windows. And be on the lookout for loose deck boards, missing roof shingles and general wear and tear that could become problematic if left unattended."
Docking
"Reposition your dock," Penny counsels, "and ensure it's properly anchored. It's also important...to re-position and replace floatation if required. Be vigilant for missing hardware items like dock rings and cleats. Ignoring all this will only create problems further down the line."
Water works
Penny's next port of call is cottage water supply. "Reconnect pipes, then prime and start your water pump." On a cautionary note she adds: "And don't forget to fill the hot water tank before turning it on." This point is particularly pertinent; one of our own neighbours neglected to fill his tank at the start of last season and it burnt out, necessitating a complete -- and costly -- replacement. So be warned.
Mice
Every time we turn our backs, mice get into our cottage and drive us crazy. We've tried peppermint and clove oil but to little effect. The little buggers probably wear breathing apparatus to continue their assault on our cupboards. So we're particularly keen to heed Penny's guidance.
"After long periods away, check for signs of infestation such as droppings in your larder. Disinfect counters and dishes and check your stove for nests before turning on." Penny also suggests setting traps or Warfarin, but only if you don't have kids or pets. "Finally, plug holes with steel wool where pipes exit your cottage; it's almost impossible for mice to break through this."
Restock your pantry and medicine cabinet
"Discard food stuffs that show rodent or bug infestation," Penny instructs, "though this'll be less likely if perishables were stored in tins or glass jars. This done, turn your attentions to your medicine cabinet. Make sure you've got calamine lotion, sun screen, bug spray and general items like Band Aid and Tylenol." 
Our chat drawing to its conclusion, Penny suggests (perhaps sensing our concern) that we don't become so wrapped up in panic that we actually forget to have fun. "In most cases," she muses, "cottagers have little to fear. And besides; a spot of sensible planning goes a long way. When you've ticked off all my points, make time to relax. Set out the deck furniture, grab a beverage, and put your feet up."
We certainly appreciate Penny's summation, especially the beverage aspect. But before cracking open the vino, there is work to be done. No, wait a minute -- scratch that. A chilled glass of Pino might be just the fellow to help us concentrate. Penny's words still ringing in our ears, we reach for the corkscrew and prepare to prioritize our workload. Yup, even though our cottage is winterized, there is much to be done...
Colin and Justin's Cabin pressure airs on Cottage Life (which is currently in free preview) at 10pm, Tuesdays. Check listings for details.
Before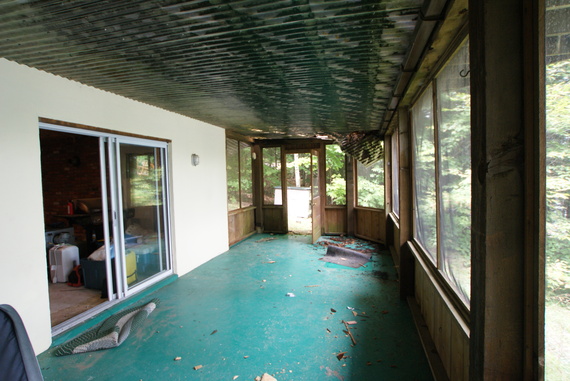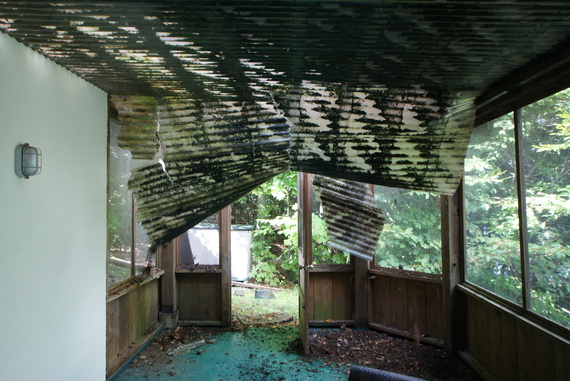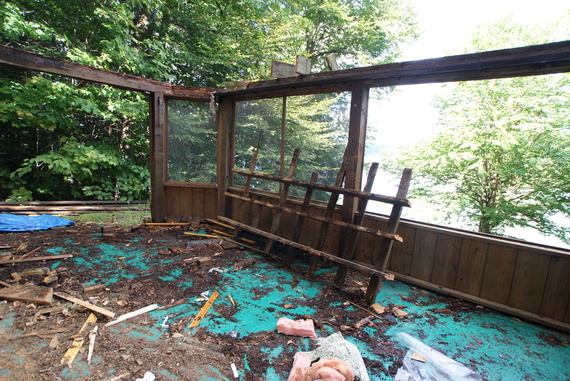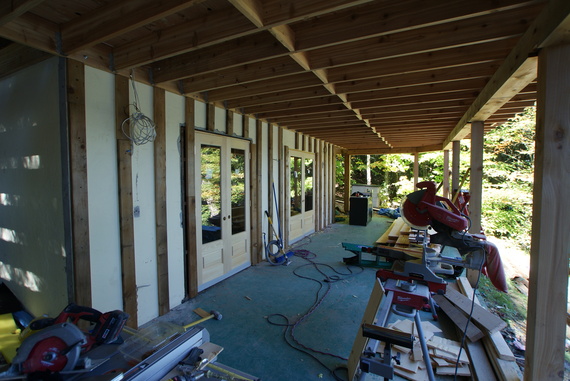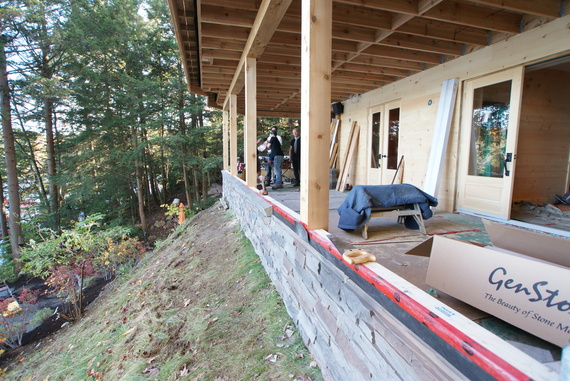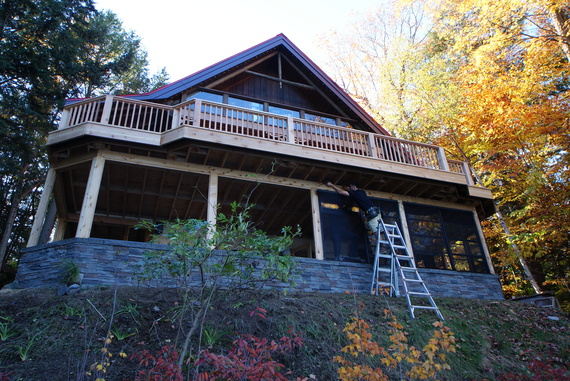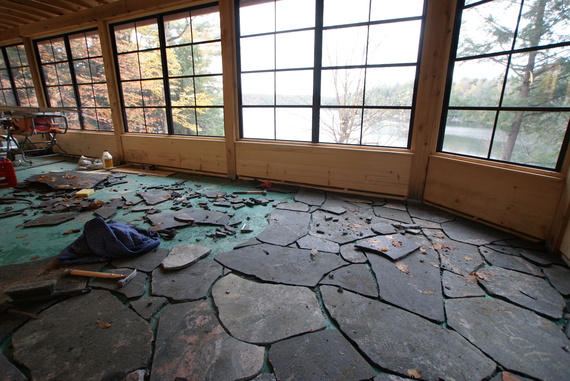 After