Colin and Justin reveal the ongoing saga of life at the lake, this week choosing to showcase the transformation of their log home's main bathroom...
Hey. We've missed ya! It's been a whole week since we last dipped virtual quills in virtual ink for your style hungry delectation. But never fear: we're seldom far away. Seven days past, we revealed the transformation of the diminutively proportioned guest bedroom in our cute wee lakeside cabin. Hmm. That relatively simple job was one thing, but this week's before and after involved much more work.
Today, ahead of tomorrow's broadcast, we can reveal the house bathroom, created from the shell of a previously dowdy wash zone whose style gene had long since been flushed. Aye, the bathroom, as we found it, bore all the allure of a two-star B&B. And we simply couldn't have that. International style warriors need infinitely more glamorous appointment, dontcha know. Even when juggling budgets that are tighter than a gnat's ass in a sandstorm. But hey, we love a challenge...
Working against us was the fact Cherri and David, with whom we purchased the cottage, had differing opinions as far as function was concerned. This bathroom, you see, is theirs (ours, downstairs, is based upon a Berlin fall out shelter and boasts an entirely different aesthetic) and while Sir hoped we could squeeze in a shower, Madame's heart was set on a soaker tub within which to wile away the hours, up to her swan like neck in luxurious bubbles. So we set to work...
Wallpaper woes
The existing wallpaper was curling -- and mouldy -- in places. In this regard, we whipped it off -- along with the mouldy drywall -- and installed specialist moisture resistant plaster board to protect against subsequent damp issues. After two coats of Benjamin Moore Revere Pewter (satin is particularly durable in moisture prone rooms) the walls and woodwork were complete.
Bath versus shower debate
Short on space for a separate shower stall, we positioned the new bath, a gorgeous deep soaker by American Standard, towards the right hand side. This enabled us to anchor a massive rainfall showerhead, elevated from the wall, to drain perfectly into the tub below. Cladding everything in Caesarstone supplied and fitted by The House Of Granite resulted in a seamless vision with display area and handy towel storage 'pocket' secreted to the left. When tackling a project like this, it's imperative to work with a good fabricator. Our chap produced paper templates to fit the ceiling lines and the result are utterly faultless.
Fixed glass partition
We toyed with a few options to protect against water splash. After ruling out a curtain (too fussy, we concurred, for such tailored aesthetics) and a swing door (its articulation would have interfered with the WC) we settled on a fixed glass screen which was expertly secured on invisible fixings by the team at Access Glass.
Turning tables
When upcycling, our best advice, generally speaking, is to rework only those pieces which are truly worth saving. There's little point, after all, expending energy if your subject is unfixable, wobbly or riddled with rot. For these pieces, we advise careful dispatch to landfill or your nearest dumpster.
Next, decide on 'identity'. Having inherited a TV unit as part of our cottage chattels, we decided it was surplus to requirements -- downstairs, certainly. So we hauled its sorry ass up to the bathroom where its height and shape made it the ideal candidate to become a sink vanity in our exciting new scheme.
First thing's first -- using the template which came with the drop in sink, we marked out where we wanted the sink to sit. We used a Milwaukee cordless jig saw to cut the hole -- you'll find that battery charged tools are way easier to operate as there are no trailing cables to consider.
Next, starting with rough and then medium grade paper, we sanded everything carefully. The rough grade loosened -- and ultimately removed -- the vanish, while the medium paper smoothed the timber surface in preparation for painting.
Before re-colouring our emerging bathroom beauty, we dusted it off, vacuumed all surfaces thoroughly and then washed it down with sugar soap. When thoroughly dry, it was ready to paint.
Our colour of choice? Benjamin Moore Iron Mountain: the deep grey works well as a bridge between the timber floor and the white sink. We advise using satinwood or gloss finish -- these options have better waterproofing qualities. And build up several light coats, rather than one heavy application: a little patience at this stage promotes better colouration and durability.
At last we were on the home run; after adding a chrome knob we called in the professionals to do their bit. House of Granite cut a Caesarstone top and our contractor dropped in the 'Town Square' sink and taps by American Standard. The composite results, we hope, are well worth our team's invested effort.
All in all, quite the transformation, huh? It's fair to report the formerly style negative room has been pulled from the brink of despair. Awash with style, it's the perfect place for David to wet it and forget it in a quick shower, or for Cherri to pour a glass of bubbly and then dip and sip in a long, languid bath. Happy clients? And happy co-owners, into the bargain. Job done!
New episodes of 'Cabin Pressure' broadcast Tuesdays, 10 p.m. ET/PT and 11pm MT, on the Cottage Life TV network. Catch up with previous episodes which air on rotation each day. Cottage Life TV is currently available on free trial. Check listings or speak to your cable supplier for details. For more information visit www.colinandjustinscabinpressure.com
Bathroom before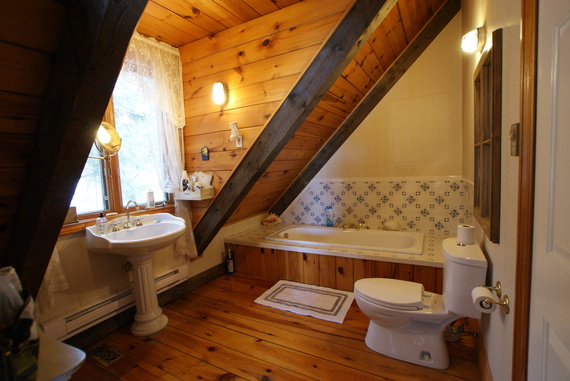 Bathroom after -- photos by Brandon Barre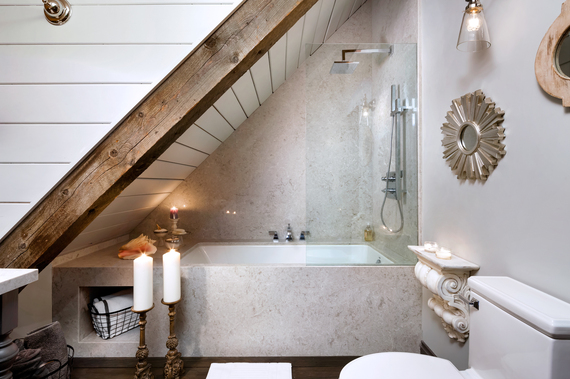 TV stand before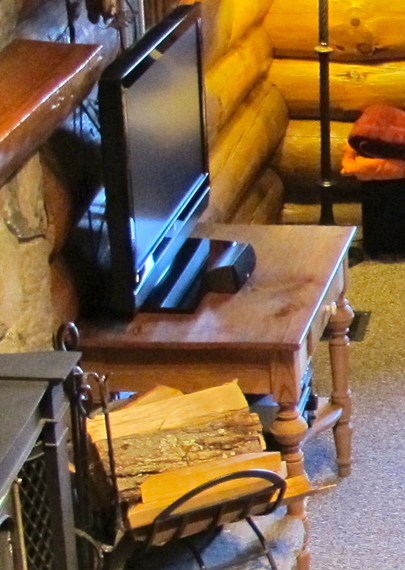 TV stand becomes sink vanity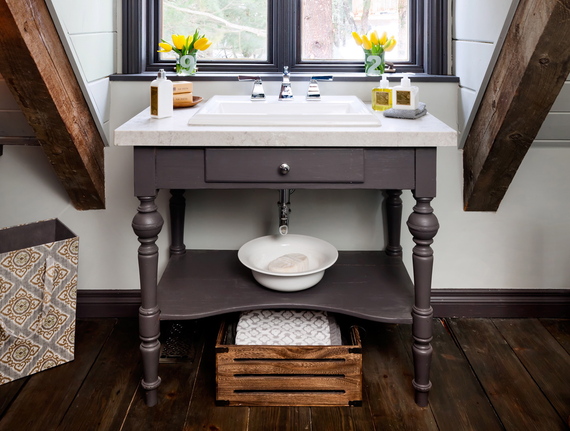 After -- shelving detail