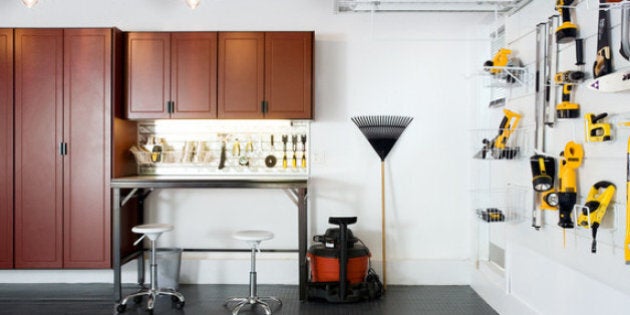 Colin and Justin create their own classic garage scene -- one that's just as 'house' and just as happening as its musical namesakes. Don't you just love the sound of home harmony?
Welcome to Canada's most unruly garage. Quite the shocker, huh? Imagine our disbelief as we rolled the door to reveal a scene which can only be described as benign, chaotic neglect. Featuring more horror than Sharknado, we were stunned as we surveyed the dreadful scene. But allow us, for a moment, to get off the fence.
Picking ourselves up off the floor, we girded our loins and prepared for battle. We were mesmerized (for all the wrong reasons) by the carnage that lay in our path, but knew we could make a difference. And our first port of call? Google. Cue iPads, animated digits and lots of finger tapping.
Several moments later we were on the dog and bone, appealing to the better nature of a dumpster company executive who, recognizing our voices from the telly, assured us (with an air of tangible cynicism) that he was booked solidly for weeks. Hmm. "Please, we're desperate. Chop chop -- we really need your help." Awkward silence and then: "Yeah, I've seen your show." Hmm. A refusal? Hello? Worry not -- we're seldom beaten: "C'mon, please, we're attempting to turn chicken shit into chicken salaaaad in a local garage and it's an utter death trap. We've gotta move fast." Cue pregnant pause as the line fell silent. And then finally, from him: "Are all Scots this persistent? OK, I'll be there in an hour. Gimme some directions..."
And so it came to pass that our gargantuan gut-down began. A gut-down so ambitious we needed two large dumpsters (or 'skips' as we call them in Britain) to contain, variously, three dilapidated prams, a collection of broken bicycles and numerous derelict lawn chairs. Oh, and not forgetting kitchen cabinetry from the year dot, a mountain of shelving and enough wooden off-cuts to build a small fortress.
Anything salvageable was arranged into a separate pile and the next day our client held a yard sale and raised a few hundred bucks. Thrilled to have collected (what he thought would be) useful cash to bolster his vacation fund, we intervened and burst his bubble. "Sorry sir, we need you to toss those dollars into our designer pot to help with the project." Rolling of eyes ensued but, thankfully, little resistance was demonstrated as our budgetary woes were marginally allayed.
Stripped back and bare (the garage, not us) we were finally able to see what we had. And so too was our client. For the first time, we suspect, in a couple of decades. Discussions with Kevin, the architect of this garage catastrophe, revealed he's the type of guy who likes to potter, tackle odd jobs and fix up things from around the house. Mind you, with this much clutter we wondered how he ever found the space to utilize his garage for DIY. He'd have been hard pressed to pass a screwdriver through the landfill of junk let alone wield it, in reparative fashion, over needy household fix-ups.
As designers, we always listen to our clients to ascertain how they need their projects to "perform." For us, it's simply about getting the best from each scheme. So to what kind of 'look', precisely, did calamitous Kevin aspire? Well, in addition to space to tackle smaller DIY conundrums, our paymaster also required sufficient square footage to park the family car and work on its maintenance while sheltered from the elements.
Hey, you already know that bit. Two dumpsters, a crowd of keen Canadian boys and a whole load of filling. Tea break. Job done. Moving on...
Pitched roof garages, with their mix of butterfly beams and overhead timbers, benefit from a paint job to visually disentangle the mess of supports and strapping. We opted for crisp white to minimize fuss, and used eggshell finish to inhibit stains from appearing in future. When painting wood, we always recommend using the relevant undercoat. It might proffer a quick fix to barge on without this course of action but, if a job's worth doing, it's worth doing properly.
Just cos a lighting pendant is designed to hang over a dining table -- or centre stage in a living room -- it doesn't mean it can't be used elsewhere. We discovered that these spun metal storm lamps are perfect for garage illumination and, when arranged in a neat triptych, they proffer an industrial yet friendly aesthetic.
We considered all manner of flooring options before settling for that which you see here. Our first plan, to grind and polish the original concrete, proved far too expensive and our second plan, to lay a poured rubber floor, fell at the first hurdle when we realized that the rubber compound would take days to properly dry. So, foraging through Google for the second time, we found garage-friendly roll stock rubber flooring and our crisis was averted. When installing this type of product, it's essential you ensure that surfaces upon which it will be laid are smooth and grit free. Detritus left below, when driven on from above, may create holes in the surface. So sand and sweep before rolling out your rubber.
Open and closed storage are factors that should be considered in any garage overhaul. There'll be items, certainly, which you'll want to hand but there'll be things (perhaps chemicals and oils) that are best stashed under lock and key. We'll come to closed storage in a mo', but for the moment let's talk shelving. Neatly regimented, wall bracketed wire racks, no less. Structures like these are easy to keep clean and allow items to be seen so they can be accessed as and when required. A supplementary mix of hooks and batons allow garden tools to be wall mounted, avoiding trip hazards into the bargain.
Pitched somewhere between kitchen units and sports lockers, these red-painted cupboards are an absolute Godsend, particularly as Kevin is a self-confessed DIYer and needs loads of stash space. We employed a specialist garage fitter, but there's no reason you couldn't install regular big box store units to serve a similar purpose. Our client now lives by the maxim: "A place for everything and everything in its place."
The existing windows were actually sound and needed little more than a fine quality paintbrush and some white eggshell to bring them back from the brink. Enhanced with masculine metal Venetian blinds, the resultant aesthetic is smart and business-like. It might seem strange to lavish workshop windows in such a way, but we reckon a "guyrage" deserves the same level of attention as anywhere else. If windows need dressed, as these ones did, they might as well be properly attired, whatever their location.
All things considered, Kevin now has an utterly tailored man zone, the reversion of which was an absolute pleasure. We hope the radical transformation inspires you to transform your unruly garage into one like this: the perfect 'guyrage'. Good luck -- we'll see you soon for another dose of domestic correction...