Recycled home accessories? Mixing the past with the present is a great way of staying abreast of home style, say Colin and Justin
Who wouldn't fall in love with The Royal Britannia Trading Company? Any firm (or maker) that saves -- and subsequently reinterprets -- items that might otherwise be destined for landfill is a sure fire winner as far as we're concerned. The environment such a prominent, topical concern, it's refreshing to observe a manufacturer so conscientiously driven to deliver product that comes from the heart.
Cue British born Lawrence Ewing, a glass artist who landed, some years past, on Canadian soil with his TV Executive partner Philip Whelan. While Philip busied himself masterminding screen successes in the reality and home decorating genre, Lawrence saw opportunity -- and a gap in the market - within the world of home decor. As the pair settled into Canada, creative opportunity was born.
Aware that Canadians have an undeniable affection for the planet (and a bigger environmental conscience than witnessed in many other countries) Lawrence started planning. The 'made in Canada' initiative being so attractive, he sought to develop a brand that could be manufactured right here, on local shores.
Resident for a time in New York, Lawrence was familiar with North American business practice and, having moved to Stratford, Ontario, rose to his own commercial challenge. Recycling products (some of which many would consider discard) and reinventing them for an entirely different purpose became his modus operandi and, three years since launching, production has grown to include all manner of inspired home accessories. Visit http://www.royalbritanniatrading.com for a host of inspiration.
Having featured the collection during a recent Cityline television segment, it's rewarding for us, to provide some prominence in these virtual pages. Big businesses are one thing (and sure, as designers we rely upon their products for many of our projects) but boutique manufacturers always have a space in our hearts, particularly those with a 'reclaim' or 'upcycling' quotient.
More and more, talking to clients, we see a growing appetite for 'product with a conscience'. Take, for instance, the Double Wine Bottle Platter that retails for $34.99. Rich green, the product is hand manipulated using a technique called 'slumping', a heating and softening process that makes glass moldable. Heat 'fused', thereafter, to connect two pieces, the results are wonderfully unique. And to think this trivet started life as a pair of redundant bottles: genius.
Proffering considerable appeal, too, is the company's 'Balsamic Crostini Dish', a generous cobalt blue bottle 'slumped' to create two sections. A larger depression is designed to accommodate bread while a smaller area is pressed to house olive oil or balsamic.
We're similarly smitten by a selection of 'squashed' glass condiment bottles: reborn with shiny chrome pouring nozzles, they're wonderfully unique. Cute as a button is the company's Cubic Sandwich Platter, another piece that uses a single bottle, again 'slumped', but this time stamped with a textural grid effect.
Also attractive and highly functional are Britannia's square glass coasters, each of which has an original champagne label heat sealed into its structure: a lovely marriage of form and function, they're quirky and fun.
In an adjunct to the 'slumped' and 'heat fused' range, there's also a collection of vintage wooden 'trug' boxes. Historically, the 'trug' was a carrier in which delivery staff would transport items from factories to stores and homes. An ancient precursor to cardboard boxes and plastic bags, their rustic edge makes them infinitely collectible. Even better - as the customer you can opt to have them liveried in any way you wish: hand stamped, painted with a family crest, or perhaps detailed with an anniversary date or birthday.
Developing the wooden inventory further, the company recently added a bespoke range of fresh herb storage boxes: way prettier than the plastic tubs in which most herbs are sold, they're vented at the side (with chicken wire) and would work just as well in a cottage environment as they would a condo or town home.
Responding to a burgeoning appetite for home scenting, Lawrence recently augmented his inventory with a 'Vintage Glass Candle' range, and the essential oil enhanced results are gorgeous. Poured into exquisite vintage glass wares, the selection includes 'English Rose Garden' (an olfactory pleasure that conjures up the scent of British summertime) 'Bacon and Maple Syrup' (pure Canadiana, deliciously set into a beer glass) Caprese (tomato and basil), the self explanatory 'Espresso', 'Fig and Ginger' and, penultimately, 'Gardenia'. Rounding off the candle line is 'Far East Kitchen' - think lemongrass, cilantro and lime. Hey, pour a cocktail, light this candle and suddenly you're in the Raffles hotel, Singapore.
A recent addition to the home wares line is an ancillary inventory of bags fashioned using vintage jackets and shirts. The jacket bags come in two sizes ('Messenger' - ideal for a laptop or note pad and 'Day Bag', a smaller model created to accommodate an iPad
or packed lunch) and really speak to the current trend for vintage accessories.
And so, fuelled by yesteryear, and environmentally buoyed by the joys of reclaim, we predict even greater things for The Royal Britannia Trading Company. Via 'slumping', 'fusing' or the construction of 'trugs', Canada's landscape is becoming even prettier as 'stuff' (that might otherwise have been dumped in landfill sites) is redirected towards a joyously bright, 'born again' future. What's not to love?
Visit http://www.royalbritanniatrading.com to scan inventory and scope retail sources across Europe, Canada and America.
Recycled blue glass - perfect in the bathroom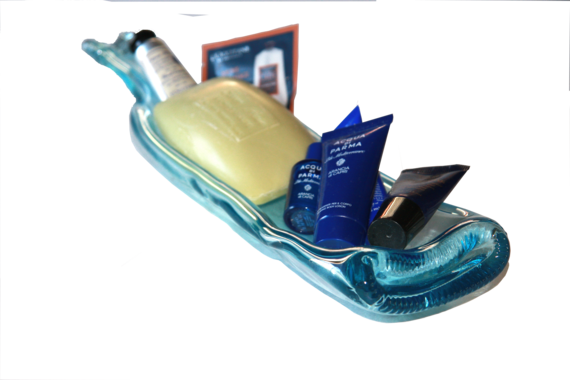 Coasters with added fizz...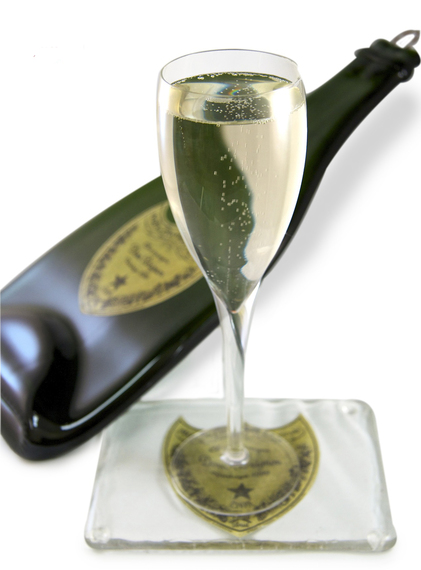 A trio of tasty goodies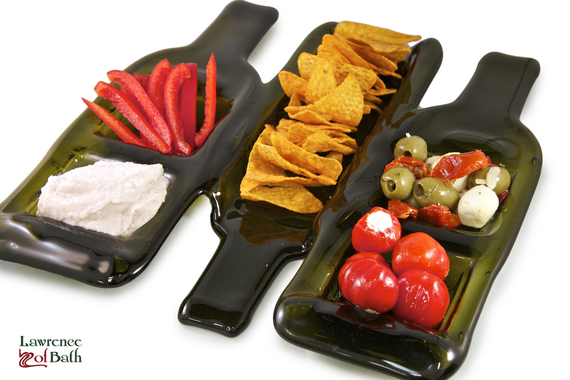 Bowled over...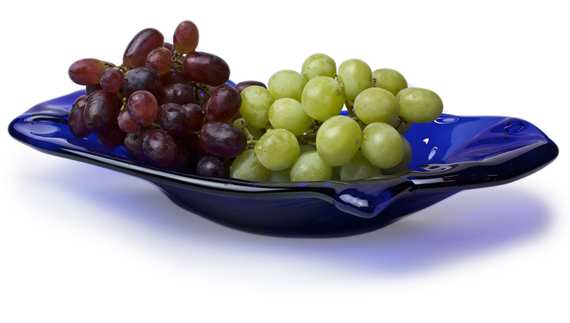 Champagne & chocolates - a perfect combination!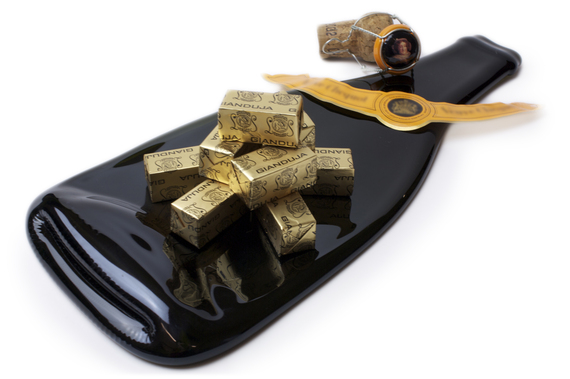 Trug life - the trug boxes can be personalised with your own name or message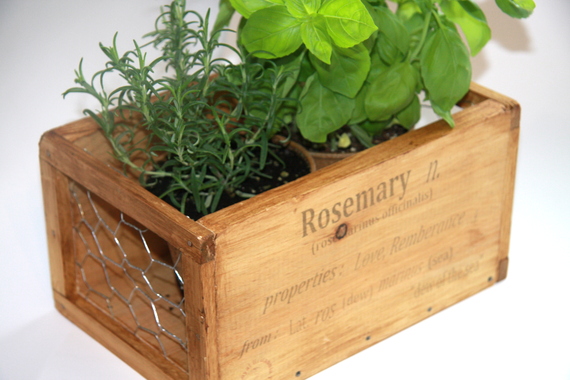 Candles with the scent of an English rose garden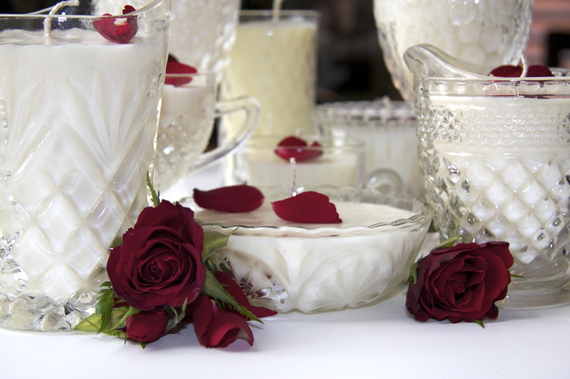 Coasters in the pink with Veuve Clicquot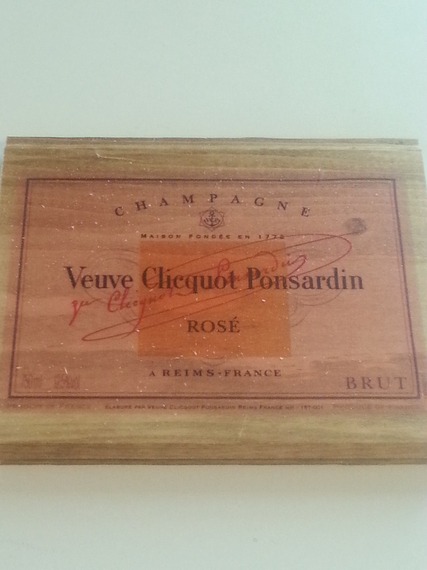 Suits you sir - a recycled suit is made into a smart messenger bag