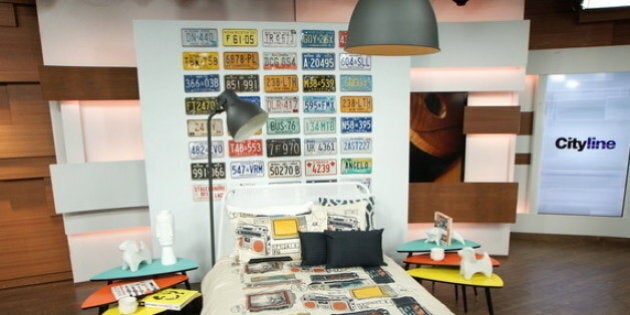 Recycling may be all the rage in interior design circles...but just how do you choose good pieces and thereby turn old into gold? Follow Colin and Justin's guide to find all the answers...
One future. So let's make the best of it, huh? We've long since championed this mantra and, whilst appreciative of regular Canadian furniture outlets, we reserve space in our creative veins for reclamation outlets and salvage yards. Aye, we love to mix past and present.
We demonstrated our affection for days gone by on Cityline, recently, with historic merchandise sourced from Timeless Materials, in Waterloo. While out there sourcing, we quizzed sales manager Gerry Kieswetter about his average customer. "It's really tricky," he responded, "to typify foot traffic." Pausing, for a moment, as if harvesting a cache of demographic info tucked to the rear of his mind, he added: "They all come. Wealthy up-town folk, cash-conscious students looking for a bargain to restore, designers, contractors. Everyone seems to enjoy the barn."
And what a barn it is. Built in 1840, the heritage structure is home to three floors of curiosity and, having visited, we can attest it stocks a diverse range of product. From baths and radiators to hardwood flooring and church pews, the fascinating inventory is perfectly lined up, simply waiting to be reborn.
Each year, by his own proud account, Kieswetter helps around 70,000 tonnes of building materials and architectural items avoid despatch to local landfill sites. For the team at Timeless Materials it is, and always has been, about reclaiming and re-purposing. "We've been doing this for literally 20 years so it's not just 'what we do', it's 'who we are,'" Kieswetter adds.
What's particularly interesting about Timeless Materials is how their inventory regularly changes. Visit run-of-the-mill home furnishing outlets and stock tends to "turn" on a seasonal basis. In salvage outlets, however, "turn" happens as and when new finds are sourced.
So, which items make for the best deals in the world of reclamation? Well that, dear readers is not an exacting science, from our experience certainly. One day you might discover a surfeit of vintage credenzas and the next a treasure trove of factory lighting, ancient church pews or display cabinetry from a decommissioned apothecary.
This observed, the one thing upon which you can always rely is surprise. But of course that's part of the fun, right? The thrill of the chase as the treasure trove continues.
Our Salvaging 101 guide to get the best from reclamation
There's little point being excited by some monolithic monastic table if you live in a tiny bachelor apartment. Conversely, if proportions permit, the same table will probably look perfect in a post-and-beam loft or a period property with soaring ceilings and acres of square footage.
In these liberated days, it's perfectly acceptable to showcase a mid-century ottoman beside a leather chesterfield with Victorian provenance. Similarly, a vintage movie poster from the 1950s will look fabulous framed in chunky ebony and floating on a heritage brick wall.
Give staff in your local reclamation destination an idea of what you're looking for so they can provide a heads up by phone or email when suitable merchandise arrives in store. The early bird, and all, catches the first worm.
Salvage destinations tend to be more flexible on price points than typical retailers. Many proprietors, in fact, will happily engage in a little backwards and forwards financial motion to settle at a mutually agreeable ticket.
Accept -- and ultimately love -- 'wear and tear'. Items which are rough and ready are often imbued with character that suggests indulgent passage through time. It's simply a matter of learning to look at things differently. So get off your high horse and embrace a little history!
Bear in mind that items don't have to be employed in the context for which they were originally designed. Come on -- isn't it fun to look at things differently? Old fences? Potentially headboards. Cute wee milking stools? Notionally perfect side table. That gnarled wood period door? Perfect, with the addition of glazing and legs, as a talking point dining table.
Reputable suppliers monitor intake to ensure you're not troubled by rot or woodworm but, when buying from any supplier, be on the lookout for problems. A little time spent before buying will save you all manner of drama further down the line.
Now you're suitably clued up, take a peek at our Cityline vignette to get your juices flowing. Old and new in perfect harmony? It really is that simple.
Lovingly crafted using reclaimed hemlock, this table is wonderfully cool and, courtesy of its aged patina, whispers days gone by. Priced at around two grand, it's not inexpensive, though its hand-built nature makes it good value for money. OK, so you can bag tables for less on the high street, but oftentimes these will be poorly assembled with little thought to the environment.
Use reclamation to create alternative sources of art. Broken window frames, machine parts and cog wheels can all be re-versioned as interesting talking points around the home. Here, for example, we specified a discarded lift safety gate and employed it as a fun "installation," leaning against a relatively plain grey wall. To amplify the importance of our subject find, we mapped out a complementary band of tonal grey and hey presto: our installation lends further impact.
The trick with reclaimed or vintage kit is to layer complementary elements together. Here, for example, our reclaimed table is perfectly offset by a brand new Norden bench from Ikea. Just like a good marriage, each partner enhances the other half to create harmony. It's all, we suppose, in the mix.
Hanging statement light fixtures over a table is the perfect way to focus illumination while creating a warm glow that draws draw attention to the surface area. Adding industrial metal pendants (these ones, again from Timeless Materials, were salvaged from a closing factory) works particularly well with wood. The man-made element, played against the natural quality of the lumber, marries perfectly.
Sometimes, robust tables and hard wooden benches need a dash of visual 'softening'. The solution? Fabrics and casual upholstery. Here, by way of illustration, a trio of upholstered 'Henriksdal' chairs adds comfort whilst hemmed 'Bjornloka' fabric (again from Ikea) acts as a table runner to pick up -- and break -- the grey palette with a creamy white stripe.
If you love the look or reclaim but simply don't like old things, worry not; the design market is awash with "get the look" product that will more than sate your leanings. "Weathered" oak flooring such as Brushed Oak Granite Pass by Kentwood (shown here) has an aged patina that positively oozes rustic -- but without being overly rough. Similarly, Homesense carries a huge selection of lighting and artwork that looks like it's been hauled from factories and old warehouses. Reproduction 'old' maps, table lamps that appear to be made from gas pipes and a whole load more.
In whichever way you mix it, and how ever you decoratively chop it, one thing's for certain: now is the perfect time to step back in time... while moving forward. Happy decorating. More from us next time!
An elevator door becomes a decor focal point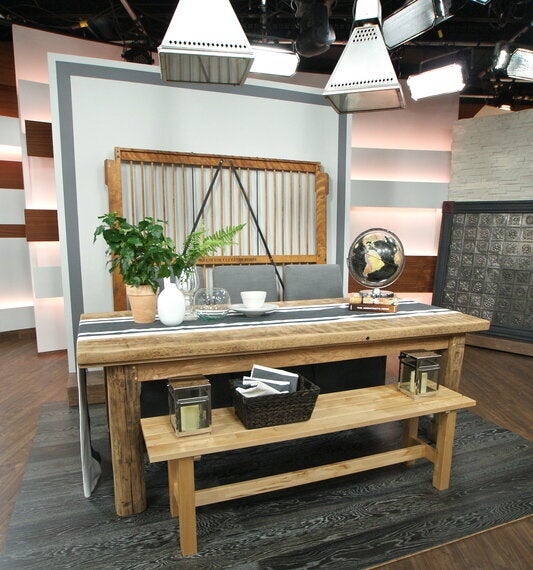 A reclaimed hemlock table, Ikea fabrics and junk store globe create a winning look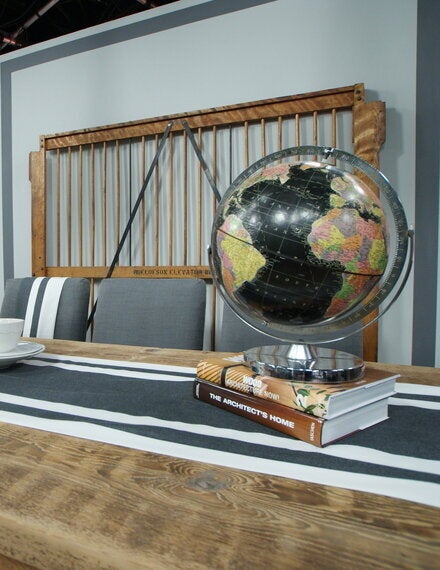 Car licence plates as wall decor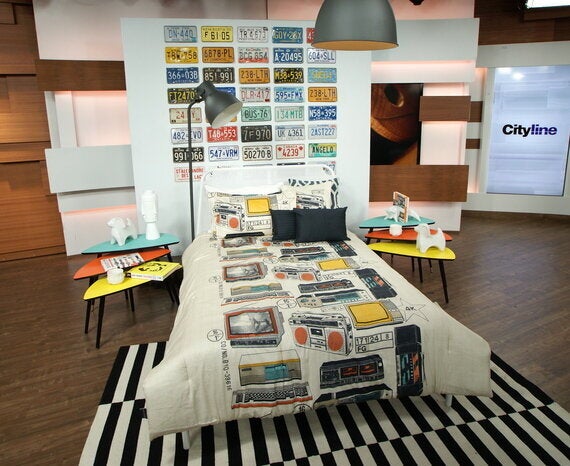 Reclaimed barn board and sink & vanity from Restore Habitat For Humanity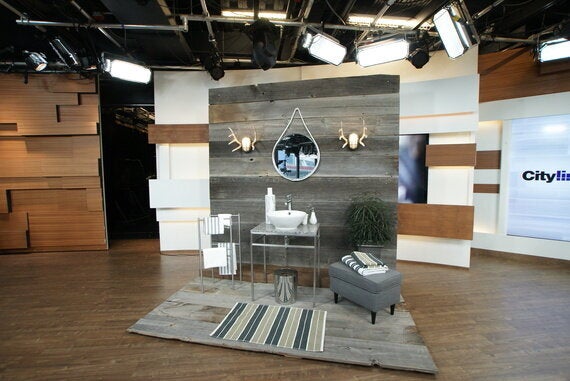 Recycled timber and pimped up Home Depot lamps and Ikea mirror = cottage heaven!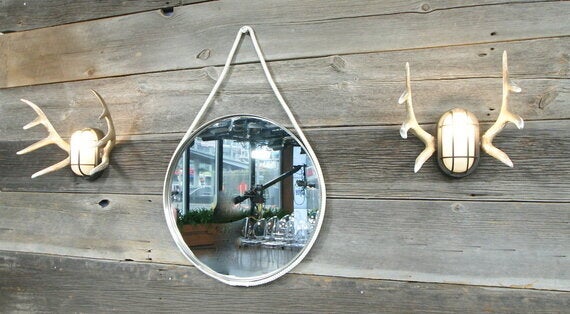 Ex hotel furniture from Moveline Liquidations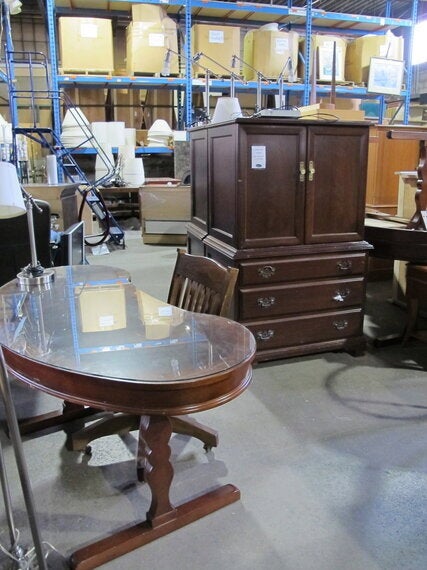 And after a lick of paint...