Create a fresh new look for your bedroom with colourful furnishings, nature inspired wallpaper and bold colour on the "fifth wall" say Colin & Justin...
Is spring really here? Hmm? One minute the barometric shift appears to be tilting in our favour, the next it's raining cats and dogs, the mercury dipped by ten degrees. Welcome to Canada, and its attendant highs and lows...
Undeterred, we're currently setting our decorating targets to 'bright,' with a project that helped our clients escape the stresses of their fast-spinning world.
But first, some words of caution: for those who love exposed timber, look away now. For it's fair to say we brandished our brushes...
Top quality genus like Western Red Cedar (our absolute fave), oak or mahogany speak for themselves, providing textural and visual return wherever placed. But we aren't slaves to timber, particularly where lesser types are concerned. When faced, for example, with naughty (yes, OK, knotty) pine, we'll often attempt to bring out its best side. Even if that means a level of visual contouring. And for 'contouring' we mean obliteration...
Imagine a lovely face, perhaps that of a beautiful model. Bare and unadorned (but with the promise of what lies ahead) she's already an attractive girl. Her raw beauty is appealing, certainly, but it's that unto which she'll transform that creates the advertiser's dream. A simple girl made into a flawless goddess. In short, at the client's behest, she's getting her slap on to look her best.
But more of the furniture facelift presently. In the meantime, there are several ancillary aspects of today's reno to consider...
Just look at that wallpaper. Any wonder your stomach's churning? Espying the crazy pattern for the first time, we endured goose bumps big enough to ladder our jeans. Hey, scanning the before shot still challenges our gag reflex. With the woeful paper scraped into oblivion, we made good all wall surfaces, ditched the time-worn carpet and ensured the floor was clean before moving to the next stage of our master plan.
Being that our reversion makes its biggest mark via furniture, we elected to make a lower key statement with the new wallpaper. This is generally a sound way to proceed, otherwise oppositional elements will jar, thereby overpowering final results. Had our furniture been more 'sedate' we might have played a more overt paper, but our designs depend on balance.
We consider every surface important (not just walls and floors) so, when it came to painting this ceiling, we decided to have a little fun. As the room is tall enough, we re coloured the overhead area in the same blue as the furniture.
Doing this wouldn't work well in a basement where heights are generally lower, but in a top floor room -- with volume sufficient -- it's a cinch.
Our blue ceiling cozies up, whilst adding an unexpected twist to the room's overall charm. And it's only paint, after all. So go on -- experiment. Check out the Premier paint collection at Canadian Tire (specifically 'Blue Moon') for a great match.
Whilst our clients initial expectation was for berber, we decided (together) that hard surface flooring, topped with a large area rug, would make for better future proofing. Our rationale was simple: if tastes change further down the line, it's easier -- and less expensive -- to switch a floor rug than it is to re-carpet an entire room. And, thinking forward, good quality lumber floors will always appeal to buyers should our clients decide to sell their home at a later date.
We had big plans for the new bedroom set. Generic pine in its original guise, we updated it with a few unexpected twists and turns. When re colouring waxed or varnished items, it's important to remove all previous coatings before applying paint. If you use latex, results will mark more easily so our recommendation would be to opt for eggshell or satin.
Positioning a massive starburst mirror (rooted out in the cash conscious aisles of Homersense) above the dresser was a flourish that further bolstered our new look with a layer of grandeur and polish.
Whenever possible, we like adding comfy seating in bedroom projects. A bedroom, after all, shouldn't only be about sleeping. Composed imaginatively, it should also boast somewhere to sit and prepare for the day ahead or relax with a glass of wine before the call of slumber becomes too much to resist.
A storage ottoman also serves as a useful spot upon which to stack bed linens or toss pillows before diving into your nest. Note that we added a same pattern cushion on the chair to provide visual connection between both areas.
A jaunty little project, these cubes were custom-made by our contractor using MDF. We took the 'blanks' to a glazier to be mirrored on all faces with toughened polished edged glass and, positioned either side of the bed, they juxtapose the traditional country look, taking us one step nearer 'modern country'.
To moderate light bleed, we installed white Hunter Douglas roller blinds as our primary window dressing and hung simple snowy drapery on chunky poles. When plans are as simple as this, there's little point in a custom make-up service: as such, we went to Ikea to save lots of dollars.
When trimming to size, leave an extra few centimeters to let down should there be any shrinkage when your drapery hits the tub. Or, alternatively, wash before hanging to get shrinkage out of the way, then hem accordingly.
All things considered, this room's future is now thoroughly secured. It's seasonally appropriate (should spring finally settle) though not so tied to climate that it couldn't be cosied up with throws and warmer textiles when the calendar shifts once again.
Before - decor or camouflage? This is one very busy bedroom...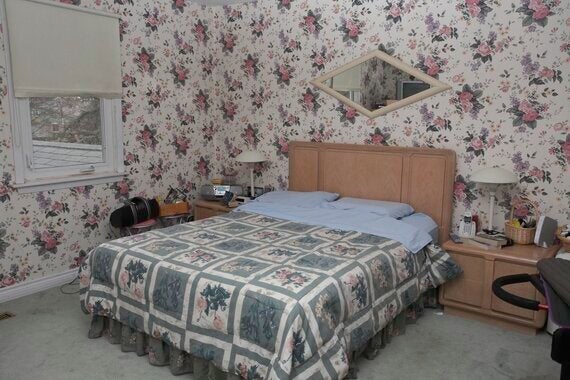 After - Painting the 5th wall will create huge impact in the finished design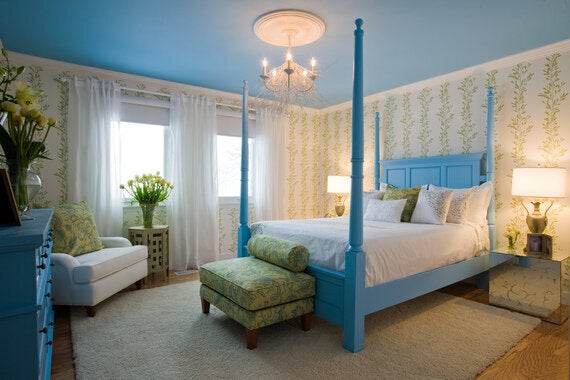 A coat of paint gives mismatched furniture items a uniform look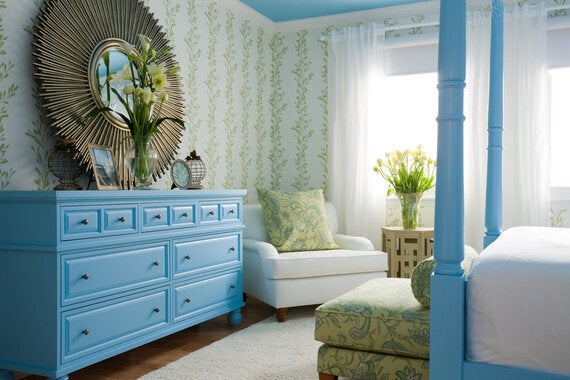 A generous run of built in wardrobes keep the room clothing and clutter free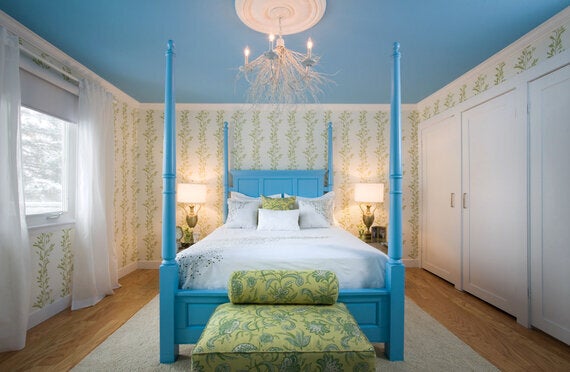 Mirrored cubes add a flash of modernity to this friendly, floral space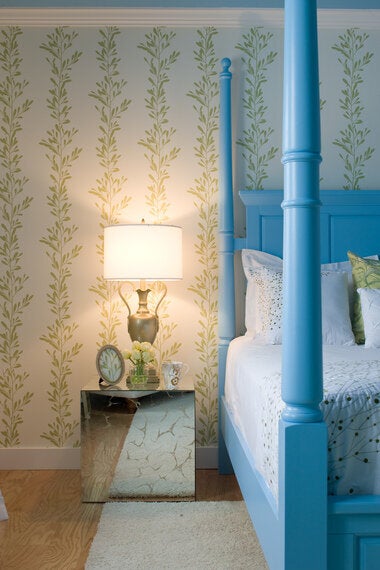 Follow HuffPost Canada Blogs on Facebook