Theming is not designing say Colin & Justin, so mute your Moroccan backdrop, tame your Tiki lounge and get ready for decorative underplay...
Once upon a time, in a far off -- and eminently less stylish -- world there existed a television show called Trading Spaces. Long before makeover TV "grew up" and morphed into the tailored inventory we've grown to love on networks such as Cottage Life, HGTV and W, Trading Spaces wielded glue guns and bedazzlers and pitted, ahem, high impact but 'friendly' rivalry between neighbours. Jeeeesh.
The premise was simple: team A designed a room for Team B while Team B designed a room for Team A. You keeping up? Results were mixed, but, more often than not, the crazily dressed schemes became haciendas of overplayed design that owed more to dramatic TV than they did good decor. Note -- our office will discard all letters received marked Colin and Justin; habitees of glass houses.
We remember, variously, aquatic, Parisian and medieval visions. And we remember a Scottish hunting lodge 30 floors up in a high-rise. Lavished with MDF and more tartan than you could shake a designer stick at, the ambitiously planned schemes were, more often than not, held together with Scotch tape, staples and paper glue.
Thankfully, the genre matured. As quickly as the thematic TV oeuvre arrived, it collapsed, dinosaur style, as audiences became increasingly style literate. And for that small mercy we deliver walloping great dods of stylistic blessings to the design Gods above. Phew. Who, after all, wants to live in a Walt Disney-inspired living room with match board castellation instead of crown moulding, car seats instead of sofas and sand on the floor in place of carpet? OK, so you adore everything Gothic, love rally driving and want to be constantly reminded of that last Thailand vacay...but is literal theming really the answer?
It's all very well being inspired by Thailand and adding Asian influences via sand-coloured walls (rather than actual sand on the floor) or adding medieval tapestry cushions (rather than create a Robin Hood fortress) but you have to ensure you don't go too far.
Similarly, if you're a car buff, a couple of Ferrari red toss pillows, or an artistically framed Le Mans print might be sufficient seasoning to evoke track-side excitement. Rather than coffee tables made from car parts or starter flag curtains. Just sayin'!
The only area of thematic design within which we feel -- a little -- less worried is that law unto itself: the kid's room. A fairy tale palace for a little princess, or a Pirates of the Caribbean themed bedroom for a young sailor is OK, but we'd counsel caution when spending money on boat-shaped beds or chateau-shaped dressers. Junior taste fluctuates frequently, and with this swing can come the need for subsequent reinvestment. One minute your little guy is Spiderman, the next he's threatening all-out-war unless his room is revamped using Transformers as its decorative root. Similarly, just when you're getting used to Barbie pink, your little madam announces she wants a Glee fantasy bedroom.
How to protect against thematic dilemma
To avoid relentless expense, middle ground proffers compromise. Rather than turrets, towers or pirate bunks, opt for promotional bedding, art work (which can be framed to look more stylish) or inexpensive bedside lamps that can be changed on a whim. Preserving a neutral background allows you to piece in new looks as tastes change. Add an easy-to-repaint single accent wall and whole new direction can be achieved with a $30 pot of latex.
The acceptable face of themed rooms
Moderation! If you love cruise ships, for example, there is hope. Before going crazy with nautical coffee tables and clocks, remember that less is more. Instead of being too literal, be inspired by the beauty of teak deck finishes or classic art deco lines. Perhaps a couple of Odeon sofas might be just enough? If you fancy creating the elegant feel of a gorgeous country house don't try to recreate Buckingham Palace in miniature or your room will look silly. Opt, instead, for a few carefully selected antique pieces (such as Bergere chairs) and add a mirror over the mantel and some period accessories to elegantly seal the deal.
Perhaps you have a spare bedroom you'd like to transform into a useful den or home office? Maybe an affection for global travel could be a good starting point for a restrained theme. Specify dark rattans and add touches of leather or even an antique globe. But please -- for the love of all that's right and just -- steer clear of desks made from travel chests, framed passports as art work and half a dozen clocks set to different time zones.
During previous projects, both on and off screen, we've had to deal with all manner of decorating trauma. One project springs to mind where our owners wanted a relaxed beach feel. What they created, however, was a washed-out palace of oceanic decorating despair. Their attempts at design looked more like a coastal care home for the bewildered. One, for that matter, where the caring had long since stopped.
After an indulgent rejig, we elicited a world that "whispered" (rather than screamed) sunny climes in destinations such as Cape Cod. Inspired by clapboard homes, we added tongue and groove wall paneling and opened up the space to create a breezy, seaside environment. Wicker and raffia arranged against a blue and white backdrop suggested coastal living while ensuring our vision remained subdued. Everyone agreed we captured the essence of New England but without a single deck chair or whimsical table crafted from the hull of an old boat.
Now you're fully informed, can you please let the theming stop? And let the decorative screaming subside? Welcome to the subtle world of Colin and Justin. A world where we whisper, rather than bellow, designer. We'll see you next week. Sotto voce, of course...
Gloomy, to the power of 10, this tartan terror basement family room seemed beyond repair...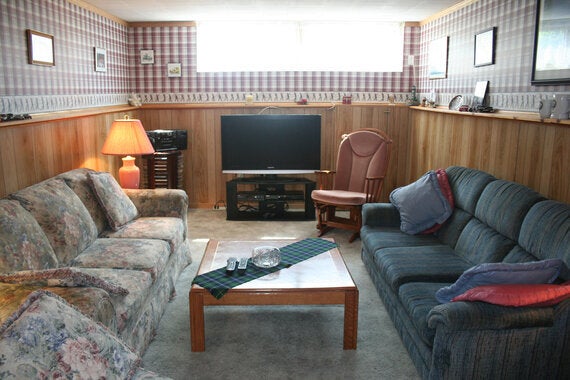 Colin and Justin used tasteful plaid as a soft furnishings detail to create a Scottish room with style. A stack stone feature wall and oak furniture whisper "homeland" without shouting it from the Canadian rooftops.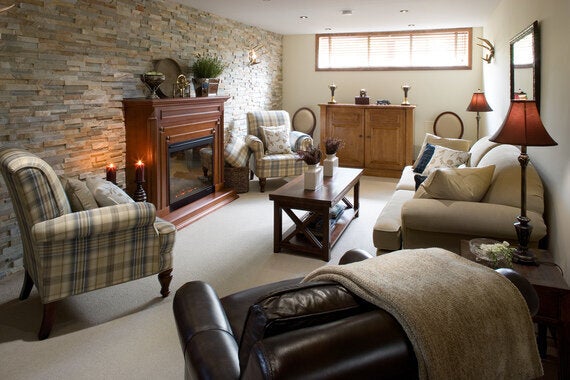 When Colin and Justin encountered this beach front living room it was all washed up. But the tide was about to turn...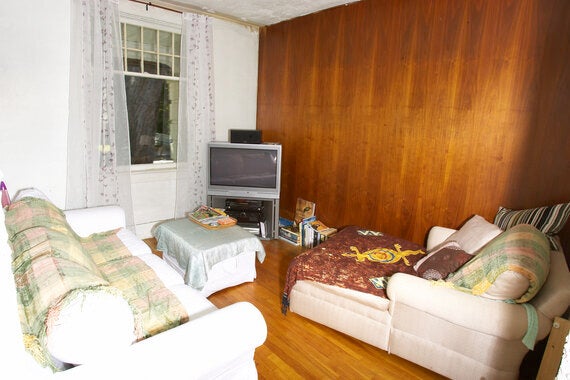 Building a faux-chimney breast created an immediate focal point which Colin and Justin further embellished with pebbles in a gentle allusion to the beach. Driftwood decorates the walls while sea foam upholstery is redolent of warmer climes...