With limited budget and an eye for disguise, Colin and Justin suffuse a flat pack kitchen with a serious shot of style.
Jeesh. Just two more episodes and Cabin Pressure 3 will be in the bag. Time flies, huh? For our penultimate outing, we're cooking up a storm in the kitchen and turning tricks with a flat pack Ikea kitchen.
The Swedish store's kitchen aisles (http://www.ikea.com) have long since been a C&J default when budgets are tight, though the results we achieve are far from second best. Take today's before and after. Faced, as we were, with insubstantial (and water damaged) pine cabinetry, we had little choice but to start from scratch.
And so it came to pass that everything was dispatched to the hungry jaws of a waiting dumpster, save for the fridge and the stove which were in good enough order to make it to the local charity outlet.
Our first task was to bring in much needed light. Working closely with Euro Vinyl Windows and Doors (http://www.evw.ca) we specified a row of neat windows for above the sink elevation, a larger aperture to flood the dining area with light and several extra units to position over the sunroom doors.
Being that lumber finishes are such an important part of the overall esthetic, we embellished our jet toned windows with wood Venetians by Select Blinds (http://www.selectblinds.ca) and these, detailed with complimentary black tapes, provide adjustable light levels as required.
Blessed with generous square footage, we designed a large island unit to provide extra counter space and valuable storage. "Wrapped" to the floor at either end with durable, hygienic Caesarstone (http://www.caesarstone.ca) it commands attention as viewed from its every dramatic angle. Don't, however, think you can master a job like this yourself: to pull off "invisible bond" 90 degree corners, professional fabrication and installation are required. We worked with Mike from House of Granite http://www.thehouseofgranite.com and his corners -- as well as his cuts for the sink and hob -- can only be described as perfection itself.
Set within the island is a GE dishwasher (whisper quiet: noise bleed in the open plan area is negligible), hob and oven (http://www.geappliances.ca) as well as countless drawers which more than accommodate everything required to make cottage life a synch.
To amplify dining space (the cottage has six bedrooms so extra room is always useful) we extended the island's width with an overhang and, in the "pocket" below, fastened barn board neatly in place as a compliment to the Kentwood flooring that runs underfoot. Overhead hang two spun metal shades by Rejuvenation, dramatic black painted pendants which more than brighten the counter when daylight fades.
Set casually around a large Ikea table are wooden café chairs from MFKTO and a beautiful hand built bench, produced -- using factory floorboards and beams -- by master craftsman Mark Livingston of Rebarn. The mellow wood tones further suffuse the dining area with that relaxed cottage vibe we so keenly sought to create. Check out the company's brand new store at 1611 Dupont or jump on line to http://www.rebarn.ca for hand built custom inspiration.
To problem solve the wedge shaped wall area behind the table and chairs, we arranged a collection of artworks (these perform better than one large piece) rooted out in Marshalls and Urban Barn. The quirky plaques and strident cow carving are also a nod to collections of old, and a fun conversation starter when guests arrive.
So there you have it: a great quality, but nevertheless basic buy, flat pack kitchen, thoroughly reidentified. Post transformation it boasts heaps of extra character and certainly belies its chain store derivation. The cabinetry is so disguised, in fact, we lovingly refer to it as "our Ikea kitchen in drag!"
It's hard to believe Sunday sees the penultimate Cabin Pressure 3 reveal. Which means next week is our series conclusion. Tune in for our big finish and watch in wonder as a gloomy living room is reborn with leather chairs, wicker sofas and enough zesty orange to make the most ardent colour fan blush!
Colin & Justin's Cabin Pressure airs on Cottage Life, Sundays, at 9 p.m.
Our museum like cottage kitchen...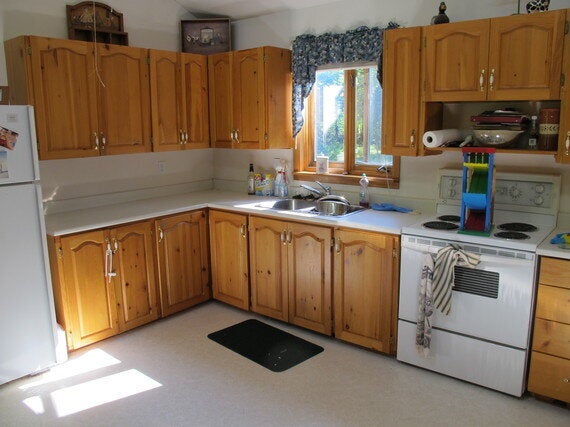 Stripped bare and ready for the future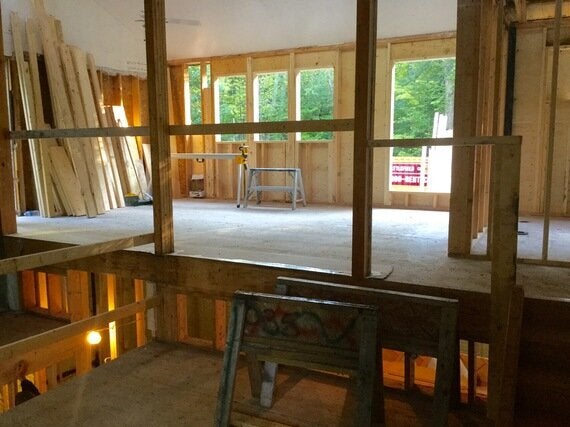 Randy Blain's team get to work on the cedar ceiling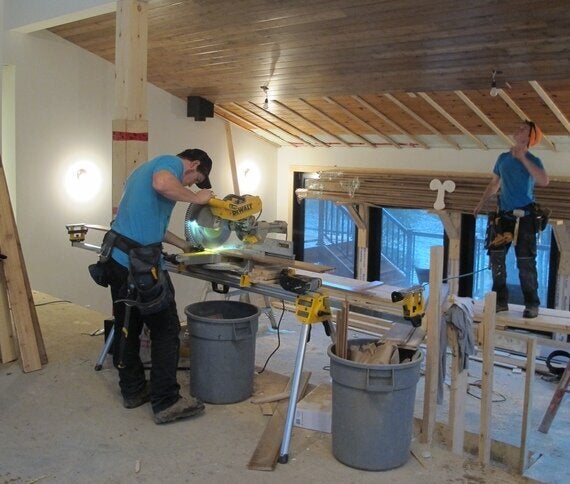 Rough with the smooth -- the mix of flat white and barn board works well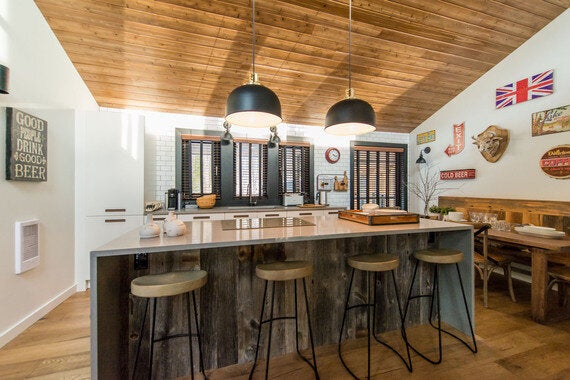 The Western Red Cedar ceiling tops the room perfectly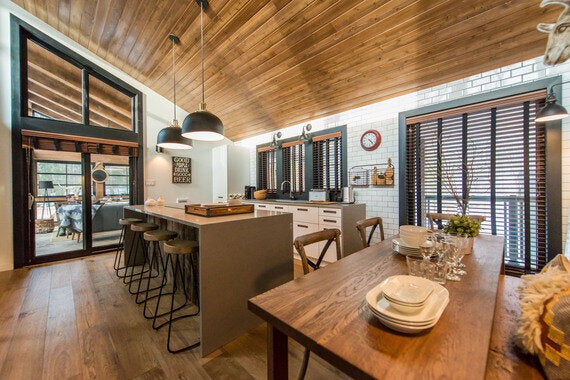 The white subway tiles are beautiful and practical too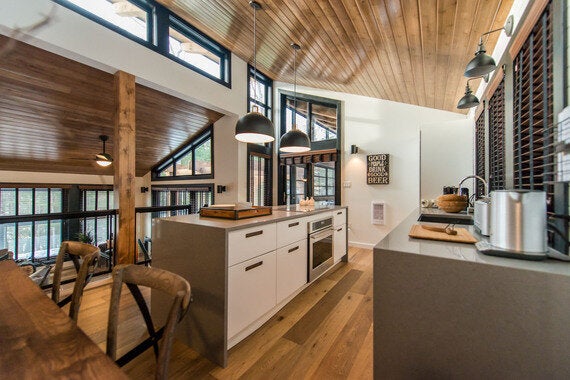 Follow HuffPost Canada Blogs on Facebook