Learn how to save money and become your own designer by following Colin and Justin as they remodel an existing kitchen with paint, new counters and mirror sections...
So your kitchen cabinets, decoratively speaking, are on their last legs. What, if anything, could save them from the waiting jaws of a hungry dumpster? You face facts. It's time to whip 'em out and start over.
Allow us to step in. Your trusty old kitchen, whilst it might appear caput, could actually be a suitable candidate for surgery. If your cabinets have rigor, it matters not that your doors are hanging off, nor that your counters have seen better days.
Faced with this lack lustre pine affray (in a decidedly gloomy TV client home) we knew how to save the day. On a strict budget. It's what we do, right? We hate stuffing landfill sites and we know how to produce great results using stuff that others might think un-savable. Here's our recipe for success...
First up, we removed the cabinet upper portals and replaced them with blanks, cut carefully from MDF. Next, we arranged Shaker style MDF framework, glued in place around the perimeter of each door. This done, we carefully sanded, primed and then re-coloured the doors using black satin paint by Benjamin Moore. But take a tip: remember that several light coats are way better than one sticky gloppy application. Slow down. What's the rush?
Having carefully measured the aperture of each frame, we had three-millimetre mirror cut to size and secured it all in place using contact adhesive. Next, we created cardboard templates for each decorative "insert," transferred these to three mm MDF (using tracing paper) and cut it all out using a jigsaw. This done, we painted everything black, left it to dry then secured it in place with glue. Did you follow all that? Simple, right? Moving on...
With all painted areas thoroughly dry, we added the Midas touch using Gold Finger acrylic paint, an easy to use product that you'll find in most good craft stores. Tip: apply around the edges and smudge with a lint-free cloth to suffuse your doors with quaint, "Chinese wedding cabinet" appeal.
To save cash when re-jigging, leave services such as plumbing and electrics where they are -- as long as your existing floor plan works adequately well. This simple one-in, one-out approach cuts down on contractor costs.
New hard wares are a swish and affordable way in which to spice up kitchen aesthetics. Ours came from Lee Valley a great company who stock a fantastic range of options. And don't be afraid to play around with different (complimentary) styles; we used a combo of pull handles and knobs to give the doors an individual look.
The original breakfast bar looked a little clunky so we afforded it our creative attentions. Removing the back panel allowed us to redefine the space as a display area and, painted to match the rest of the cupboards, it serves as useful storage for kitchen and dining paraphernalia.
As part of our quest to improve eye lines, and after careful dialogue with our clients, we made the decision to lose the cupboard above the island. This simple maneuver freed up space for floating shelves, an installation that proffered a touch of modern design sensibility. Isn't it nice to have a place for pretty things with which to set the scene in the kitchen?
Cool countertops don't have to cost a lot
Just like our new knobs and upper doors, a run of impressive worktop breathed new life into the problem kitchen. We specified solid oak Numerar counter from Ikea, a product which didn't break the bank. To add a contemporary twist, we wrapped the timber down the side of the breakfast bar (mitred carefully) and used off cuts as a simple back splash to save engaging a tiler. We're Scottish, you see. And therefore canny with our spend.
Avoid that sinking feeling
Like a dramatic sparkling crown atop a regal queen's head, the hedonistic sink lends a dramatic finishing touch. Resilient to scratches (thanks to 90 per cent granite composition) it boasts style and deep capacity in equal measure. These days it's amazing what you can find in big box stores -- Home Depot, Lowes and Rona all now carry option such as these at affordable price points. It's so satisfying to observe the way in which the DIY market has responded to the need for stylish products at affordable price points.
Find the beauty in existing flooring
Look closely and you'll see we kept the existing stone tile. Set against the previous pine cabinets the contrast was poor, whereas, as a foil to our dramatic new ebony aesthetic, it comes alive. Dressed with a hide rug from Ikea (with an anti slip mat below) it's both practical and beautiful.
The dining set was a factory clearance bargain (bagged for $575) and the curtains panels were $20 apiece from Ikea. Our kitchen recipe complete, it just goes to show that new isn't always better than old. When there's still life in the old dog, it's only fair to let it run another race, n'est pas? Whilst saving yourself thousands of dollars into the bargain...
A good start thanks to strong cabinetry and a workable layout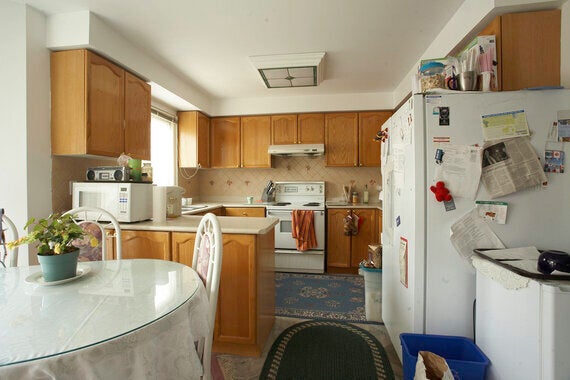 The dramatic new colour scheme creates a stand out design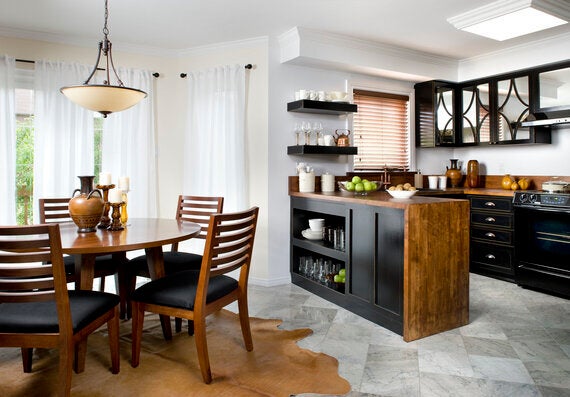 Mirror sections create a sense of spaciousness and add much needed sparkle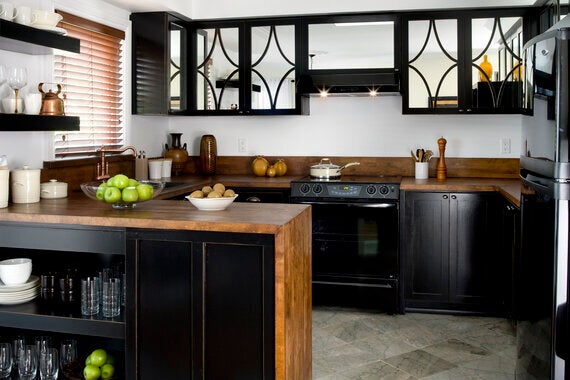 Timber details add warmth to the black colour scheme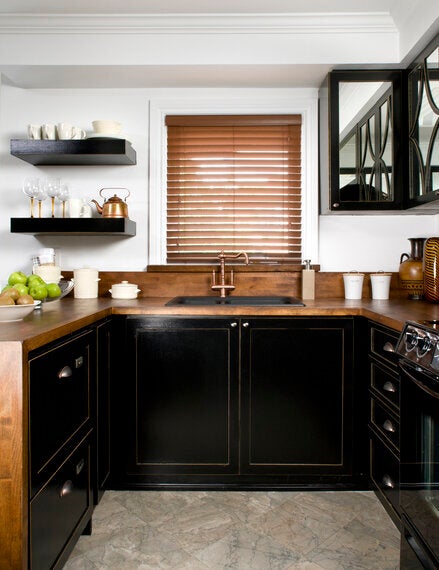 New dining furniture completes the look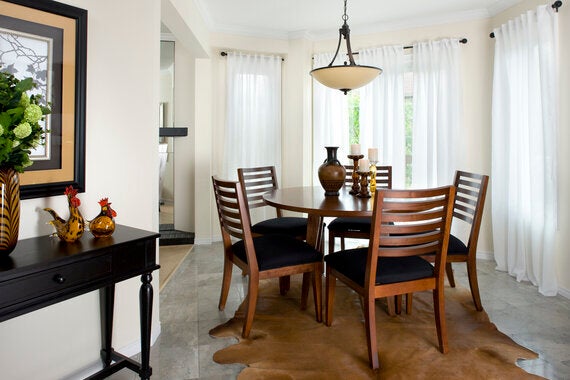 Follow HuffPost Canada Blogs on Facebook