Everybody complains about Canadian weather, but at least we don't get hit by as many tornadoes as the Americans do. Which is perhaps why we're so much more complacent. They get about a thousand tornadoes a year; we get between 60 and 80.
Complacency often leads to vulnerability, and despite all those American tornadoes, Canadians are probably more vulnerable than Americans to quick-hitting emergencies.
For a start, 60 tornadoes is only a small number if you're not spinning around in one. But there are a lot of other emergencies that call for quick personal responses -- gas leaks, poisonous train crashes, chemical spills, escaped convicts, abducted children, power failures, terrorist attacks.
The Americans are vulnerable to all this stuff, but so are we. The difference is the Americans get warned about what's coming at them.
Last May the Canadian Red Cross issued a warning that Canadians are not well prepared for emergencies and that the situation is getting worse -- the agency was called on to help four times as many people in emergency situations in 2013 as it was in 2012.
The United States has a nation-wide network that alerts its citizens through just about every communications device possible when natural or man-made disasters have hit, or are about to hit.
Not us lulled Canadians. Albertans can boast they're in pretty fair shape after the establishment of the Alberta Emergency Alert, created after a tornado swept through Edmonton in 1987, killing 27 people. Alberta is ready. The rest of Canada isn't.
It isn't that government authorities aren't aware that there are yawning gaps in Canada's emergency warning systems. The problem is lethargy in addressing them, which inevitably boils down to lack of political will at the top.
In 2007, Scott Hutton, now Executive Director, Broadcasting, of the Canadian Radio Television and Telecommunications Commission (CRTC), testified before the Senate Committee on National Security and Defence. In that testimony, he promised -- and then repeated the promise -- that if the Canadian Broadcasting Industry had not come together to build and operate a national emergency alert system by March 1, 2009 then the CRTC would designate an entity to do so and "ensure the system is funded by the industry."
The Committee had issued a report calling for a comprehensive system three years earlier, and members were thrilled to hear Mr. Hutton's commitment.
"This project," he said, "is of the utmost importance to the safety and security of all Canadians, and we will do everything within our power to ensure the successful implementation of a reliable system."
But Mr. Hutton's deadline -- which was set to give the industry all kinds of time to get its act together -- came and went more than five years ago. There still isn't a comprehensive warning system in place, nor has the broadcasting industry, which has dragged its heels for a decade, had its feet put to the fire.
Between that 2009 CRTC clampdown date and now, the Americans have put the finishing touches on a comprehensive matrix of emergency warning mechanisms that send out danger alerts in a way that is moving to come to grips with fractured 21st century information sources. Recognizing that the manner in which citizens receive their communications has fragmented dramatically in recent decades, the Americans have come to grips with the fact that their systems have to evolve to cover all the bases.
Thus it has developed warning systems that involve sirens, interventions of TV and radio broadcasts, of wired cable systems, wireless cable systems and satellite broadcasts, plus tweets, texts, the works. It is becoming difficult for Americans not to be warned, unless they opt out or turn off all their communications devices and put pillows over their heads.
The role of the Emergency Alert System is "to offer the President the communications capability to address the American public in a national emergency." However, it is also used by state and local authorities to deliver important emergency information, such as AMBER (missing children) alerts and critical weather information. At the state and local level it is a voluntary service but virtually every communications provider participates. The system has been driven by an infusion of many millions of federal dollars, which has not been the case in Canada.
How smart is the American system? So smart that cellphone service providers target their alerts to towers in locations in which a phone is being used rather than the phone's home base, so if you have a Maine area code and are travelling in Texas, you will receive Texan emergency alerts.
CBC News recently quoted an Environment Canada official as saying that there are hopes that such an intelligent cellphone system might be introduced in Canada "in a couple of years." By that time Environment Canada may also have overcome its problem with bilingualism: it can't seem to figure out how it can tweet warnings in both French and English simultaneously, as required by law. Unable to overcome such an incredible hurdle, it doesn't tweet them at all.
CBC recently quoted Saskatchewan storm chaser Greg Johnson, who has tracked tornadoes on both sides of the border for a decade, as saying that, compared to the United States, it's as though Canada doesn't have a warning system.
And that stern edict that Mr. Hutton issued to Canadian communications providers in 2007, setting out his March 1, 2009 deadline for a comprehensive Canadian system? Not much has happened.
The CRTC website notes that last year the agency insisted that CBC/Radio Canada, as a condition of licence, "distribute emergency alert messages on all its radio stations by the end of 2014."
The website also says the CRTC "proposes" to require that the rest of the Canadian broadcasting industry -- mostly private broadcasters -- employ the company that the agency has set up to distribute such alert messages by the same deadline imposed on the CBC.
However, the CRTC adds that it may make some exemptions for "certain small broadcasters."
So... seven years ago the CRTC set a deadline for all broadcasters. That deadline came and went five years ago without being met. The CRTC is now proposing to set another deadline for the end of this year. But that deadline isn't firm - it's just being "proposed."
And even if the proposal comes to fruition, it won't produce nearly as comprehensive a system as the Americans have, because the federal government isn't funding Environment Canada to perform what should be one of its main roles: keeping Canadians alert to danger.
Those folks may run a bit scared down there. But at least they're not asleep.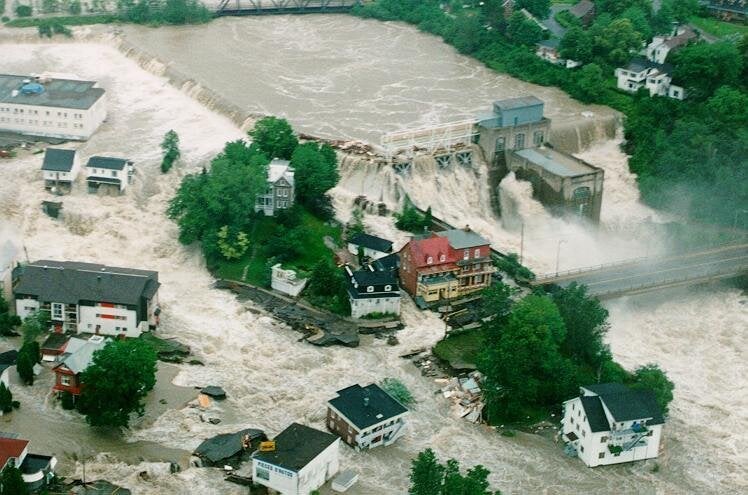 The 2013 Alberta Flood And Other Disasters