Many moments will stand out when I remember my trip through war-torn Syria, neighbouring Lebanon, and Turkey. But the gift of a little box crammed with children's dreams is a memory that will certainly stay with me.
That's because the red and white box filled with poignant pencil sketches says so much about this five-year-old conflict. In one drawing, a little girl hopes some day to attend university. Another child draws a map of Syria topped with the word "peace." Another picture shows a group of children wishing "to see friends again." One depicts a smiling aid worker. A few express the desire to be doctors some day.
These stick figures and pencil outlines might seem simple on the surface, but their meaning is clear. When I look at them, I see hopes and dreams, often tinged with sadness. And once again, I recognize that helping people maintain a delicate balance between hope and despair is a crucial role for humanitarians, Canadians and citizens of the world. Together, we must also strive to find a political solution for Syria and the refugee crisis. Humanitarian aid like food, water and medical care is only a temporary measure. But in the mean time, millions of people caught in this crisis are also in desperate need of hope, and they're praying the world won't forget them.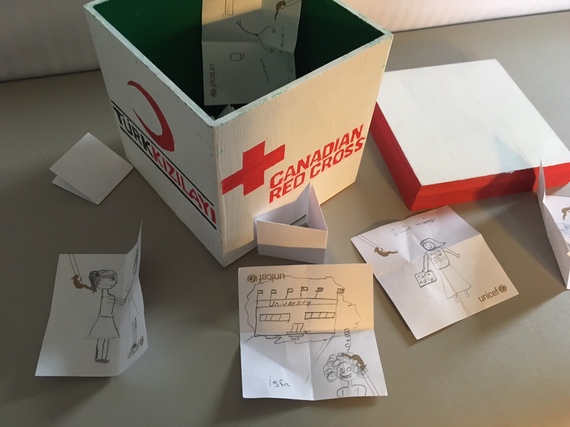 I certainly heard this powerful sentiment during another memorable encounter with a Syrian father and his young children in a Turkish refugee camp. During the final days of my journey, I visited Akcakale camp, now temporary home to about 30,000 people, half of whom are children. Abou Shaaban invited me to his tent, explaining: "We like when people come to see us. It means the world that you are with us. It means the world is thinking about us."
Abou Shaaban worked as a hospital technician in Aleppo, Syria, before his family home was bombed. They fled to Turkey, hoping the children could still attend school there. Now Abou Shaaban tries to make a living selling cigarettes and candy on the streets. He has managed to get thin colourful mattresses and carpets to cover the ground in their tent. At the camp, various aid agencies, including Red Cross, also help families with food, clothing, and emotional support. Child-friendly spaces offer fun and support for the little ones, while livelihood programs ensure adults can develop marketable skills.
Abou Shaaban only has good things to say about the country that gave him this safe haven. "My family and I can sleep at night because they are looking after us."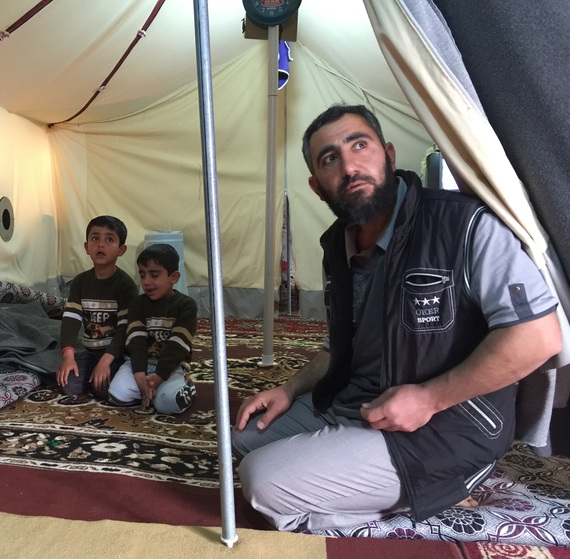 The camp's manager says people here try to stay positive despite obvious difficulties. When they first enter the camp, they are exhausted, anxious and afraid. After a while, their outlook changes.
"When they arrived, we saw hopelessness, especially when we looked in the eyes of children." They do not know if life will ever seem normal again. But after some time, "when we walk through the camp, we see hope in their eyes again."
My box of hopes and wishes comes from the children at Akcakale camp.
Community centres, supported by the Turkish Red Crescent society, are also offering hope around this country. In bright rooms like one I saw decorated with paper flowers, stars and murals, children take art classes, learn Turkish, access counselling, and play sports.
But maintaining hope seems more challenging for teenagers and youths here. At the camp, a group of 20-year-olds worried about their future, saying: "Hopefully, you're going to help the children because it's too late for us."
Still, many adult programs are offered to refugees now. In fact, I was told the biggest demand is for classes promoting harmony among communities. People are tired of conflict here. They want everyone to get along. Time and again, I heard this on my travels in Turkey, Lebanon and Syria. In each place, I talked with people about their visions for peace. Too many were widows.
I met one young mother who recently returned to the devastated city of Homs in Syria with her two children, aged three and 18 months. Her husband had died. Her house was seriously damaged. Everything she owned had disappeared. But still, she was there, finding help to fix windows and doors, collecting aid parcels of food and diapers, and trying to rebuild her life. She refused to give up, she said simply. People were helping. She still had hope.
This is the fourth and final blog post in a series about Conrad Sauvé's trip to Syria, Lebanon and Turkey. You can read the other blog posts by clicking here.
If you would like to donate to help the people affected by the conflict in Syria, either overseas or here in Canada, please visit redcross.ca
Follow HuffPost Canada Blogs on Facebook
ALSO ON HUFFPOST:
7 Deadly Threats Facing Innocent Syrian Civilians