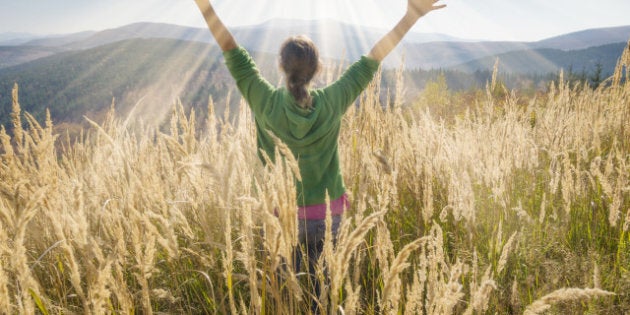 Craig and Marc Kielburger, founders of Free The Children and Me to We, introduce us to not-so-ordinary Canadians who are making a difference.
During his 22 years at CityTV, David Onley was an anchor, producer, science and technology specialist and weatherman. He was also Canada's first senior newscaster with a visible disability. Having lived with polio and post-polio syndrome since the age of three, he has broken down many social barriers.
He has worked tirelessly to improve accessibility for all.
Onley chaired the Government of Ontario's Accessibility Standards Advisory Council, and served on the SkyDome Accessibility Council and the Air Canada Centre Accessibility Committee, to name just a few of his efforts.
In 2007, he got a call from Prime Minister Stephen Harper that would anchor his position as a role model for anyone who has faced adversity, but in particular, for those who are disabled.
At the time, Onley told a reporter, "There was no place to pull over. And when the Prime Minister of your country calls, all you can try to do is stay in the same lane, avoid any fender-benders and have a meaningful conversation, which I did."
David Onley is a ChangeMaker.
If you could have a socially conscious superpower and change one thing about the world, what would it be?
So I've got the tights on and the cape, and the whole nine yards? Through my powers of persuasion, I'd convince people to respect one another, right across the board. So much of what is going on right now that is negative in the world is because of hate and irrational hate. People should have the right to live, the right to have the freedoms we have. But a huge portion of the world does not have the freedoms we have. So if I had a magic wand, I would wave it to make people respect one another.
So many people look up to you. Who is your hero?
As a Christian, my Lord and Saviour, Jesus Christ. That's number one. And my dad was an amazing individual who motivated me in countless ways. And my own family I think is ultimately what motivated me. It's too bad that more people can't say that about their immediate family. I know for a lot of people that's really difficult, especially if they have come from a broken or abusive situation.
I've been blessed in that regard. I've had all sorts of physical adversity in coping with polio since the age of three, and subsequent surgeries. That was very difficult. But I had a hugely supportive family.
And in the political sphere I was deeply motivated by Governor General George Vanier. Most kids today are not aware of who he is, but in the '50s and into the '60s everyone knew who he was, and what he stood for. He was a man of great idealism well into his advanced years. That idealism was of bringing change, of being positive, of making a contribution. That the effort is worth it, however incremental the change actually is. He is the one I admire the most.
If there is one thing you could tell your high school self, about what you know now, what would it be?
I would say: "Worry far less. Enjoy the moment far more. Continue to dream and dream big." There is a quote by Theo Fluery, the hockey player, who went through terrible abuse, and notwithstanding that abuse was a huge star player in the National Hockey League. He has now emerged from the other side and he is a great advocate and passionate spokesperson related to abuse. But his quote is "Don't give up until the miracle occurs." And I love that quote. It really does capture so much. If you work hard, and if you are honestly dedicated, and if you treat people with respect, good things will happen.
What is the biggest social issue facing our world today?
The answer depends on what the context is. Everybody in the Miss America competition says it's the need for world peace. And yes, that would be great. But let's put the question in the context of where we are [We Day Toronto] and what we are doing here. We have elementary and high school students wondering what they can do to really have an impact and make change in the world. That is the question that has to be answered. What can young people do to make a difference? And what can inspire and empower them to make that difference?
From a parent or mentor, what has been the best piece of wisdom or advice you've ever received?
It was from a political science professor named John Coleman, who I greatly admired. On my very final paper for university, he gave me an A and then he wrote, "It's been a pleasure to have you in my class over the years. Always, always try very hard to put down on paper the thoughts that I know you have in your head."
I've carried that with me always. I can't even write a three-sentence email without looking at it, and asking, "Now is that what I really want to say?"
If people from the future were talking about you, what would you want them to say? What kind of legacy do you want to leave?
In terms of promoting accessibility and accountability initiatives a key thing is resolving the issue of unemployment for people with disabilities. Unemployment is still significantly higher than the abled bodied population. So in my term at office, I have worked hard to get perceptions to change. But people still believe the myths or misconceptions about hiring people with a disability, thinking if they look different or if they have a condition that has some degree of limitation it will be a problem. But every single study has demonstrated that people with disabilities tend to be better problem solvers, better employees, work harder, work longer and have less absenteeism. This has been proven again and again, but the myths still persist.
If I could change that perspective then that would be a great legacy.
Craig and Marc Kielburger are founders of international charity and educational partner, Free The Children. Its youth empowerment event, We Day, is in eight cities across Canada this year, inspiring more than 100,000 attendees. For more information, visit www.weday.com