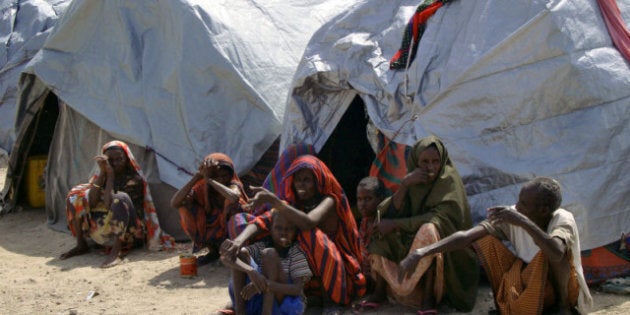 David Arap Kilel nearly stumbles up the hill of his slanted farm in pinstripe pants tucked into knee-high gum boots, wet despite the neighbouring dry fields. "I'm the first home in my community with irrigation!" he shouts breathlessly, waving calloused hands.
As a boy, Kilel was a cow herder like his father and never attended school. Everything he knew about farming had been a family tradition. Now 54, Kilel is finally a student. His two-acre farm in Pimbiniet, Kenya is his classroom.
And his precocious 15-year-old son Ronald is his teacher. Knowledge is passed from generations in reverse -- child to parent.
Ronald took Kilel to see the "miracle garden" that his grade 8 class had equipped with drip irrigation, a perforated plastic hose that diverts water only where seeds fall. Just enough water is conserved to grow vegetables for school lunches, even during drought.
Ronald insisted they build one at home.
Kilel suffered a crisis of conscience. Could he let his teenage son spend family savings -- money to feed Kilel's 11 children when the rain stopped -- on a pump and tank to source water from a nearby spring?
He decided to put faith in his son's education. Over weeks, father and son installed the tank and pump, and now they dig channels in the top soil that will guide water directly to seedlings. We arrived in time to watch foaming water engulf freshly dug trenches, pooling around tiny islands of kale before sinking into thirsty soil.
The drought now gripping East Africa, the famine in Somalia, the dead livestock and scorched crops in northern Kenya, aren't all a result of meagre rainfall. They are also symptomatic of a failure to develop agriculture in Sub-Saharan Africa, which is essential not only to stave off famine during drought, but also to reach the Millennium Development Goal of halving world poverty by 2015, the World Bank reports. Agricultural development is complex, involving market and trade growth, improving policies and increasing productivity. Agricultural education of the kind Ronald receives in school -- water conservation and crop rotation -- is a crucial part of the process.
We aren't the first to point out that, with better infrastructure, East Africa could be a bread basket. In some areas it already is. The wastelands of African smallholder farms are often within eyesight of fences surrounding massive industrial fields planted with cash crops. These export staples won't feed local people, even when they're starving. Instead, they're destined for growing populations in Qatar, Saudi Arabia or South Korea.
The largest landowner in Africa is probably the Chinese government, although details are vague.
Land "grabbing" by China and other wealthy nations grew out of the 2007-2008 food crisis, when commodity prices spiked and importing nations started offshore food production. Grabbers are multinational corporations or sovereign wealth funds (mainly Europe and the Gulf States). These leasers secured massive plots in developing nations to increase their own food security, or as agricultural investment alternatives when markets collapsed. More than half of the world's 80 million hectares sold to foreigners in land deals is in Africa, according to the International Land Coalition.
Deals are private and details are scarce, but often families that have held their land for generations are induced to sign 30 to 99-year leases that force them from their farms. Rent paid by so-called grabbers is a pittance: about $2 per hectare per year in Ethiopia, or an upfront deal of a few months income for the local farmer, according to The Economist.
Drought looms in parts of Kenya, while other areas in the Horn of Africa look like the grain belt in Canada's Prairies, with sprawling golden fields.
The Ethiopian government, which struggles to feed its people and is chronically dependent on food aid, put three million hectares of virgin land up for lease to foreign food companies in 2009. One Bangalore-based food giant recently snagged a few thousand square kilometres for 50 years at a lease rate of about $250 per week (with a tax break), paid to Ethiopia's government. Qatar owns 120,000 hectares in Kenya's Tana River delta. Another 90,000 hectares belong to a Canadian bio-fuel company.
Years ago, when David Arap Kilel's dried-out crops still crunched underfoot, he looked out at a neighbouring farm and saw colossal expanses of wheat. The land was leased from Maasai title holders and the crops were destined for export. At the mercy of their own poverty, Kilel believed his neighbours were trapped into a raw deal.
Kilel has watched the Maasai leave homes and nutrient-depleted soil. But with the school smarts of his son, hard work and defiance, he stays put, watching his own garden grow.