When Ariya slips into the car, she must carry two sets of clothes: a hijab, and western garb. Without both, she risks arrest, beating, and rape.
She takes a harrowing, 500-km car ride from her home in the city of Al Hasakah, Syria, to Lebanon. Along the way are numerous checkpoints -- some manned by Syrian government forces, others by rebels. If the Muslim radicals among the rebels catch her in pants and a sleeveless T-shirt, she says she will be beaten and possibly even raped. But if government troops catch her in a Muslim robe and hijab, they might arrest her as a rebel supporter. So as she approaches each checkpoint, she frantically changes into the appropriate clothing.
Ariya believes the trip is worth the risk -- she counsels some of the estimated 1,500 Syrian women who have been victims of sexual assault in Syria's bloody civil war.
Ariya asked us not to use her real name -- if the Syrian government knew she was in Canada, she would be arrested upon her return home. She and Akko come from a people caught in the crossfire. Members of Syria's Kurdish minority, they are hated and persecuted by both sides in the civil war. Nevertheless, they say they are committed activists fighting for the rights of all Syrians, Kurdish and non-Kurdish alike.
Sitting in the cafeteria of Ottawa's Lester B. Pearson Building before Ariya and Akko briefed Canadian Foreign Affairs officials, they told their stories to a member of our team.
In 2004, Ariya was a university student with no thought of a life in activism. But in March, 2004, a football match between Kurdish and Arabic Syrian teams in the north-eastern city of Al Qamishli erupted into racial violence. In cities across Syria, organized Arabic mobs attacked Kurds and looted Kurdish-owned shops with, Ariya and Akko alleged, the tacit support of the Syrian government.
Ariya heard that mobs planned to use rape as a weapon against Kurdish women. She decided the best way to protect herself was to help protect others, and began volunteering with a Kurdish human rights organization, monitoring and recording human rights abuses with a particular eye for those committed against women and children.
When war broke out, Ariya took on the role of counsellor. She works with victims of sexual violence within Syria, and with those who have fled to neighbouring Lebanon.
Akko has been a journalist since 2000. When the Al Qamishli riots broke out in 2004, he reported on the killing of Kurdish civilians by the Syrian army. The government charged Akko with spreading false news, and sentenced him to five years in prison. He fled the country and was granted asylum by Norway.
Akko said 167 members of the Syrian media have been killed so far -- some casualties in the fighting, some deliberately assassinated. Akko knew many of them -- he said his Facebook friends list is filling up with ghosts. To ensure the world knows what is happening, he moved from Norway to a town in Turkey near Syria's northern border to train volunteers to become human rights reporters.
The training sessions take place mostly online, but sometimes Akko slips into Syria to teach reporters how to write good news stories, do concise TV interviews, and stay alive in a combat zone.
Through contacts in their respective organizations, both Ariya and Akko learned about Equitas -- the International Centre for Human Rights Education based in Montreal. Equitas, which is funded by a combination of government and private donors, not only teaches people from around the world about human rights and about the international laws and systems that exist to protect rights, it also trains people how to educate others and mobilize their own communities to stand up for those rights.
Ariya was so determined to come to Canada for training that she twice risked the perilous trip to Lebanon -- once to get a travel visa, and once to catch her flight. She will have to do it again upon her return.
Both Ariya and Akko said that learning how to report human rights violations and war crimes to the United Nations was of particular value.
While the world dithers and Syrians suffer, it makes us proud as Canadians to know there are organizations in our country that are doing something to help the people of Syria.
Craig and Marc Kielburger are co-founders of international charity and educational partner, Free The Children. Its youth empowerment event, We Day, is in 11 cities across North America this year, inspiring more than 160,000 attendees from over 4,000 schools. For more information, visit www.weday.com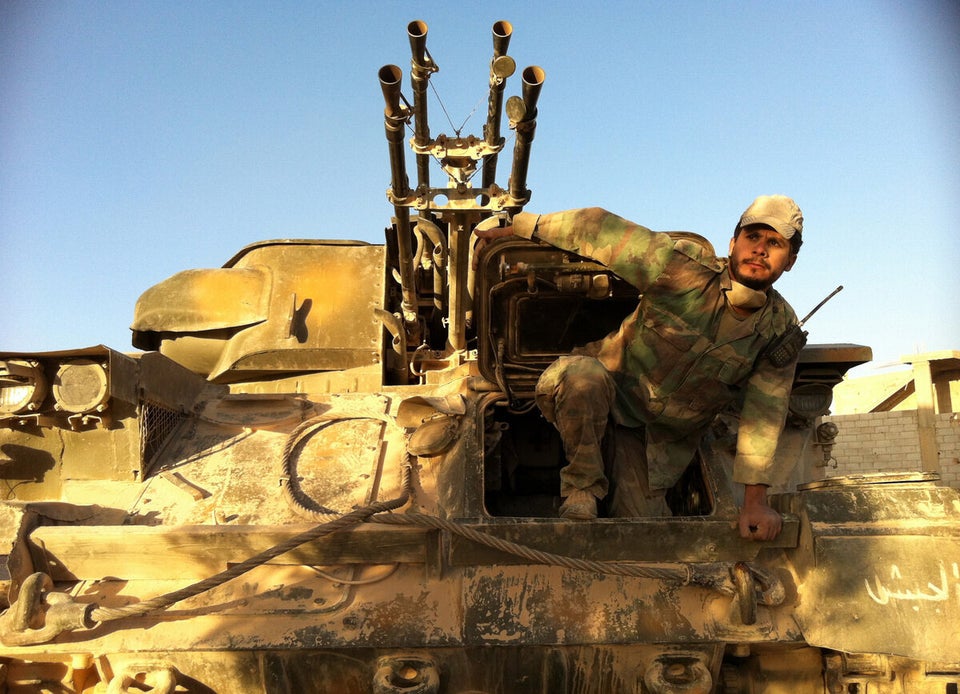 Syria War In June (WARNING: GRAPHIC IMAGES)