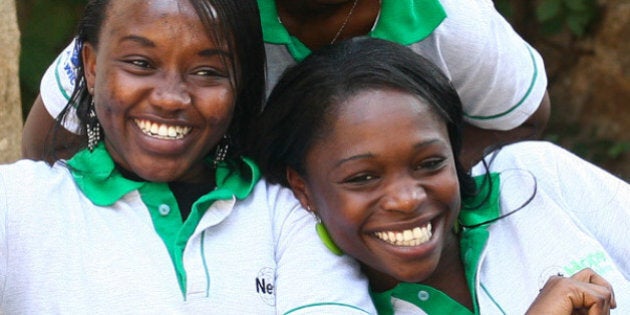 If we let North American teens choose their school hours, what would they seek? An afternoon start, of course, so they could sleep in. The day should end early enough to have hang-out time before supper. How about 1:30 p.m. to 2:15?
When the students at Kisaruni All-Girls Secondary School in rural Kenya had the opportunity to set their school hours, they pushed the limits, too -- in the opposite direction. The girls begin their studies each morning at 4:45 a.m. and end at 10 p.m., with classroom instruction from 8 a.m. to 4:30 p.m.
This extraordinary work ethic -- which also includes impromptu study groups during school breaks in their home villages -- was enough to leave a mark on a group of Canadian teens who recently met these Kisaruni students. The grumbling resentment toward schoolwork that typifies the North American high-school experience seemed, well, positively lame, compared to the Kenyan girls' fierce dedication to learning.
In sharp contrast to Canada, education is far from a given in the south Narok district. Opened in 2011, Kisaruni hosts 166 students, but they remain a small and fortunate minority of their peers. Some 30-million children in sub-Saharan Africa don't get an education at all, let alone secondary school. Kisaruni girls know that their entire community is invested in their school success. Whole families and even villages support their residential schooling--picking up the slack in household chores while they're away and pooling resources to pay their fees -- all in the hope that, one day, these young women will return to their villages as doctors, teachers or community leaders.
The recent visitors to Kisaruni were led by Toronto hip-hop artist Kardinal Offishall, who sponsored nine youth from various low-income neighbourhoods in his hometown to join him, through his organization 30 Elephants. "People have this concept of a global community," Kardi told us, "but when you go to another continent and get to literally experience the different perspectives, your vision is greater."
Nineteen-year-old Nuha Habay was inspired by the Kisaruni girls' sense of purpose -- and the realization that their striking commitment to near-constant studying was driven not by dreams of fame or fortune, but by a desire to better their communities.
"They want to become neurosurgeons, lawyers, nurses and doctors," she told us. But most fascinating, "they want one of them -- it doesn't matter which one -- to become the first female president of Kenya. They're working together for it, not in competition with each other."
Eighteen-year-old Justice Dawkins saw a more bittersweet side to the exchange. While the girls' career plans were ambitious and inspiring, they seemed much less certain about their chances of reaching their goals.
"In North America, we have opportunity shining through our window every morning we wake up," Dawkins told us. "But we whine about going to school less than half a day, skip classes and complain about homework. In Kenya, these girls have their priorities in check, but they lack the means to reach their dreams. I'm sad for them and sad for us who toss all our opportunity away."
Habay is returning to Ryerson University this September with a renewed sense of purpose to become a human rights lawyer, while Dawkins is taking an extra year at Danforth Collegiate before pursuing his dream to "be a world-famous poet." No doubt their time with the Kisaruni students will mean they'll take greater advantage of the opportunities that come their way.
"Imagine what we in North America could do if we use our opportunity to the fullest," Dawkins mused. "Not only could we be as successful as we possibly could, but we could probably even help people in Africa be as successful as they wanted to be, too."
Brothers Craig and Marc Kielburger founded a platform for social change that includes the international charity, Free The Children, the social enterprise, Me to We, and the youth empowerment movement, We Day.